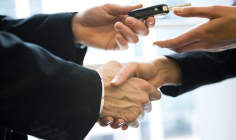 Over 14m UK current account holders may switch banks once account switching becomes easier next September as part of the Vickers reforms into UK banking.
According to research conducted for SAS by YouGov, almost one third (29%) of UK high street bank customers said that if the process of moving their primary current account was made easier, they would be very or fairly likely to change their main current account provider.
From September, UK banks will require to switch customer accounts and redirect direct debits within 7 days, placing renewed pressure on lenders to improve customer service levels.According to the YouGov poll, 38% of UK current account customers have never switched their main current account highlighting a large degree of consumer apathy; 65% of those polled said that banks were failing to improve customer service levels.Banks have been slow to improve their use of data and understand customer behaviour due to other pressures that are being given priority.
A separate survey of European banks, conducted by Ovum and commissioned by SAS, reveals that banks are currently focused on meeting regulatory demands as opposed to customer service. This is diverting management attention and project priorities despite a desire to deliver on customer promises. The irony, according to the Ovum study, is that many of the pain-points in addressing compliance are common with those in customer experience, and solutions could be leveraged to meet both objectives.
This view is supported by the Henley Business School, which finds that there is a desire to widen the use of customer data. However, very few companies have the core IT systems to tackle the big data challenge that they face, as supporting the post financial crisis business strategy takes precedence.
Barrie Neill, retail banking consultant, SAS UK & Ireland, comments: "Consumer churn rates for retail banks have traditionally been in the range of 2-3 per cent; this is set to change as new legislation transforms retail banking into a competitive industry, akin to telecoms or retail. Banks are sitting on a rich history of data about customers but continually struggle to harness this data to provide services and products relevant to each customer. "The simple solution to this is Big Data Analytics, which will integrate their customer database with transactional product systems, providing the banks with a clear view on the most appropriate and timely services for their customers. "The YouGov survey found 36% of high street bank consumers would be very or fairly likely to provide more personal data to banks if they improved the service they received. Only by harnessing this data correctly can banks gain greater insight, improve service levels and cross-sell more effectively."
Professor Moira Clark, Henley Business School, says: "The real problems that banks have in order to achieve a sound picture of their customers are rooted in integrating customer service and product data into one manageable database. Banks need to develop a sound IT investment programme to bring IT infrastructure up to capability to meet consumer demands. "There is a significant opportunity for banks to improve customer service and maintain low churn levels but this requires a paradigm culture shift. Once account switching reforms are introduced the bank that adopts a customer-centric focus will be the one that benefits the most."
Daniel Mayo, Practice Leader, Financial Services Technology, Ovum says: "We believe that most UK banks will fall short of their renewed plans to provide a strong customer experience, due to the fact that they are too focussed on a wide scope of regulatory concerns. Compliance pressures are distracting banks, and this is affecting their ability to cross-sell and market. As the new account-switching legislation comes into force, it will be those institutions that are prepared for a highly competitive market that will thrive."