The Competition and Markets Authority (CMA) has released its summer results on overall banking customer satisfaction.
Metro Bank and first direct have topped the survey and both achieved 82% customer satisfaction for their services in personal accounts.
In 2018, both banks held the top two positions with first direct slightly ahead of Metro Bank by 2%.
Craig Donaldson, CEO of Metro Bank, said: "We are extremely proud to still hold the top spot for personal current account service and maintain our top-two position among business customers.
"Service and convenience are at the heart of everything we do at Metro Bank and we're thrilled that our customers can see this.  Thank you to all our customers and colleagues for being part of the banking revolution."
The survey asked customers of the 16 largest current account providers in the UK whether they would recommend their provider to friends and family. It also asked customers the same for business accounts.
The results were carried out between July 2018 and June 2019 as part of regulatory requirement.
Ipsos MORI completed the personal current account survey and surveyed over 13,000 British customers. The business account survey was carried out BVA BDRC, who surveyed almost 17,000 customers.
Personal current accounts: The big changes
HSBC have climbed the ranks this year from 13th to 6th position, and now have 62% customer satisfaction.
Another change comes from Lloyds who have moved into 5th position from 9th. Lloyds has increased its customer satisfaction by 4% reaching 64%.
Royal Bank of Scotland remains at the bottom of the survey with only 46% customer satisfaction, 3% less than last year.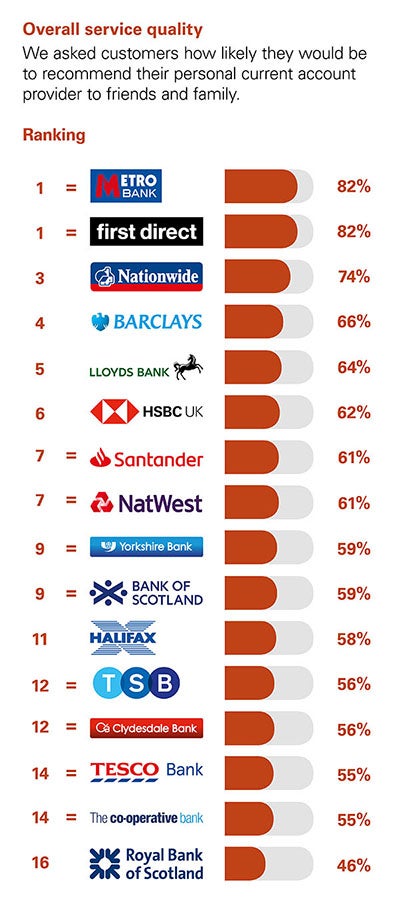 Business current accounts
Topping the table for business current accounts are Handelsbanken and Metro Bank with 85% and 69% customer satisfaction.
Santander still retains its third place position and has 66% satisfaction for its service in business accounts.
Additionally, since 2018, TSB have dropped down the table into last position moving from 51% customer satisfaction to 38%. TSB previously held 9th position.