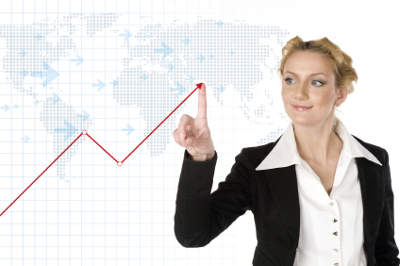 The issue of women in European banking boardrooms has been the topic of much discussion in the industry, the media and in government. Katy Maydon looks at the percentage of women in banking boardrooms and gender quotas around Europe
The number of women that sit on banking and finance boardrooms is an issue that has recently attracted a large amount of industry and media attention. The female FTSE report released in March 2013 states that there are only 194 female-held dictatorships in 93 of the 100 boardrooms surveyed: this equates to 17.3%, a far cry from the equal 50% or the popularly desired 30%. This number, only a 2.3% rise from 2012, is described by Helena Morrissey, founder of the UK based 30% club, a group encouraging women to fill vacancies in board rooms, as "disappointing." Morrissey said of the report: "Momentum has slowed on better gender balanced boardrooms."
It's not just the UK that is concerning itself with women on banking, countries such as Spain, France and the Netherlands are passing quota laws, stating a minimum percentage of women on boards.
Banks themselves are not the only body who can help secure a place for women in boardrooms; governments hold the power to implement quotas to regulate companies' board members. Generally, these quotas are set at 30 or 40%. By looking into countries that have implemented quotas and comparing that information with the percentage of women currently sitting on banking boards one can gain boarder overview of not only the banking industry's view on women on boards but also the governmental perspective on the subject.
Statistically, women on banking boardrooms around Europe are largely under-represented. Casting an eye over the percentage of men and women on the boards of the top five banks, by assets, in five European countries (Germany, UK, France, Spain and the Netherlands) it's only too easy to see that banking boardrooms are dominated by men.
Germany
Deutsche bank, the largest bank in the world by assets, boast no female board members on their management team of seven and none on their 18 strong group executive committee. Of the top five banks in Germany only two hold any female directors' board members at all. Out of 61 board members in Germany's top five banks only two are women, by percentage that's a miniscule 4.9%.
There are currently no governmental gender quotas for women on management or supervisory boards in Germany.
As the host of the largest bank in the world and the only Country of the five to have a woman, Angela Merkel, at its governmental helm it is surprising that Germany haven't taken more of a lead on the matter. However, banks such as Deutsche bank, whose supervisory board is 40% women, do sit women on their supervisory boards and other leadership positions within the banking industry. With no quotas in place it's hard to say if or when Germany will reach a 50% or even 30% balance.
United Kingdom
The UK's top five banks fair better with 14 out of 76 board members being female, a percentage of 18.4%. All boardrooms in the top five banks include at least one female. Barclays, the second largest bank in the UK by assets, brings up the rear with only one of seventeen seats being filled by a woman. However, although not in the top five banks by assets, the UK's strand of Santader is led by a female CEO, Ana Botin, who was recently descried in the Independant as 'The Most Powerful Woman in Banking.'
There are currently no gender quotas implemented for women on management or supervisory boards in the UK.
With Ana Botin at the helm of Santander UK, it seems like the UK are on the right track. Helena Morrissey says "I still think 25-30% women on boards is within read for end 2015."
France
Of these five European countries France leads the way when it comes to female board room members. BNP Paribas, the largest bank in France by assets comes top of all 25 banks with 42.86% (6/14) female board members; this makes BNP Paribas one of only four banks out of 25 to reach the percentage desired by the 30% Club. The lowest percentage of females on a board comes from Natixis bank at 21.4%, not a number that makes the desired 30% unimaginable. Over all, 30.9% of France's top five bank's board members are female – the only country of the five to reach an average 30%.
Furthermore, in 2011 the French government adopted and introduced gender quotas. By 2017 40% of the management board should be made up of women in companies: i) whose shares are admitted to trading on a regulated market; ii) who are un-listed companies with revenues or total assets over € 50 million employing at least 500 persons for three consecutive years. Additionally, when a management board includes eight directors or less the difference between the number of male and female directors should be no more than two. Any irregular director appointments will result in no directors' fees being paid to anyone until the situation is regularised.
France is certainly the forerunner when it comes to women in board rooms. By 2017 the banks that aren't already at 40% will be, and those that are may even see an equal 50% balance.
Spain
Not unlike the UK, Spain's top five banks all have at least one female member on their boards and, not unlike the UK, the percentage of female board members overall is 18.7%: 12/64. Caixa Bank, the third largest bank in Spain by assets hosts the most female board members, 5/17.
In 2007 Spain passed the "Law of Equality" which recommends listed companies appoint up to 40% women for all board seats. Companies have until 2015 to comply.
Spain appears to be making headway in the area, although some banks have a long way to go before they meet the 40% requirement for 2015, all of the top five banks have at least one woman on their board of directors.
Netherlands
The Netherlands falls slightly behind the UK and Spain with 15.4% of boardroom seats filled by women. Its second largest bank, the Rabobank Group, sits only one woman on their board.
However, in 2009 the Netherlands passed a quota law, effective in 2013, stating that at least 30% of boards should be comprised of women and 30% of men by 2016. This applies to listed and unlisted companies. However, the law is not mandatory, but adheres to a "comply or explain" rule, where by the company either adheres to the regulations or explains why they haven't.
Contrary to other countries who are adopting quota laws, the Netherlands has concerned itself with equality for both sexes. Although none of the top five banks in the Netherlands have an uneven balance in favour of women, the Netherlands recognise that equality in this issue is important for both genders.
Moving Forward
Luckily, in all five countries a progressive change can be seen from 2012. In the 2013 Women in the boardroom: A Global Perspective survey conducted by Deloitte, Germany, the UK, France, Spain and the Netherlands have all seen a rise in the number of women serving on boards in some way.
Germany has experienced a rise of 2.2% of women serving on supervisory boards; the UK has seen a 1.8% rise; the 120 companies surveyed in France saw a 5.8% rise; Spain's sample of 40 listed companies rose by 1.4% and the Netherlands experienced a 0.8% rise in the 34 sampled companies.
Although the progression is slow, by 2017 three of the five countries will have fully implemented their gender quotas and the progression towards a fairer gender balance in banking boardrooms will hopefully continue to spread across Europe.