Many banks have struggled with low profitability since the financial crisis. Indeed, the situation has become the most important challenge facing banks across the eurozone. Nordea's solution – moving its headquarters from Sweden to Finland to reduce regulatory costs – will lead to a position of financial strength.
One factor affecting efficiency in banking is highlighted by higher cost/income ratios – that is, the ratio of total operating costs (excluding bad and doubtful debt charges) to total income (the sum of net interest and non-interest income).
Banks' cost/income ratios can be broken down into various categories of operating costs, covering personnel, IT, occupancy, and other costs.
Personnel and IT costs are the largest components of banks' total costs. However, in recent times 'other' costs (such as regulation, marketing, and litigation) have grown in impact. Banks are now looking for ways to reduce these costs in order boost profitability.
In light of this, Nordea is undergoing a major transformation program. The bank recently announced it will relocate its headquarters from Sweden to Finland. The move, aimed at eliminating the high cost of complying with Swedish regulation, is the first time since the 2007–08 financial crisis a major bank has shifted its headquarters to avoid tougher rules. The bank is renewing its focus on reducing regulatory burdens (along with other costs) in order to increase its profits.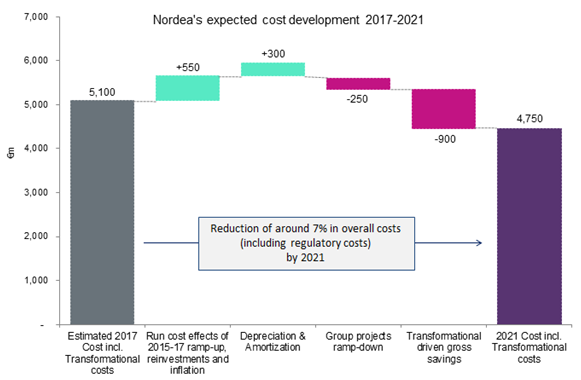 According to Nordea, the move is likely to take place in the second half of 2018 and will save the bank around €1bn ($1.18bn) in resolution fees and deposit guarantees. Nordea estimates that were it to stay in Sweden, resolution fees for 2018 would be up to €200m higher than in 2017.
Nordea's move to Finland, where it will be supervised by the European Central Bank, will save the bank a significant amount in the longer term despite the extra short-term costs. As pressures on efficiency persist, other banks will have to find creative ways to reduce costs if they are to remain profitable.