Catering to the unique digital sales processes of banks and financial institutions (FIs), Backbase provides a single engagement platform offering a truly omni-channel, seamless experience, both for employees and customers. Backbase Digital Sales can be leveraged for all business segments and to meet a range of requirements, with banks and FIs able to choose to adopt the solution out-of-the box, build innovative features or a mix of both.
Here, Jouk Pleiter, CEO and Founder at Backbase, outlines what success in digital sales looks like for banks and FIs, and why his solution offers customers something different from the competition.
Q: When did Backbase launch, and what is your mission?

Backbase was founded in 2003 in Amsterdam, Netherlands. By making finance easier and more accessible, we're helping millions of consumers and businesses around the world manage their money in a more meaningful way. It's a big mission, but it's one we accomplish by helping financial institutions become digital-first. Using our engagement banking platform, banks can deliver powerful, people-centric solutions and superior digital experiences to customers. It's therefore no surprise to us that so many of our clients become the bank their customers love.
Q: Who are your key clients?
We focus on the banking industry, where incumbent players are being challenged increasingly by both fintech and big-tech newcomers. We encourage every bank that wants to stay relevant to make digital transformation a strategic priority. Some of our customers include Royal Bank of Canada, Central 1, NS&I, AIB, National Bank of Bahrain, Mauritius Commercial Bank, WSECU, Hellenic Bank, Discovery Bank, Metro Bank, Banco Caja Social, Greater Bank and many more.
Q: Which are your key products and services in digital sales?
Our engagement platform allows banks to digitise their sales and onboarding processes for all of their banking products, such as current accounts, savings accounts, secured and unsecured lending services including mortgages, home and car equity loans, and personal and student loans.
Q: What makes your digital sales solution stand out from others in the market?
Point and siloed solutions that are haphazardly pulled together to digitise only a subset of processes offer disjointed customer experiences, and typically slow innovation at FIs.
Unlike such solutions, Backbase Digital Sales digitises the entire lifecycle of account opening and product application processes – from initiation, review, approval, account opening and funding to multi-product application – using a single platform. As a result, it can orchestrate value across all different business lines (retail banking, business banking and wealth management), as well as cover banks' complete product portfolios. Every digital sales experience is built on the same platform and uses the same services. It allows banks to create a seamless operating model for any and all use cases.
Backbase Digital Sales improves both customer and employee domains. Our seamless journeys optimise customer conversion rates, improving the bank's top line. But we also help in terms of cost-savings by digitising all back-office processes. Orchestrating data for decisioning, archiving and gathering customer information, setting up an account, managing cases and continuously identifying cross selling opportunities are tasks that are all automated via the employee-facing apps.
What is unique about Backbase Digital Sales is the combined speed and flexibility we offer. On one side, FIs can go to market faster by adopting our ready-made journeys, theme and configure them for their different markets and reuse across any of your product and business lines. We also give FIs 100% flexibility to tailor each out-of-the-box journey to their specific market and customer needs, so that they always stay in control of their digital destiny and innovate at scale.
Q: How would you define digital sales, and what does a successful digital sales strategy look like?

Digital sales is about how companies use digital channels and tools to sell their products and services. Banks can leverage digital sales at all stages of the customer journey, from increasing conversions and improving the account opening success rate, to upselling and cross-selling other products, such as loans and mortgages.
A successful digital sales strategy should: focus on the end customer; remove friction points; empower the bank's employees, minimise manual processes and create space for engagement and interaction with customers; be scalable and reusable, while ensuring consistency in customer and employee experiences; improve revenue growth.
Q: How would you describe the company's values?
Backbase is a company of builders, always open to learning and improvement, shaping the future of banking together with our customers. We ask for feedback and constantly seek for insights that make us and our products and services better.
We don't shy away from being critical of ourselves, our products and our industry. We are open, direct and always questioning the status quo; to keep on learning and keep ourselves and others on our toes.
For each segment we develop a deep understanding of the customer and work backwards from there. What do customers really want? What is the customer's problem or opportunity? What's the most important customer benefit? What keeps customers coming back to do business with us?
We create end-to-end solutions, removing the complexity of system integration and deployment, enabling our customers to go to market faster. Our solutions make it easy for customers to switch from their outdated incumbent solutions and join the Backbase Digital Banking ecosystem.
Foster the startup way of working
We foster an entrepreneurial culture where people can operate with a growth mindset. We keep our org chart as flat as possible. We believe in small multidisciplinary teams, running validation experiments – to find the optimum product-market fit and create products that delight our Customers.
Adopting a fully digital sales model
This whitepaper, from engagement banking platform provider Backbase, reveals how financial institutions can take advantage of the true potential of digital sales. It provides a clear definition of what digital sales means for UK & IE financial institutions today, and why growth is increasingly dependent on digital sales success.

It confronts the challenges many financial institutions still face in implementing effective digital sales processes, and outlines ways to increase cross-selling opportunities by improving customer service and appealing to a younger cohort of banking customer.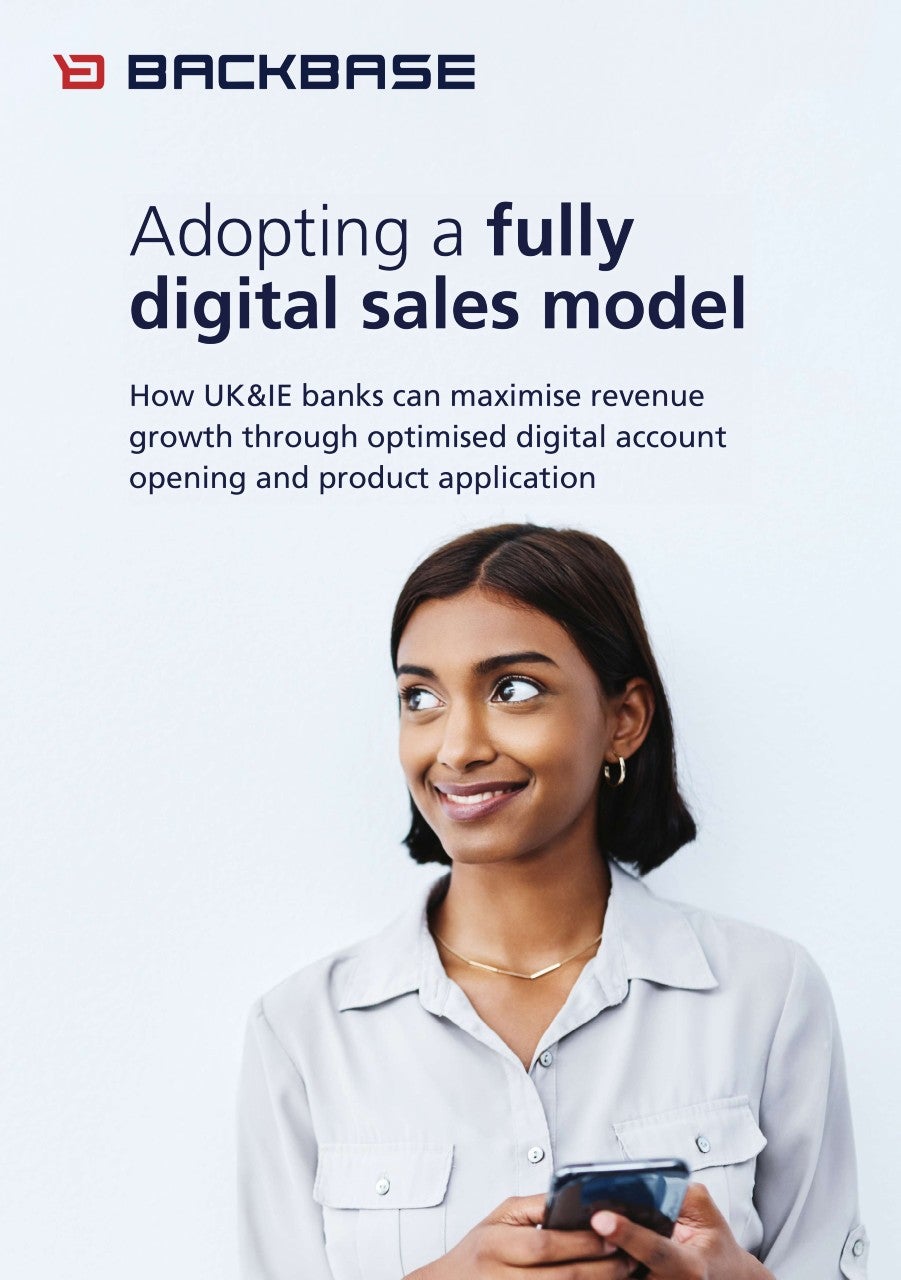 By clicking the "Submit" button above, you accept the Terms & Conditions and acknowledge that your data will be used as described in the Backbase Privacy Policy

We will also collect and use the information you provide for carefully considered and specific purposes, where we believe we have a legitimate interest in doing so, for example to send you communications about similar products and services we offer. We will always give you an option to opt out of any future communications from us. You can find out more about our legitimate interest activity in our privacy policy here. 'We' includes Verdict Media Limited and other GlobalData brands as detailed here.