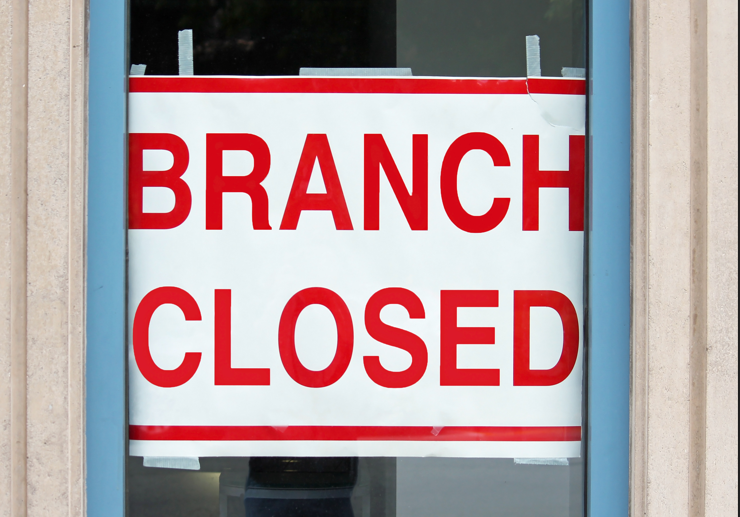 Virgin Money is to close a further 39 branches, reducing its branch network from 130 to 91 outlets. The latest branch closures result in around 255 Virgin Money employees at risk of redundancy.
The bank has been one of the most aggressive UK retail banks in downsizing the physical channel. In June 2018, CYBG, owner of Clydesdale Bank and Yorkshire Bank agreed a deal to snap up Virgin Money for £1.7bn. Following the deal, the Clydesdale and Yorkshire brands dating back to 1838 and 1859 respectively were dumped.
While Clydesdale purchased Virgin Money, it is the latter-named brand that survived as the newly-enlarged bank pursued a single brand strategy.
More than 1-in-4 jobs axed, around 2,700 FTEs, since 2018
The short-lived digital sub-brand B, only launched in February 2016, was also axed. The re-branding exercise alone cost around £60m. Virgin Money currently has around 6,800 employees. This is down by around 2,700 FTEs, a drop of over 25%, since 2018.
The Clydesdale/Virgin deal created the UK's sixth-largest bank with six million customers and a loan book of £70bn. When RBI launched its first issue in 1981, the Clydesdale/Yorkshire branch network totalled 570 outlets. This comprised 376 Clydesdale outlets in Scotland and 194 Yorkshire branches in England.
By 2002, Clydesdale and Yorkshire operated a combined network of 490 branches. At the time of the 2018 Virgin deal, Clydesdale Bank operated a Scotland-based branch network of 71. Yorkshire Bank branch network included 99 outlets, giving CYBG 170 outlets. Virgin Money operated 73 outlets. That combined network of 243 outlets will shrink to 91 branches once the latest closures take effect.
Virgin Money share price rollercoaster since 2018
The bank's property footprint of 900,000 sq feet in fiscal 2021 will have reduced to just 300,000 sq feet by 2024. But shareholders have endured a rollercoaster ride since the June 2018 announcement of the CYBG/Virgin deal. Back in June 2018, the CYBG share price was £3.06. Following initial enthusiasm for the deal, the share price rose to £3.52 in August 2018. By April 2020, the share price languished at below £0.60. The current Virgin Money share price of £1.77 is up by 26% over the past 12 months for a market cap of £2.4bn.