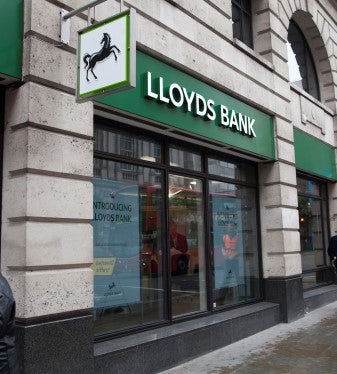 Lloyds Banking Group is to close a further 56 branches.
Specifically, LBG will shutter 31 Lloyds, 15 Bank of Scotland and 10 Halifax outlets.
The branch closures are scheduled between April and October.
These are the first closures announced by Lloyds since last August.
A Lloyds Banking Group spokeswoman says: "We are committed to having the largest branch network in the UK. In addition to our branches, all our customers can also use the Post Office to access their banking locally, alongside our mobile branches which visit many rural communities.
56 Lloyds branches close: 80 FTEs lost
Financial services trades union Accord says that it expects job losses of under 80 full time roles.
This is because many staff will be redeployed to other branches.
In a statement, Accord says: "We fully appreciate that the demand for high street branch banking is diminishing as customers increasingly move to app-based banking. We'll be examining LBG's plans to ensure that they're properly thought through and robustly evidenced.
"Every branch that closes, however small, has an impact on our members and the bank's customers. For our members, there's the possibility of disruption to their working hours and work-life balance. And for customers, the inconvenience of getting used to where their nearest Post Office is."
So far, LBG branch closures have been managed without compulsory redundancies and Accord expects the same outcome here.
Even after the latest branch closures take effect, LBG will retain by far the largest UK branch network. For example, Bank of Scotland's network north of the border remains larger than the combined networks of traditional rivals Clydesdale and RBS.
Once all announced Lloyds Banking Group branches have closed the group will have a network of 1,567 outlets. This is comprised of 808 Lloyds branded branches, 576 Halifax and 183 Bank of Scotland.
On the other hand, almost one in four Lloyds Banking Group branches will have closed in three years. LBG kicked off 2017 with 2,037 branches: Lloyds 1,140, Halifax 657 and Bank of Scotland 241.