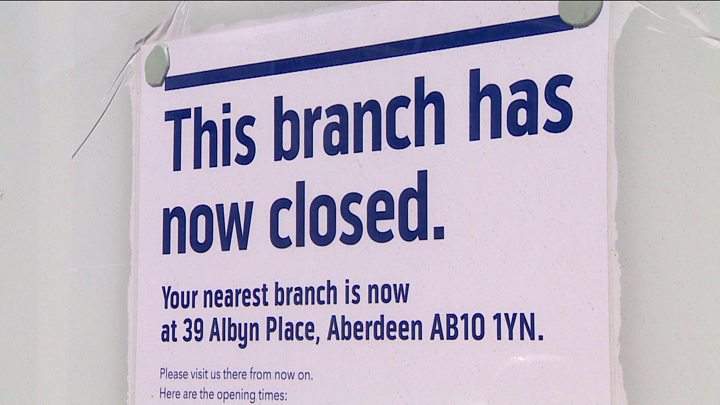 UK bank branch closures this year total 682 outlets with RBS closing more than one half of the axed branches.
For the year to date RBS NatWest has closed 409 branches.
In May, RBS finally confirmed the cancellation of its Williams & Glyn challenger unit.
This led to the closure of all but 53 of its almost 300 RBS-branded branches in England and Wales.
In 2017, RBS NatWest closed 331 branches, again the most UK bank branch closures of any lender.
The RBS NatWest branch network is down by almost 50% since the end of 2016.
But branch closures across the sector this year are down sharply on 2017 when 1,160 branches were closed.
In total, across the major retail banking and building society brands, the UK ends 2018 with fewer than 7,500 branches.
Over 1,800 branches have closed – one in five of all outlets – since January last year.
UK bank branch closures: Barclays' largest network by brand
Branch closures are accelerating at Barclays. In 2017, Barclays branch estate reduced by 101 outlets. Barclays remains the largest branch network by brand with 1,058 outlets following the announced closure this year of 150 branches.
Branch closures across Lloyds Banking Group's (LBG) three brands remain relatively modest.
LBG will close a further 12 branches in early 2019 with eight Bank of Scotland outlets to close reducing its network to 198 units.
Bank of Scotland's network north of the border remains larger than the combined networks of traditional rivals Clydesdale and RBS.
Three Lloyds Bank branch closures reduce its network to 893, down 74 on the year.
Meantime, one closure at Halifax reduces its estate to 609, down by 48 for the year.
Similarly, Santander has made few changes to its branch numbers, down by only 32 this year to 766.
It is a similar story this year at the newly merged Clydesdale/Yorkshire/Virgin Money group.
Clydesdale and Yorkshire Banks have done much of the heavy lifting in terms of branch numbers rightsizing. In 2017, Clydesdale closed more than one in three branches reducing its network to 71 units. This year, Clydesdale's branch network has inched down by only four units to 67.
Sister brand Yorkshire Bank is down by nine units this year to 90, having closed 38 branches in 2017.
Clydesdale's Virgin Money brand remains unchanged at 81 outlets comprising 73 branches and eight lounges.
Cooperative Bank has closed no branches in the second half of 2018, following 27 closures in the first half. Coop Bank ends the year with 68 branches compared with 291 as recently as late 2013.
UK bank branch closures: HSBC, Metro bucking the trend
HSBC has closed no branches during 2018.
Indeed, the opening of a branch within its new Birmingham HQ this year increases HSBC's network to 626 outlets.
Metro Bank's ambitious store expansion programme remains on track.
The opening of the Metro Bank store in Northampton on 16 November takes the Metro Bank network to 62 stores.
Handeslbanken is also up by one net branch, to 208 outlets.
With little fuss or fanfare Handeslbanken's network has grown from only 56 as recently as 2008.
By international comparison, the UK's bank branch density is the third-lowest in Europe.
The UK's 66.5 million population, served by 7,471 branches brings out a branch density of 11.2 branches per 100,000.
Only in Holland and Estonia, with 9.4 and 7.6 branches per 100,000 respectively is the rate lower than the UK.
At the other end of the scale Spain (60), France (50+) and Italy (45+) remain over-branched.
The European average is around 35 branches per 100,000.
Even Denmark and Sweden, with around 15 branches per 100,000 have more branches per head of population than the UK.