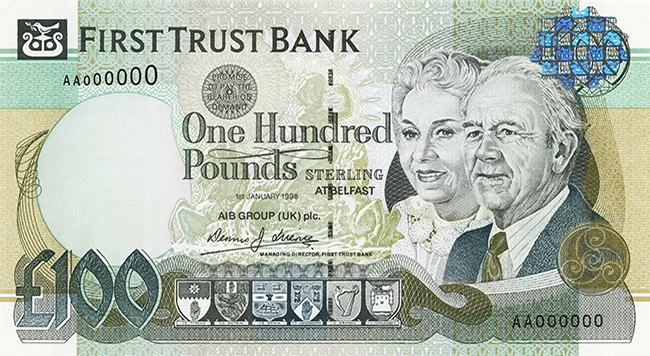 First Trust Bank, the Northern Ireland subsidiary of Allied Irish Banks is to stop printing and dispensing its own banknotes.
In their place, First Trust will dispense Bank of England banknotes.
Existing First Trust banknotes will remain in circulation and can be used as normal until 30 June, 2022.
Local rivals – Bank of Ireland, RBS' Ulster Bank and Danske – will dispense new polymer notes in Northern Ireland this month.
The Danske Bank polymer note was unveiled last December.
The Danske polymer £10 note includes a revised main portrait of the image on its current paper counterpart – a depiction of inventor John Dunlop.
First Trust Bank says that the decision to cease issuing its own banknotes is a commercial decision. And one that takes into account the increasing use of digital payment methods and mobile technology.
First Trust banknotes: 11% of notes in circulation in North of Ireland
The bank will offer a free banknote exchange service at post offices until the end of June 2024.
First Trust banknotes account for around 11% of all notes in circulation in the North of Ireland.
Current First Trust banknotes include a £100 note first issued in 1998.
The heraldic shields each represent one of the six counties of Northern Ireland.
AIB is at pains to stress that it remains committed to the Northern Ireland market. First Trust has been investing heavily in its Ulster arm, in particular its digital operations.
Last October, Tomás O'Midheach, COO at AIB discussed with RBI how the bank is optimising its investment in digital to transform the customer relationship.
AIB is among the leaders among banks in the UK and Ireland in growing its percentage of digitally active customers. In particular, it ended 2018 with almost 65% of its 1.3 million retail customers digitally active.