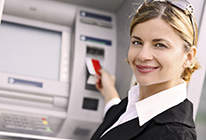 UK bank customers living in rural areas and those on low incomes are most likely to encounter barriers to accessing cash, according to a new survey by the Payments Council.
The survey revealed that those who experienced problems in withdrawing cash were primarily low-income consumers struggling to manage very tight budgets, particularly those not in employment and people living on social housing estates outside towns.
The survey found that difficulties experienced included:
-ATMs in poorly-served areas which are sometimes out of order or may have run out of cash;
-Limited access to free ATMs in some areas;
-Limited availability of small denomination notes at ATMs, particularly £5 notes which many consumers find useful;
-Security fears about using ATMs in areas of high crime or anti-social behaviour, and
-Queues at some very busy ATMs in poorly-served areas, resulting in lengthy waits in some cases.
Many of the respondents believed their access to cash had improved in recent years.
The survey found that 81% of those asked said it was very easy to get the cash they needed and there were high levels of satisfaction among those who got cash using ATMs, counters or cashback.
Compared to three years ago, 24% of consumers thought it was easier to get cash now and 71% thought that it was about the same.
Only 2% thought that it had become harder to get the cash that they needed.
Small and medium-sized businesses generally reported low cash use but most users had no real issues withdrawing it.
Adrian Kamellard, Payments Council chief executive, said: "It's encouraging that the substantial majority of consumers and businesses are able to get cash easily, but the Payments Council's focus is on those who have reported difficulties – particularly as these customers are often those most dependent on cash to help them manage on a tight budget.
"Using what we have learnt from this research, over the next year we will be looking to identify any practical steps to deliver improvements for them."
Related articles:
UK bank customers worried about security lapses
Still first but no complacency at first direct
UK consumers believe banks are best for financial services – YouGov