Vancity, Canada's largest credit union, competes with national banks through its community-focused branches and its open branch design. Robin Arnfield talks to Nezihe Aquino, Vancity's vice-president of community member services
Vancity has over C$25bn ($18.86bn) in assets plus assets under administration, over 523,000 members, and 58 branches in the greater Vancouver area.
In April 2017, Vancity won an award for Excellence in Customer Service at the Temenos Community Forum in Lisbon.
Vancity has successfully pursued a strategy of ensuring strong connections with local communities and operating extensive social, environmental and ethical programmes. These include helping to build affordable housing and expand renewable energy.
"Vancity is very community-focused in its branches," says banking analyst David Cavell. "Engaging with the local community is the way forward for branches.
"Whilst banks have been whingeing about credit unions' growing retail propositions, forward-looking CUs like Vancity have been developing the customer and community relationship strategies for the next generation that the banks should also have been into."
Vancity says community social and economic needs are at the heart of its customer proposition, and that its aim is "to make good money by putting money to good."
Vancity's vision is that by 2020, its total assets will have grown to C$40bn, and that its member base will reach 600,000. It also wants 50% of its total assets to be allocated to impact efforts to improve its members' lives and local communities. "Our engagement with our members and the community is critical for us," Nezihe Aquino, Vancity's vice-president of community member services, tells RBI.
"The way we talk to them never starts from the position of products, rates or features, but from their needs. We have grant aid programmes to help non-profit associations. We offer mortgages for affordable housing, and we help small businesses needing professional services – for example referring them to accountants or website designers."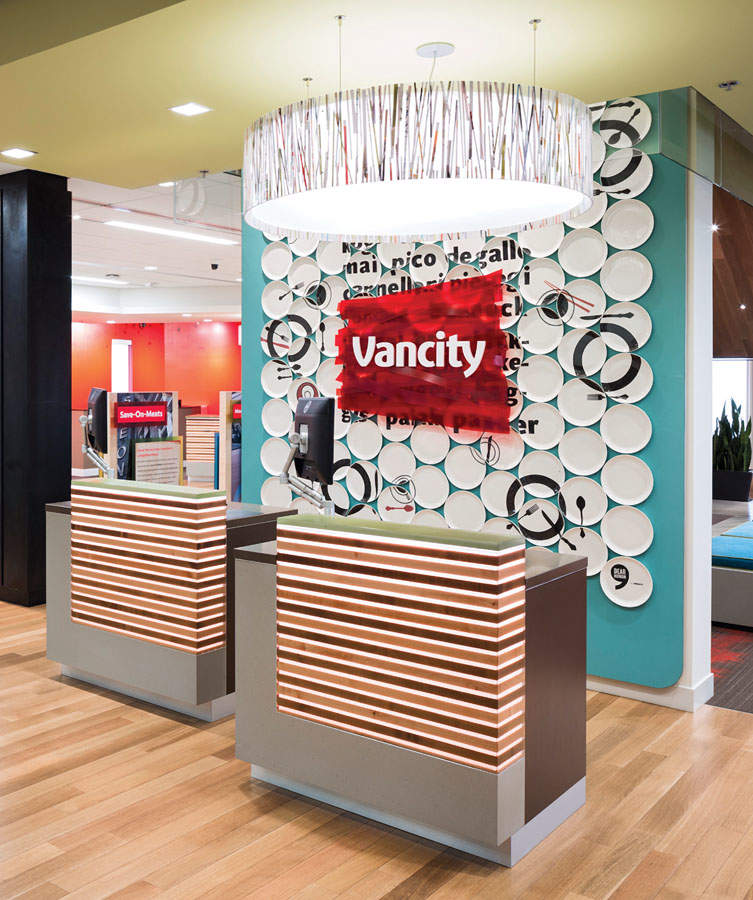 Federal approval
Vancity's banking subsidiary, Vancity Community Investment Bank (formerly Citizens Bank), has been granted federal approval to offer financing and advisory services to community impact organisations and non-profits nationwide.
"Vancity Community Investment Bank has a bank charter and offers Visa-branded prepaid cards, commercial real estate, and foreign exchange services," says Aquino.
"Its next evolution is to take what we do well in Vancouver – making an impact on the community – and take this nationwide."
In April 2017, the bank launched a pilot to provide matching loans or grants to community organisations in the Greater Toronto area.
"Our branch design conversation started in 2011, and it took us a while to differentiate what we wanted for our branches from the rest of the industry," says Aquino. "In 2012, we opened two prototype branches, which are no longer prototypes, featuring art walls, business showcases, open-plan teller stations, and community stage rooms."
Vancity currently has eight fully renovated branches, including the former prototypes. Its goal is to upgrade all its branches, eventually. Currently, around half of its branches include a concierge desk.
Aquino says the ambiance of the redesigned branches is open, inviting and spacious. "Gone are the days of dark wood-panelled branches," she says. "We use pastel colours."
The art wall is situated behind the concierge desk, and is designed by a team involving Vancity staff and the local community.
"We ask local artists to suggest an art wall to us that articulates the life of their community," says Aquino. "The art wall in one branch is totally different from the art wall in another."
The business showcase helps people find out about local firms in their community. "By deliberate design, the business showcase is analogue, not digital," explains Aquino. "Rotated every two weeks, it involves a local business telling members in that branch what its products or services are.
"The community stage room is open to members and non-members, and is free of charge to use. For example, a local business needing somewhere to meet with multiple clients could use the community room, and some rooms are open after hours."
Vancity sees its branches as places where people convene, not as places for retail transactions. "When we designed our new branches in 2011-12, we were ahead of our time," Aquino says. "Now the retail and banking industries have caught up with us, and stores are becoming convening places where people gather, exchange ideas and do some transactions at the same time."
Unlike some financial instituions, Vancity does not offer events such as "mums and toddlers" in its branches. "Our primary focus has been to enhance the business showcases and community stage rooms," Aquino says. "What we offer in the branches is partly a function of available space."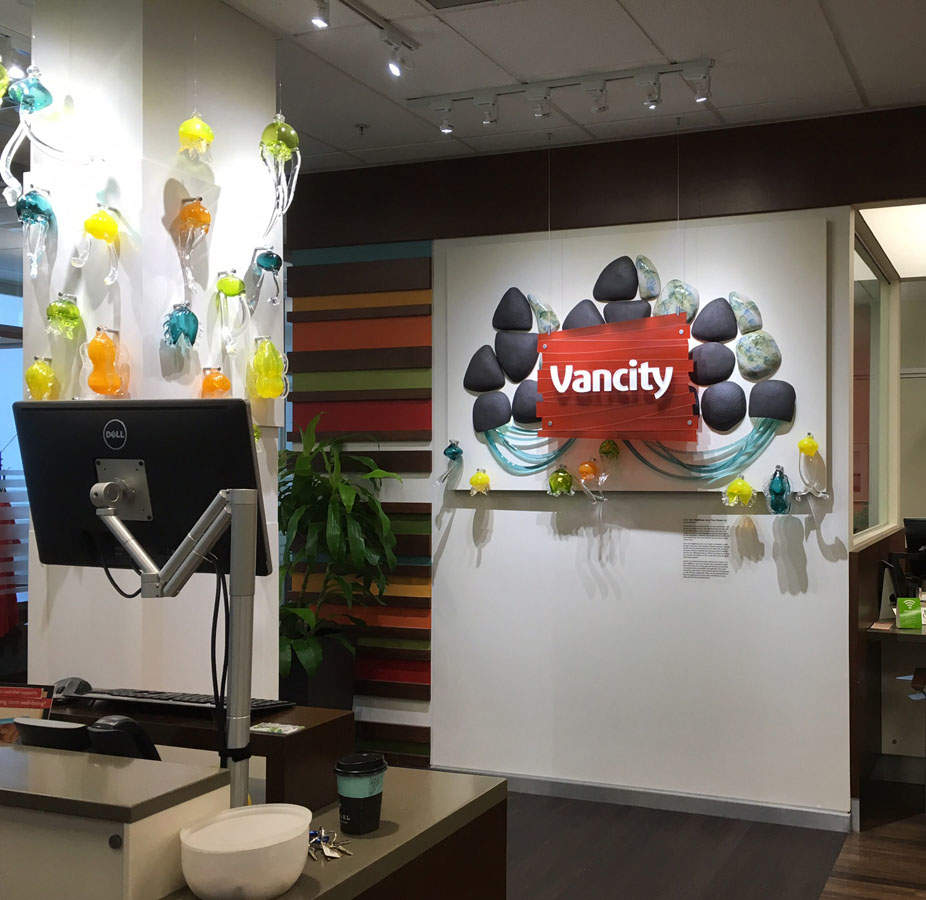 In-branch education
"Our branches are beginning to deploy digital signage," says Aquino. "For example, we have digital signage offering videos explaining how our members can protect their information online. We are also holding members meetings to tell them about digital literacy and how they can use our banking app, and to find out what makes them uncomfortable about technology."
For many years, Vancity has held financial literacy seminars in its branches, explaining basics such as how to save and how to borrow.
"In many of our redesigned branches, there is open space between the tellers," notes Aquino. These spaces enable customers to come round the pod and view the teller's computer screen, making for a more interactive conversation.
"The teller pods are well lit, and very inviting and open," says Aquino. "It's not like you have to stand in front of a teller line."
Vancity branches have the flexibility to close the teller area if they chose to do so. "Some branches don't feel super safe, because of bank crime, so they close the space between the teller pods," Aquino explains.
A significant number of Vancity branches have teller cash recycler units. It is also starting to issue tablets to concierges so, if tellers are busy, concierges can help customers to perform banking tasks on the concierge's own tablet.
"The concierge can also show the customer how to do digital banking," adds Aquino. "We plan to have issued tablets to all our concierges this summer."