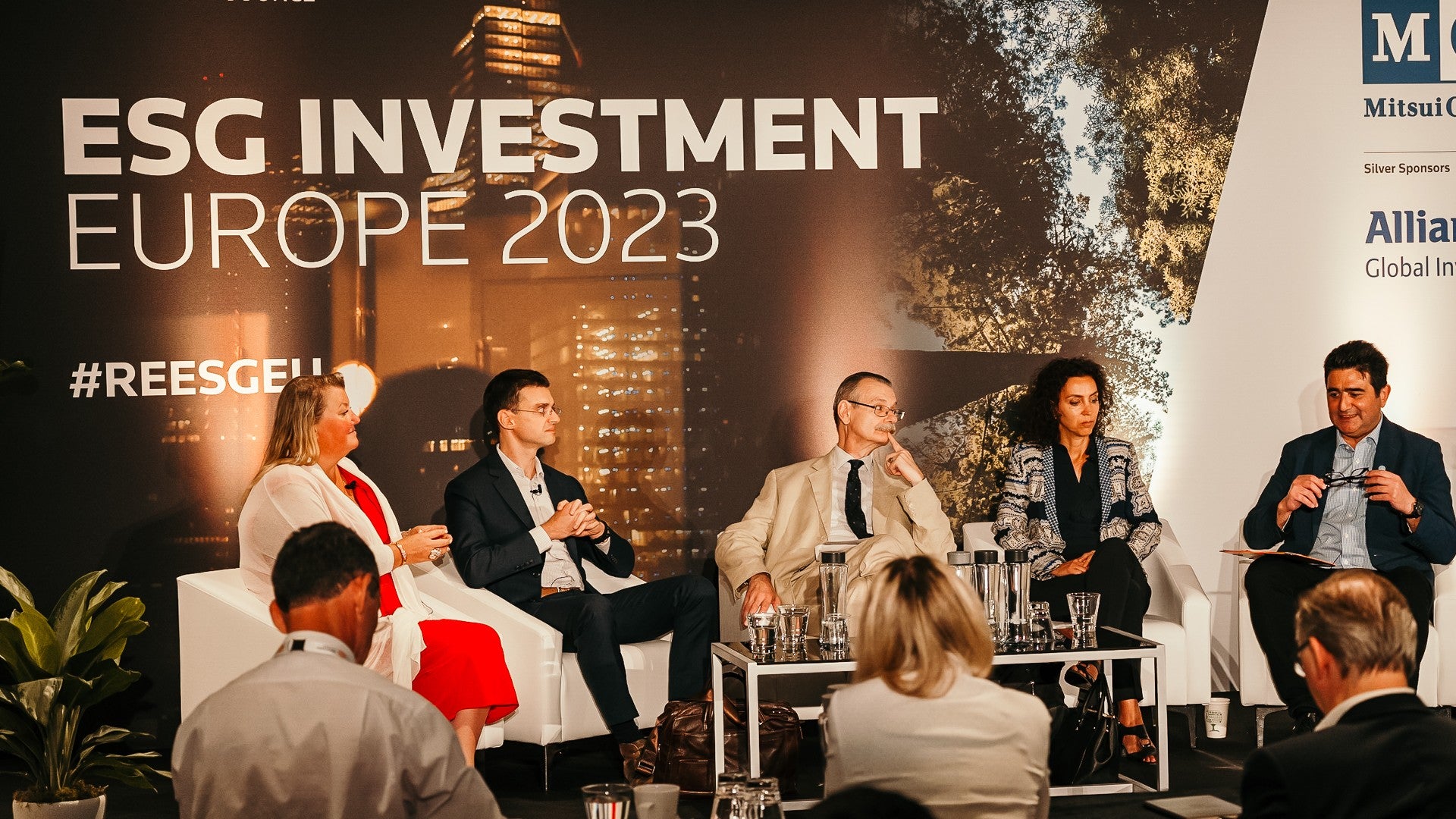 Bankers for Net Zero, an initiative bringing together banks, NGOs and policymakers to achieve the net zero transition was co-founded in 2019 by Heather Buchanan.
The scheme is part of the Glasgow Financial Alliance for Net Zero and aims at strategic policy alignment between banks, regulators and government. In a panel discussion at Reuters Impact on 6 September, Buchanan described the organisation as operating at the touchpoint between the real and the financial economy.
Afterwards, she spoke to Retail Banker International about the hurdles and potential solutions to cutting carbon in the banking sector.
Retail Banker International: What criteria must banks fulfil to join Bankers for Net Zero?
Heather Buchanan: We convene the UK chapter of the Net Zero Banking Alliance. Members don't have to be part of the Net-Zero Banking Alliance, but they have to be working towards that. We are also accelerators for Race To Zero, so the whole idea is that, for institutions that don't have confidence yet or are still working through it, this is a way to help them get confidence on that journey.
These commitments are a very big deal when you look at it, and I know some institutions sometimes don't want to have to stick their head above the parapet publicly until they've got their house in order and really understand them. There are also levels of those commitments that cannot be met without legislative intervention and help.
If you look at retrofits or something like that, 60% of the housing stock in the UK is pre-1916. It's a deeply personal thing for people and it's incredibly expensive because it's still a nascent industry. Green mortgages are not going to solve that. It's much more significant interventions that need to happen.
What constitutes a 'green mortgage'?
Interestingly, it's more about product development. They're developing some guidance around it, but it's generally all linked to energy performance certificate (EPC) ratings, and EPC ratings are not measurement tools. You can install a heat pump and your EPC rating goes down because it brings in electricity costs vs. gas costs, all sorts of things.
Across the board, everybody kind of agrees that they are not fit for purpose, but it's one of those things that staggers along, so we're looking at trying to create a bit more of a political will to get it done.
It's one of the core areas that we're working in because it hinders investments, and if we don't get this right, we'll end up in a position where we have things like mortgage prisoners, where people's homes are getting horrible mortgages. They might be able to get one, but then all of a sudden it's more expensive, so you've got buyers going out and competing on that.
On a very basic level, in terms of emissions, housing and our built environment are key areas that we need to focus on.
What benefits beyond helping banks move towards these standards does Bankers for Net Zero offer, and why do you think banks are joining voluntarily?
I have found that the banks in general are putting a huge amount of resource and energy into grappling with all of this. And bearing in mind that some of these institutions have been around for 150 years, they've developed systems and processes that are having to transform quite radically. They're institutions that are based on risk and value, and that's getting fundamentally redefined in a matter of decades or years, so a lot of it is the policy interface piece. We're almost a bit of a misnomer sometimes because we are Bankers for Net Zero but we actually have a lot of other partners on board, and we also get civil society on board.
If we can get business and finance and the NGOs all of singing off the same hymn sheet and you're able to take some kind of policy proposals to government, it de-risks that for politicians, who have their own risk profile. Being able to get a fairly wide church together with institutions that didn't necessarily share a platform with each other before sends a powerful message that we're all working on the same things. Quite simply, some of the stuff is just too big for everyone to try to do on their own.
We built Project Perseus [a standard for sustainability reporting in SMEs] because we saw all these carbon calculators going out there. The banks are bringing in some or building their own in-house solutions, trying to get some way to interact with their clients to make this data-gathering exercise easier. But it's a bit like the Big Four going out to compete with each other on how they presented the profit and loss or balance sheet. Let's all just get a standard sorted, then you can compete on top of that.
Right now, when you're competing on standards and you can only assure the process, not the actual data, we're not getting to the heart of the problem. That's linked to the greenwashing point. You're always going to have accusations of greenwashing. If you sat in the profit and loss reporting and asked what's behind those numbers and somebody had said, "Oh well, we just use estimates," the people wouldn't accept that.
It's important for SMEs on the business case, and people don't really realise it yet, but, if businesses want to operate, if they want overdraft and all these things, they're going to need that data just to stand still. Because if financial institutions don't understand it, they can't support it so it's really important to square it.
So something like Project Perseus means that if you have a loan, it can be linked to an upgrade of your equipment to be efficient. You could monitor on a half-hourly basis if you wanted to, but you could easily report automatically on a monthly basis. That means you've got real assurable data. It de-risks it for everyone and makes the finance cheaper.
What is the split of responsibilities for the banks and the government?
It's actually a really tricky one. Where we don't want to be is in this place where you've got a lot of financiers and they go: "We can't solve this on our own," and you've got the government telling the banks to start lending money. It's not that simple, and people don't necessarily want to take the debts on, by the way. There's a whole other thing around that. This is where new products are important. In the United States, they have Property Assessed Clean Energy-linked loans, where you start linking the debt to the property, which removes the capital burden in the first place.
I think what we need, and this is really one of the big things we've tried to do at Bankers for Net Zero, is much more of a partnership element. We're able to go to the government and say: "Listen, I know this is a big policy ask, but if you do that, we've got your back, and we can do some more co-designing and making sure that we can get private capital crowded into these things and supported."
To what extent does this start to break down the boundary between public and private, financial and real economy?
Yeah, it's that word again, data. We've all been socialised with certain data expectations. We know how to verify [financials], we know the systems around them, you can get an officer in and do a deep dive and follow the money. You know, nobody says follow the carbon. So that's where data needs to get. Otherwise, it's too big to grapple with because it's not a nice room with loads of sophisticated investors and they can all kind of talk the same language. It's literally everyone.