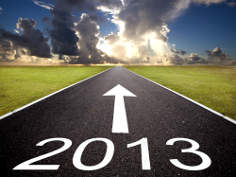 The world of retail banking has changed dramatically over 2012 and by the end of 2013 the landscape is likely to shift further. Digital channels will be further competing with traditional forms of banking and 2013 looks set to be a defining year for banks around the world, writes Billy Bambrough
Retail Banker International (RBI) spoke to some of the industries largest service suppliers about what they are expecting for 2013.
RBI: How would you summarise your two or three most important priorities for 2013?
David Webber, Managing Director, Intelligent Environments (DW) – "Digital financial services are becoming vital to customer loyalty, with this trend set to increase exponentially in 2013. In 2013 the percentage of Brits accessing their bank accounts via smartphones, iPads and other digital devices will rise and begin to catch-up with traditional internet banking via a PC."
David Yates, CEO, VocaLink (DY) – The delivery of ubiquitous and interoperable payment services to customers of all UK banks and building societies will represent the single greatest inflection point for the mobile payments industry in 2013.
Roger Bracken, Managing Director Western Europe and Middle East, First Data (RB) – "A significant theme for 2013 will be the continued investment in mobile services. In the banking sector we have already seen a lot more test and learn going on; pilot activity and investment in trying to understand the changing mobile payments landscape and how it will potentially look in five to ten years time."
Philippe Eschenmoser, Head Business Consulting Financial Industry Services, SIX Payment Services (PE) – "A critical development set for 2013 is the production of NFC-enabled cards and terminals. Despite initial interest a few years ago, not many consumers realise they have cards with in-built NFC functionalities, which has halted the progression of contactless technologies overall."
Mohit Joshi, Vice President and Head, Financial Services Europe, Infosys Limited (MJ) – "Our priorities for 2013 focus on helping our global banking customers become more customer-centric, drive innovation, remain compliant and optimise their costs through smarter IT investments."
Barrie Neill, Retail Banking Consultant at SAS (BN) – "The most significant change which will affect the UK retail banking sector in the next twelve months is that from September 2013, the switching of customer accounts and redirecting of direct debits will reduce from 31 days to just seven, as recommended by the Vickers report."
Richard McMurdo, Principle consultant, Talaris (RM) – "While digital transactions may have their place, cash remains at the heart of bank branch operations as a payment method of choice for consumers. 2013 will be the year we see bank branches operating in a smarter and more integrated way, using real time data to inform the cash cycle, drive efficiencies and improve the overall customer experience in branch."
Alan Laing, VP EMEA, Acronis (AL) – "The rise of mobile and apple in the financial sector – IT departments are not prepared for the demand in BYOD. A patchwork of technologies caused by virtualisation is leaving gaps in protecting critical financial data."
Steven Lewis, Lead Global Banking Analyst, Ersnt & Young's (SL) – "2013 will be another hard year – many banks remain under-capitalized and, for some, the scale of business transformation necessary will resemble the turnaround of a business in distress."
RBI: How is decision-making within banks evolving?
DW – "Recent research from YouGov shows that, of Britons with a bank or building society current account, 81 per cent use online banking and 20 per cent use mobile banking at least once a month. With the Vickers account switching legislation coming into force in September, organisations run the risk of losing customers if digital interactions remain isolated. The fact is that even the largest financial organisations still have a number of siloed 'money to people' engagements."
BN – "The top banks now realise that decisions cannot be based on instinct or gut-feeling but on timely, reliable data, allowing them to make educated decisions based on facts. This evolution in decision-making is not just limited to the top management but to simple operational processes. The use of analytics is now de rigeur to supplement simple rule-based decisions that cannot accurately reflect all the nuances of the situation."
SL – "Some banks are already partnering with in-house asset management arms to fund the loan requirements of banking customers and, regulation permitting; we expect this trend to grow, moving beyond large loans for multi-national corporate. Banks will also need to respond to innovation from newer players who offer more targeted and less "one size fits all" services. We expect to see more funds targeting Small to Medium Enterprises (SMEs) and potentially banks starting to work with peer-to-peer lending services."
RBI: How is IT investment by banks being affected by recent market conditions? Increased regulation, etc?
DW – next year banks and other organisations need to better integrate these digital financial services to meet modern consumer needs. Nearly one third (29%) of current account holders online have experienced frustrations with their digital banking services in the last year – highlighting the major work that needs to be done to ensure basic service needs are met.
DY – "VocaLink is to build a central database which will link customers' mobile phone numbers to their bank account details. This infrastructure goes a long way to address several of the key barriers to adoption, including security concerns and a lack of operational efficiency."
MJ – "Some IT investments have to be made regardless of market conditions. For example, the increased regulatory pressures facing banks means a large share of this year's IT investment has gone towards improving compliance technologies and procedures. Other investments are driven by a mix of push and pull from both customers (digital channels) and banks (data analytics)."
SL – "End-of-life issues and years of under investment are now being compounded by the multitude of new regulations placing considerable stress on IT systems. Cyber-security is an increasing threat, particularly with outdated systems and data storage requirements that are growing exponentially. Systems failures create significant reputational damage and banks are working hard to update and improve systems but further failures can't be ruled out. As systems are redesigned, more banks need to see this as an opportunity to break down silos and mine data, and not just a challenge."
BN – "At present, banks are almost solely devoted to investing in IT to meet regulatory demands with the effect that they have been slow to improve their use of data and understand customer behaviour. A recent SAS/Ovum study discovered that banks are currently focused on meeting regulatory demands as opposed to customer service. This is diverting management attention and project priorities despite a desire to deliver on customer promises. The irony is that many of the pain-points in addressing compliance are common with those in customer experience, and solutions could be leveraged to meet both objectives."
RBI: What is your take on banks' current levels of IT spending?
DY – "2013 will be the year that traditional players recognise the need to invest heavily in the mobile services that they have created, to reclaim positivity around the delivery of innovative financial services, and deliver competitive payments offerings to their customers."
RB – "Partnerships and collaboration will remain crucial to propelling mobile payments forward. While 2012 has seen Isis come to the fore in the US and Project Oscar in the UK, Europe as a whole needs similar co-operations developed in 2013 between MNOs, banks and payment processors in order for mobile payments to be more widely realised.
PE – "We have already seen this from the likes of Samsung and Visa collaborating on mobile contactless payments during the Olympics, and we expect to see more activity like this in 2013 to drive further innovations."
MJ – "Currently, banks are balancing competing forces for their investments. They are having to optimise their cost base in a way they have not had to do in the past. They require investments in new technologies, while mobile and digital channels are seen as innovative drivers of growth. Overall, we expect these to balance and while it may mean different projects are prioritised."
RM – "The need for bank branches to run efficiently will be a key priority, and we will see banks moving to more sophisticated cash forecasting systems to achieve this. For example fitness sorting devices, note counting devices and currency sorters will be linked to central cash forecasting systems"
SL – "We expect to see increased sharing of infrastructure as banks seek to emulate efficiencies achieved in other markets. Telecomms providers do not all have different cables going to every individual house, and cable and sky TV customers can watch other providers' channels; banks in RGMs (where infrastructure is still emerging) and developed markets (where systems are out of date and margins are being squeezed) should be looking at how they can share more infrastructure."
AL – "Making critical data in the cloud accessible and safe in real-time will mean 2013 is the year that cloud storage becomes a reality for the financial sector. 2013 will be the year that IT becomes invisible within institutions – with the growth in virtualisation IT is becoming highly available and accessible – like a utility."
RBI: How would you summarise some of the more notable changes in the retail banking sector? What is your take on the market?
DW – "Ultimately, 2013 will be the year that bank and customer relationships are tested, and the winners will be those that best adapt to digital demands."
DY – "Research from VocaLink conducted last year amongst 10,000 consumers and SMEs from the UK, Germany, Malaysia, Canada and the USA revealed a significant appetite for inter-bank payments in near real-time via a mobile phone. Ease, speed and convenience were identified as the key drivers of the service's appeal. Mobile payments can unlock new profitability for SMEs by reducing the cost of business for them."
RB – "While it is not possible to say precisely how mobile payments will play out over the course of 2013, First Data sees accelerating investment in this area next year which will become foundational for broader mobile payment success."
PE – "The lack of customer knowledge NFC-enabled devices will fall during 2013 as more companies lean towards contactless payment systems, the most recent being the London Bus network which is kick-starting UK adoption."
RM – "During 2012, we've seen banks implementing fully integrated cash-handling strategies. This has involved increased levels of investment in technology to enhance both the self-service channels in the branch and the role of the teller. In particular we've seen increased interest in cash recycling and also in devices with banknote fitness sorting and counting abilities."