The future of the payments industry will be shaped by a range of disruptive themes, with artificial intelligence (AI) being one of the themes that will have a significant impact on payments companies. A detailed analysis of the theme, insights into the leading companies, and their thematic and valuation scorecards are included in GlobalData's thematic research report,Artificial Intelligence (AI) in Banking – Thematic Research. Buy the report here.
AI refers to software-based systems that use data inputs to make decisions on their own. In banking, AI use cases range from enhancing client interactions through chatbots; to providing better loan terms through data-driven risk assessments; and the automation of laborious back-end processes. Banks can realise the benefits of AI in cost savings, quality improvements, an expansion of their services, and increased personalisation in these product offerings.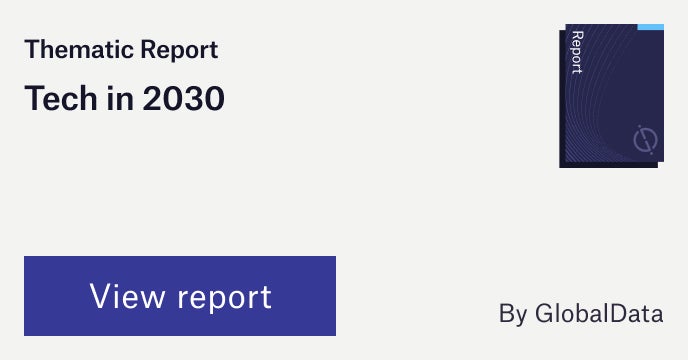 There has never been a more important time for banks to invest in AI. With threats to the industry coming from both disruptive fintechs and the Covid-19 pandemic, which uprooted traditional branch-based banking, banks must be proactive in adapting their strategies and processes to remain competitive and desirable to consumers. Fintechs have changed consumer expectations, putting more pressure on banks to offer a better user experience. This comes at a time when 0% interest rates are already challenging retail banks' core business.
However, not all companies are equal when it comes to their capabilities and investments in the key themes that matter most to their industry. Understanding how companies are positioned and ranked in the most important themes can be a key leading indicator of their future earnings potential and relative competitive position.
According to GlobalData's thematic research report, AI in Banking, leading adopters include: Amazon, Alphabet, Apple, Z Holdings, Tencent, Ant Group, Goldman Sachs, BBVA, OakNorth, and DBS Bank.
Insights from top ranked companies
Amazon
As the world's leading provider of cloud infrastructure services, Amazon competes with Google in AI services. It offers a slew of AI and ML services through AWS. These include pre-trained AI services for image and video analysis (Rekognition), conversational agents (Lex), and text-to-speech applications (Polly). Cloud ML platform SageMaker was launched towards the end of 2017. The most well-known AI product from Amazon is Alexa, its virtual assistant. As part of its Echo range of devices, Alexa gave Amazon an early lead in the nascent smart speaker market. Amazon orchestrates the world's largest fleet of mobile robots in its warehouses and has invested heavily in AI-related M&A activity, acquiring Canvas, a warehouse robotics company, in 2019, and Zoox, a leading autonomous vehicle start-up, in mid-2020.
Alphabet
Google is, by most measures, the leading provider of AI. The company has been at the forefront of several of the most significant breakthroughs in AI, from the autonomous car (Waymo) to AlphaGo. It offers the broadest portfolio of ML technologies, its Google Assistant conversational platform regularly outperforms its competitors, its TPU family of accelerators is cutting-edge, and it is a powerhouse in AI R&D. Google's biggest asset is its wealth of customer data. The tech giant has been heavily involved in AI-related M&A activity, with its 2014 acquisition of ML pioneer DeepMind the most well-known. In the last couple of years, Google has emphasised the importance of ethical considerations within AI and using AI for social good, contributing to far more social media attention than any other company.
Apple
Apple trails the leading players in AI. Both Google Assistant and Amazon Alexa regularly outperform Siri, and Apple was slow to enter the smart speaker race, resulting in its HomePod having a lot of ground to make up. However, Apple dominates the important wearables segment with its smartwatch and hearables, products that will help it increase the use of Siri. In recent years, Apple has made a string of AI acquisitions to close the gap on its rivals. Significant investment has gone towards improving Siri, including the purchase of several ML, voice tech, and edge computing start-ups. There has also been widespread speculation that Apple will acquire wireless speaker company Sonos.
To further understand the key themes and technologies disrupting the banking industry, access GlobalData's latest thematic research report on AI in Banking.
PayPal
Visa
Mastercard
Klarna
Block
Revolut
Stripe
Paytm
ACI Worldwide
Adyen
Worldline
SumUp
Amex
Samsung Electronics
Meta
Monese
JCB
FIS
Discover
Verifone
JPMorgan Chase
Fiserv
Global Payments
SecurePay
Barclays
Danske
WorldRemit
Nets
Wise
MoneyGram
Premium Insights
From
The gold standard of business intelligence.
Blending expert knowledge with cutting-edge technology, GlobalData's unrivalled proprietary data will enable you to decode what's happening in your market. You can make better informed decisions and gain a future-proof advantage over your competitors.