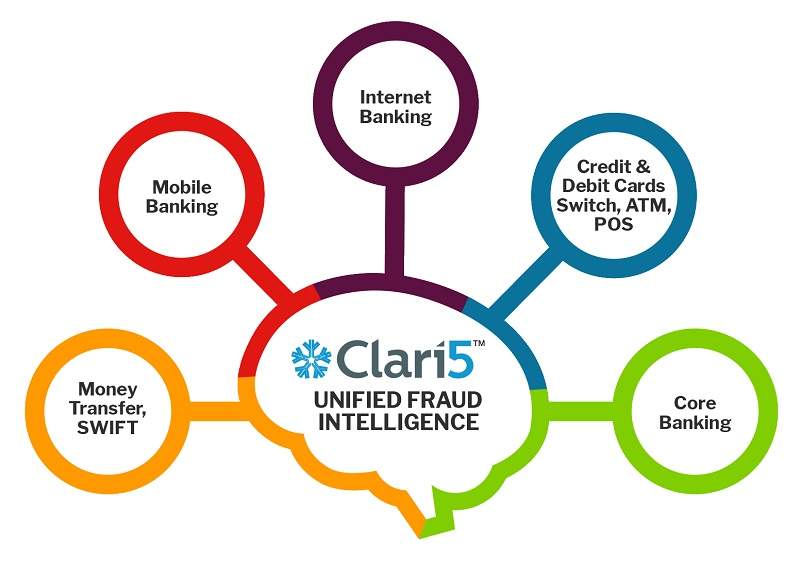 Clari5 by CustomerXPs offers a real-time, cross-channel banking enterprise fraud management system for financial organisations worldwide.
Built using best-in-class Automation, AI and Machine Learning technologies, Clari5 is the only bolt-on solution that manages fraud holistically across all channels, including Remittances, Branches, Cards (Debit/Credit), POS, Internet Banking and Mobile Banking for all lines of business – using a 'central nervous system' approach that synthesises intelligence from across all the banks' systems and delivers actionable intelligence in real-time within the transaction window itself.
Clari5 currently processes more than 10 billion transactions, manages over 450 million accounts, and reliably secures 4% of the global population's banking transactions. With 200 million accounts at a single site, Clari5 has the world's largest implementation of a fraud management solution.
Real-time, cross-channel fraud management solutions
Clari5's enterprise financial crime management (EFCM) solution is an intelligent Big Data system that combats high-tech fraud with real-time, actionable insights
The system is designed to meet the fraud detection, investigation, prevention, monitoring compliance, and audit requirements of financial organisations.
The solution reduces financial and reputational loss, cross-channel fraud, false positives and operational costs while ensuring regulatory compliance.
Highlights
Implemented successfully in large global banks
Combats cross-channel, cross-product fraud (internal fraud, identity theft, asset turnover, credit card fraud) across the bank
Cross-pollinated intelligence in extreme real-time
Customer aware solution digesting all transactions, events and actions
Silo Breaker with actionable insights
Out-of-the-box integration with widely used core systems
Rapid on-site or software-as-a-service (SaaS) deployment
Comprehensive, real-time anti-money laundering solutions
Clari5's real-time anti-money laundering (AML) solution helps banks and financial institutions automate, streamline and comply with existing and emerging regulatory compliance programmes in AML or combatting the financing of terrorism (CFT).
The solution suite comprises of six key modules, namely suspicious activity monitoring, case management, customer risk categorisation, entity identity resolution / watch list filtering, regulatory reporting and entity link analysis.
Monitors suspicious money laundering activities in real-time and takes the right decision at the right time as opposed to end of day reporting and analysis.
Offering a real-time monitoring and detection solution for suspicious money laundering transactions, the company's AML system improves regulatory compliance and customer confidence, and allows quicker implementation and a low-cost commodity hardware infrastructure leading to reduced total cost of ownership (TCO).
Highlights
Fully automated AML compliance programme starting from customer on-boarding to ongoing relationship monitoring
Compliance with regulators by filing various regulatory reports, including cash threshold reports (CTR) and suspicious activity reports (SAR)
Integrated reports and dashboards, which providing insights on the efficiency and effectiveness of the AML system
Real-time customer experience management
Clari5 knows that every banking customer is unique and provides the ability to offer individualized customer experience across all channels and communication. It has the ability to analyse and interpret every transaction intelligently and in real-time, which results in your banks conversations, services and products being highly relevant and contextual for the customer.
We implement a holistic approach to every individual customer by constantly interpreting events to maintain your customer's real-time receptiveness to cross cross-sell / upsell and customer-profile-based lifetime value. Clari5 CEM learns from transactions, interactions, responses and assimilates insight from across functional silos to deliver what is relevant to your customer.
Our CEM solution increases employee productivity, cross-channel revenue and customer satisfaction while reducing customer turnaround-time (TAT).
Highlights
Delivers instant contextual intelligence across all banking channels
Powers every customer interaction with complete customer understanding
Develops real-time customer insights from multiple backend systems
Effectively empowers employees to provide optimal customer service over every interaction