Following the granting of its banking licence in 2016, Starling Bank launched its beta account and app in March 2017. Although the app offers fairly limited functionality at present, it is easy to use and represents a credible first effort.
Starling Bank went into soft launch in March 2017 with its app-based current account. First impressions are favorable: the registration process is fast and straightforward, and the app itself, while fairly basic at the moment, is intuitive and offers some useful enhancements.
Account registration is carried out entirely in-app, with applicants first having to enter their name, date of birth, and address. One minor quibble is that, when entering date of birth, the user has to scroll forwards or backwards from the default setting of 1987 one month at a time, which can prove very time-consuming. Once their personal details are confirmed, users can set a PIN to access the app, although this is optional.
To verify their account users have to record and submit a selfie video, which entails reading out a short, pre-determined phrase. Finally, an image of an ID document, such as a driving licence, needs to be uploaded. All the user then needs to do is request their bank card and set their card PIN. The account can be used immediately, without having to wait for the card to arrive. In total, the onboarding process takes around ten minutes.
The app has a pleasing interface. The home screen features the Pulse (left-hand screenshot below), which neatly displays a user's daily spending. Scrolling up from this screen reveals a list of transactions (second screenshot), which, if tapped, will reveal further details, such as the time and location of a card payment (third screenshot). Whenever a card payment is made, an instant notification is sent to the user's phone, which is an obvious security benefit.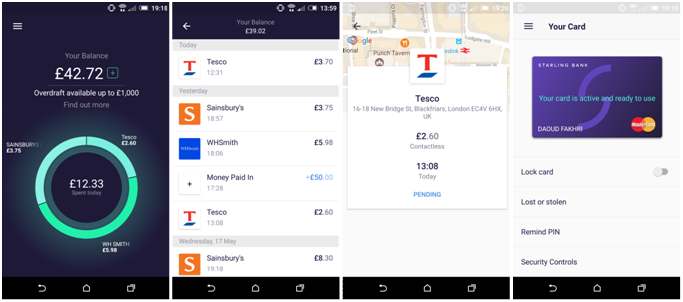 Other security measures include the option to enable location-based fraud protection, which only allows card payments to be made in the presence of a user's mobile phone. Alongside this are more conventional card management tools, such as the ability to temporarily lock a card (right-hand screenshot).
However, the app is rather basic at present. For example, the Pulse only summarises daily spending, so it would be helpful to see spending over a longer timeframe, such as 30 days. Starling Bank should also consider using AI technology, such as predictive analytics and chatbots, to add value to its proposition and enhance the user experience.
Where Starling Bank can really differentiate itself is through its Marketplace: it is making a great virtue of the fact that consumers will be able to enjoy fully integrated access to third-party services, and if it can effectively implement this functionality in its app it will enter the open banking era with a clear lead over the competition.