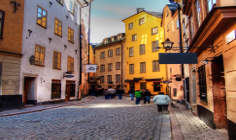 Swedish online-only bank Nordnet started out with a digital only strategy and will always continue to be a digital-only business, even though bigger banks in the region are giving their branch channel priority. CEO of Nordnet, Håkan Nyberg, speaks to Meghna Mukerjee about how the lender is aiming to be the Nordic region's leading savings bank
On its website, the online only lender Nordnet – founded in Sweden in 1996 – claims to be a "modern bank" that puts its customers' best interests first, with the cornerstones of the Nordnet offerings aiming to simplify savings, investments and loans, and provide smart solutions for customers in the Nordic region.
Nordnet openly calls more traditional, big lenders in the Nordic region such as SEB, Handelsbanken, Swedbank, Nordea "Jurassic Banks" and aims to be the leading savings bank in the Nordic region using a single online-only platform for all the countries it operates in.
Hakan Nyberg, CEO of Nordnet, says the lender's branch is its website that is available to customers 24/7.
"We have been digital from the beginning and we continue to improve that for our customers by giving them betters solutions and better functionality. We started as an online business and will continue to be an online business only. We need to keep pace with the high quality, accelerating digitalisation that the society is going through and in turn affecting customer behaviours."
Unlike bigger banks that complement the branch network with its digital channels, Nordnet – being present only over online and mobile channels – also differentiates itself in attitude as its digital strategy is its only strategy, with a focus on user-friendliness. The technology platforms that Nordnet uses are also built in-house.
"Everyone can develop digital functionality, but not everyone can build a core capability that leverages on the digital interface. This capability differentiates us from traditional banks in terms of having well-rounded digital channels.
"It's not about aimlessly developing technology but about understanding what is required of the technology and develop services around the customers. The strategy we follow is to understand our customers well and do better things for them across the digital platforms."
According to Nordnet, even though the lender does not have a physical presence, brick and mortar branches have no real advantages over its digital-only strategy as customers always have the option of meeting bank representatives whenever they want.
"We can meet up with customers in any location that they choose, it does not particularly have to be a branch. We have done so as well," says Nyberg.
"Customers can reach us by phone or email during office hours or contact us on Facebook. We invest heavily each year in keeping our website modern and reliable. In 2011 our system accessibility rate was 99.94%," he adds.
Nordnet launched its mobile banking app across iPhone and android platforms in 2011 – the first m-banking app among Nordic banks with the capability of paying bills and trading in shares and funds, among other things.
In the first quarter of 2012, the number of active customers amounted to 196,300 and the number of active accounts amounted to 237,300, with a total savings capital of SEK58.6bn ($8.8bn).
There has been an "explosion of the portion of log-ins that come from the mobile devices" in the last couple of years, according to Nyberg, and Nordnet has also used features such as social media and blogs to engage customers – a novel move for a bank.
"We launched the Nordnet blog in early 2009, and initially we only had Nordnet representatives as authors. It worked OK to begin with, but never attracted any big audiences.
"To increase interest, we therefore let external authors from partners and fund companies contribute with content. It has worked out really well and in Finland, for example, where the Nordnet blog is one of the country's most popular hotspots for investment discussions and ideas. We will take the next step and offer anyone to become an author and blog within the Nordnet blog interface."
Nordnet also plans to add several new functions to increase interactivity between the readers and authors.
"I think this is a first and big step in really embracing the opportunities offered to us by social media. Going forward, we will continue to improve the user experience on our sites with more social functions," says Nyberg.
Nordnet carries out regular customer surveys to understand how satisfied customers are and what more they need. "But customers don't always know what they want so we have to come up with innovative things to offer them."
Nordnet already uses its social media channels in several areas such as customer service and marketing among others, and beyond Facebook and Twitter the lender has a personal platform where customers can share opinions and get feedback.
Being a relatively new player in the Nordic retail banking segment, Nyberg feels it is becoming less difficult to gain customers from bigger, traditional banks as the accelerating pace of technology is inadvertently affecting customer behaviour and, thus, "gaining market share or position so far has not been tough".
"What we have been able to do and plan to continually do is not only deliver things across the digital channel but also be present in the digital world and across social media strongly," says Nyberg.
Nordnet does consider non-banks such as PayPal and Google and telcos as direct competitors as they are coming into the market with digital financial offerings as well as direct customer relationships. Nyberg stresses that there is intense competition is the digital space for customer attention and companies such as Google are in a position to own a lot of it.
Going forward, Nyberg feels Nordnet should start thinking about adding payments services even though fraud fears are going to be an issue for a while to come.
"There is a lot less resistance than there used to be but we should take the customer doubts seriously. Customers in the Nordic region are very digitally active and as we continue to get broader segments in our customer base we are learning more about our own products and strategy."