NatWest Bank has launched a new student proposition aiming to acquire full-time students as customers.
Based on data from GlobalData's Financial Services Consumer Survey, the focus point for NatWest will be those aged around 18–24 regarding who is likely to become a student in the next few years or who has become a student in the last two years.
Looking at the data, the biggest competition for NatWest is Barclays Bank, with 23% of those aged 18–24 holding their main current account with Barclays and only 12% holding accounts with NatWest.
The new offering from NatWest has the potential to acquire customers from Barclays and even customers from some fintech banks, despite 71% of 18–24-year-olds preferring alternative providers in the UK when asked: "If you were to open any of the following financial products and services, which type of provider would you prefer to use?". Given that many neobanks don't have specific student propositions in place, NatWest may have a slight edge here.
The NatWest student proposition offers a £50 cash incentive and a four-year Tastecard membership that provides discounts and offers at selected restaurants, cinemas, and retailers. In addition, the new proposition offers students a £2,000 interest-free overdraft, available in their first year of study.
Barclays Bank also offers a student proposition called "Student Additions" that offers interest-free overdrafts and provides access to Perlego, an online library of academic and non-fiction titles.
If "Student Additions" is a student's first current account with Barclays, they will receive a free 12-month subscription to Perlego. This means there is no fully free tool offered as part of the package, with the proposition offering little else at present.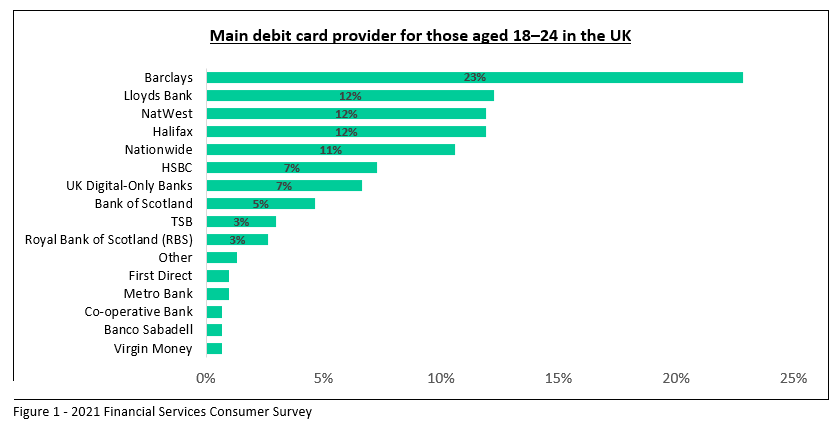 "The NatWest proposition is an attractive offer"
In our view, the NatWest proposition is an attractive offer with a cash incentive, and the discounts at restaurants and retailers are particularly strong given that the lockdown restrictions in the UK are almost entirely lifted now.
GlobalData's 2021 Financial Services Consumer Survey found that the highest level of dissatisfaction for those aged 18–24 was concerning loyalty and rewards, with 45% suggesting they are not happy with this in particular and thus providing strong evidence that this could be an attractive offering.
In our view, the Barclays proposition lacks excitement and lacks what students are most likely to be attracted to. The Perlego access is no longer free after only a year of use, and there are no other incentives (apart from the overdraft) that would be appealing to students.
NatWest has an excellent opportunity to acquire students and retain them in the long term as it builds and develops on its retention strategies going forward.
This was written by Jaimini Pattani, GlobalData banking analyst.