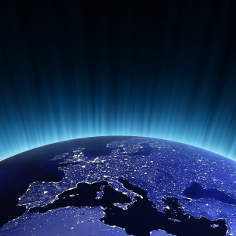 The bank branch network across Europe is to shrink by as much as 20 to 30% in the next 5 to 8 years, according to findings of The Future of Bank Branch Networks report released by the European Financial Marketing Association (EFMA), reports Billy Bambrough
Europe is set to witness a dramatic reduction in total bank branch numbers as a result of the ongoing growth in the popularity of the digital channels.
There has already been an overall fall in banking branch staff in the EU over the last decade, according to a report from the European Financial Marketing Association (EFMA) entitled The Future of Bank Branch Networks.
According to EFMA, in the majority of cases, reductions of staff were achieved by not replacing retirees, with few banks having to resort to harsh restructuring programmes.
Surveys carried out at the banks show that the worse hit by these reductions so far have been tellers and back office staff more often than those sales and commercial roles.
According to the report, most western European markets have a high branch density, while eastern European countries, such as Poland and the Czech Republic, are still experiencing a rise in their branch numbers. The overall EU 27 market has an average number of 460 branches per 1 million inhabitants.
Germany and Switzerland are close to the average number of branches, when including post bank outlets.
Whereas Spain, where there is no post bank, shows in contrast to the rest of the core markets a very high density of branches in relation to its population density, with 835 branches per one million inhabitants.
The report found that between 2010 and 2012, mobile internet developed strongly from 20 up to 40% of Internet users connecting through mobile banking. The figure reaches 59% for the population aged 30 years or less.
The report says that people born in Generation Y look for financial solutions which are delivered via the mobile channels and social networks. This trend is emphasized by the fact that already 8.5% of all mobile users in the largest EU countries accessed their account via a mobile phone by March 2011.
Since nearly all banking tasks can be accomplished online, what does this say about the future of bank tellers, asks the report.
In the medium term, automated processes, paperless activities, electronic signature and remote transactions should, reduce the basic banking servicing workload and cash management in a branch.
When it comes to online customer service, what people value most is the ability to self-serve for quick answers to their questions, finds the report.
The EFMA say some banks are already experimenting with virtual assistants who are able to provide appropriate answers based on a semantic understanding of customer requests.
Virtual assistant tools go beyond traditional web site FAQ and Help pages: their aim is to create a human-like interaction understanding the user's intent and then acting upon it.
The report names BBVA North American as one bank testing a new virtual assistant tool, named Lola.
This customer service tool will expand to all of the bank's branches and kiosks, and, says the report, aiming to provide more sophisticated assistance such as suggesting ways for customers to make better use of the bank's evolving products and services.
According to various surveys, says the report, only one fourth of bank customers changed their principal bank once in their life, but 10% have done in the two last years.
An additional 10% declare to be ready to do it if they do not receive the expected service. Notably, the new Gen-Y segment, increasingly contributing to bank revenues, lacks this loyalty towards the bank.
The trend towards Internet banking is huge, states the report: Whereas in 1998, 8% of all customers have been using any form of Internet banking, in 2011, 59% of global Internet users check their bank accounts online.
The report found that, when considering products offered online and products offered in branches, it can be noted that basic services such as checking balances, transferring money or trading securities and stocks can easily be carried out via the bank's web site, whereas complex products such as mortgages still need a personal consultation.
In surveys conducted by EFMA, it found that young customers are asking for technology, advice and targeted products; they expect convenience and the ability to execute their banking transactions on the go. They are ready, says the report, to make full use of new channels such as mobile banking.
The report found that customers are now used to directly comparing product information and prices online. They analyze different offers and pick out the most suitable. And thanks to social networks, they share their online experiences with their online friends.
For all these new types of interaction, both with peers and with banking institutions, the customer does not often ask for branch services, but requires permanent availability over the internet.
According to the report, after a fairly long period of time of a profitable and stable branch-centric business model, major changes have strained the European retail banking industry in very few years, irrelevant of the type of institution: multinational, regional, cooperative, postal, specialized in niche targets or product lines.
The report predicts that the senior management of branch-based retail players faces two core challenges: Capitalise as long as possible on the existing and well-established proximity-centric business model, and invest in a multichannel platform which allows "readiness" for the new digital world as soon as possible. About 40% of the interviewees admit to still be undecided on where to put more emphasis in the upcoming years.
While no more than 5% aim at becoming a pure digital player, about one third intends to "reinvent retail banking", usually meaning to move into the digital world without losing sight of branches.
Further technological development (encryption, certi?cation of electronic signature, larger broadband capacity, easing the flow of scanned documents, etc.) will enable banks to widen the range of products offered for online purchase.
The report further predicts that mobile banking is expected to be the fastest growing channel in the upcoming years and – according to interviewed bankers – will contribute to the change of retail banking in a timeframe of 5-10 years.
As a result of this move into the digital and mobile channel the report found that the average size of branch differs according to the maturity of local market on which financial institutions operate.
In emerging markets there is no consensus on a minimum size of a branch.
The report found banks interviewed in France, Italy and Spain pointed out noteworthy difficulties in managing many, small branches, despite this part of Europe have a very heavily saturated bank branch network.
When the EFMA asked about the banks forecast in terms of average branch size, there was no significant difference between senior executives from mature or emerging markets.
Executives in both markets agree that having an extensive branch network is still inefficient in some cases, and rationalization measures are to be seriously considered.
Having a higher average number of staff per branch, banks operating in emerging markets particularly emphasise on the need for streamlining, says the report.
The report suggests a first option for many banks to reduce the number of employees working in a branch is the removal of tellers and floor managers in small outlets, an option which corresponds with a stronger future branch focus on advice-related issues.
The report found that banks expecting to remain steady in branch number and average staff size only account for 13% of respondents in the reports survey.