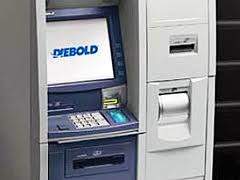 Diebold has historically not been as active in the UK as its direct competitors, but that has been changing since John Ennis, Country Manager of UK and Ireland, joined the team in July 2012. Billy Bambrough spoke to Ennis about the future of Diebold in the UK
Diebold has corporately been investing heavily in the UK, growing their UK operations to better challenge the market incumbents NCR and, to a lesser extent, Wincor Nixdorf.
Ennis joined Diebold from rivals Wincor Nixdorf, where he served as the Director of UK Banking and General Manager of banking global accounts.
Internationally, Diebold has been having a tough time of it this year; announcing in its 2013 first quarter results a net loss of $13.4m with revenue at $634m, down 9.3% from the first quarter of 2012.
Ennis is confident however that there is plenty of room for growth in the UK market and that Diebold's offering can capture some of the market share away from its rivals.
In 2013, Diebold has been growing it's business with HSBC, who it first sold it's ATMs to in 2006, and has secured preferred supplier status with three tier one banks in the UK which will go live with a variety of Diebold products and services between Q4 of 2013/ Q1 2014.
RBI: What do Diebold's operations look like in the UK currently?
John Ennis (JE): "It takes a while to gain customer trust and commitment to integrate new hardware and services into banks existing networks. It takes between six months and one year to go from start to finish in the sales process.
"We are currently on target when it comes to the timeline. We will put machines this year with one large high street bank, other than HSBC, who we continue to put machines on the street for.
"Next year we have two further roll outs, the details of which will be announced in January.
"To start with we've found our clients are prepared to test Diebold with ATM pilots before committing to larger ventures. With the customer we have recently landed in the UK we have begun talking to them about wider offerings like branch transformation projects.
"We are currently doing some very exciting things in the US, Europe and South America with strategic, branch transformation projects. We are in discussion with banks in the UK about this but I think it's unlikely that they will jump into a full branch refurbishment before our ATM/deposit pilots are successful.
" We are also seeing a lot of demand for automation of the teller line. One proposition for revolutionising the teller line is the use of virtual teller and assisted self-service solutions.
"These involve the staff which are traditionally behind the counter, coming around and assisting the customer with anything from mortgage applications to cash deposits.
"That's where Diebold is going, not just in the UK, but around the world. Financial Institutions globally are demanding new and innovative solutions in their branches for their customers and we think we're fairly well advanced and well placed to do well in this market."
RBI: How do you think customers will react to this shift to self-service?
JE: "Times have moved on since customers had to struggle with complicated and inefficient self-service machines. Today's Diebold machines are now more secure, quicker, accurate and far more intuitive. It's really moved on a lot in the last few years.
"One of the big changes is that now the bank staff can have technology in the form of tablet computers that assist the customer with self-service transactions. Once you've shown someone how to use the machine they find it very easy on the next visit."
"Bank branches may see a similar kind of change that the supermarkets have experienced with self-service tills and airports have done with self-service check-in."
RBI: Will this shift to self-service result in further frontline staff cuts at the banks?
JE: "Banks that I've spoken to, particularly in the UK and Ireland, are looking to redeploy their staff. They want to get the staff out from behind the counter, talking to the customers and working to enhance the branch experience."
"We've got a new CEO, Andy Mattes, who has been with us for around a month and his vision is to grow the company. In order to do that, we have to ensure our resources are properly deployed and we're investing in the right areas for growth. Along with meeting our customers' business challenges, that's Diebold's primary focus at this point.
"If we look at my region, the UK and Ireland, it's all about growth. I'm getting the investment required and the right people on board. We're putting an awful lot of work in to growing our business in the UK and Ireland."
RBI: How long will it take for the UK to catch up with the rest of the world?
JE: We are in talks with all the UK banks, not just the ones we have signed up so far. My vision is to commence business with at least four Banks by early 2014 and then work on increasing our footprint with the others.
"Our footprint in the UK is small so it's going to take a while, it's not going to be immediate but I'm confident you will see a lot of Diebold ATMs and deposit units on the high street in the next few years.
"There are circa 66 thousand ATMs in the UK today so it will of course take time for Diebold to gain a sizable share. The ATM replacement cycle in the UK is seven-ten years and there are sometimes ATMs still in use that are 15-years old but Diebold are positioning to capture the install base and grow exponentially every year"
RBI: How will Diebold remain relevant in the electronic payment age?
JE: Cash is still very prevalent in our market. Electronic payments may be growing but cash isn't shrinking. However, Diebold are obviously cognisant of the trend and massive increases in electronic payments, so we are investing in new solutions and software architectures to cater for Banks future needs.
"Diebold strive to offer our Financial Clients ways of making their customers life easier, both inside and outside of bank branches."
RBI: How does Diebold deal with the problem of bank's legacy systems?
JE: "Diebold software solutions are designed to work in a segregated way from the banks' legacy systems. This 'thin client' architecture moves customer functionality off of the actual ATM and legacy systems to a separate middleware server which handles business transactions.
"It makes it far easier and quicker to change and update services for the Banks customer. Banks now are all about fast business change and that's something that Diebold's software can offer them.
"I think there will be a lot of change in the next years as banks begin to update their older systems and look for ways to innovate and keep pace with everyday technology solutions. As digital and tablet technology becomes more pervasive, banks will make a move to incorporate this much more in to the day-to-day running of the branch."