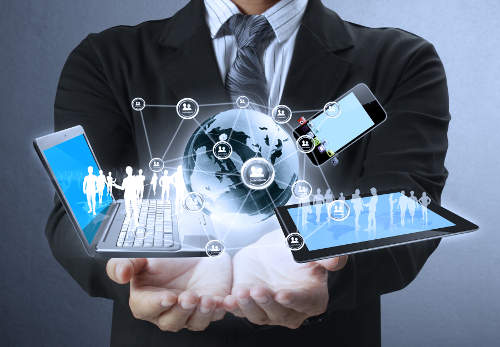 The rise in smartphones and tablets has meant that we are bringing our gadgets into the work place more than ever and nowhere has this posed a bigger risk than in financial services. Billy Bambrough looks at how BYOD has changed the industry and what we can expect from it in the future
Whether they know it or not, every company has in some way benefited from 'bring your own device' (BYOD). Even the few and far between companies that have no policy on the issue can not prevent their employees from using their personal devices in the work place.
As banks and other financial service providers have to meet the demands of security conscious customers as well as ever more complicated regulation the FS industry has a tougher time with BYOD than most.
Despite this many banks are jumping head first into the world of BYOD. US based Union Bank has been running a BYOD strategy for the past nine years.
Dana Edwards, executive vice president and chief technology officer tells RBI: "Union Bank adopted a BYOD strategy about nine years ago. The adoption of iPhone devices by our employees necessitated a new policy and approach within Union Bank.
"We evaluated a number of technologies and chose Good Technology to assist us with establishing a secure container on devices, specifically for email and calendar functions. As the needs of our employee base changes, we will evaluate and adopt different technologies.
Union Bank has made an effort to maintain a wide support for a wide variety of different devices, not wanting to restrict what some of their employees can do.
Edwards says: "From a mobile device standpoint, currently Union Bank has a BYOD process that accepts any device currently supported by mobile software vender Good Technology.
"In saying this, of course our method of enterprise data access for BYOD is running Good Technology applications on these devices. We are also in the process of piloting a Virtual Desktop solution that will provide the capability for employees to use their own laptops."
The benefits to a bank using BYOD are extensive. Productivity goes up, employee and customer satisfaction both rise. Employees are happier coming to work and continue to work while they're at home.
"By having a BYOD policy, and providing a list of devices that are supported, employees are empowered to use devices that best fit their personal and work needs", says Edwards.
"Employees are more satisfied and excited when picking the next phone and the features that they like the most. Also, we believe that individual productivity has increased due to the ability to respond to requests.
Edwards adds: "Employees had an overwhelmingly positive reaction to being able to use their own devices. Individuals enjoy the added freedom to choose their device and the ability to carry around one device for both personal and corporate. We have seen demand for additional features and functions. This demand often outpaces the state of technology and security capabilities.
While the benefits of a bank fully embracing BYOD are numerous, the movement away from devices free from corporate restictions is still a long way off.
"In the future, we see an expansion on the use of mobile devices due to better use of native apps for each device type, says Edwards, "We want to increase the use of productivity applications as well as secure access to internal data, like EFSS and SharePoint access, to better assist our employees' productivity.
"Application developers are beginning to catch up with user needs and with security concerns. As the security matures on mobile platforms, mobile devices will have more uses than today, including many of the more advanced functions available on desktops and laptops."
Union Bank has successfully made it through the tangle of regulations that are associated with BYOD policies.
Edwards says: "The financial industry is subject to extensive regulatory requirements regarding data safeguarding. While security is on the minds of all technology executives, industries such as health care and financial services face a large amount of data privacy and security obligations.
"For example, the Security and Exchange Commission has clear rules mandating that firms maintain records of employees' business communications. These records need to be readily retrievable and reviewable. Added to this, organizations need to ensure that devices can be located, accessed and have data retrieved or deleted when necessary."
BT is working with banks around the world to help them into the BYOD era and the company has found that the financial sector is ahead in many ways due to issues around security and regulation.
The driving factor with BYOD for BT is the consummation of IT. It starts in the application space before the device; the device is just the choice of the individual, how they want to access their typically private life. Social networks, personal email, skype and so on.
BT have found that with employees using these devices get work done traditionally they find their business applications are cumbersome, don't interact well with each other and many thing they would use to make themselves more productive aren't available.
Further, tools on the web that they are free to use at home aren't available to them at work.
BT's aim for the market is to formalise it, legalise it and industrialise it without turning the employees device back into a corporate device again.
Many vendors have been trying to force fit devices to their customers which BT thinks doesn't work.
Mark Akass, CTO at BT global banking and financial markets tells RBI: "Whatever a banks plans for BYOD, they have to have a good security policy around it. It can't just be a free for all. It has to be secured.
"Some have taken this too far and lurched to the point where these devices become dumb devices, going from a smart phone to not being able to use it.
"To the other end of the scale where people having fairly intelligent policies where they are being very specific on what you can and can't do."
One of the ways this is evolving is that devices now can have different personalities; a home one and a work one.
Today it's not uncommon for people to have one device for work and one for home. The technology has now opened up the opportunity for one device to be usable both at work and at home.
Akass adds: "The bank doesn't necessarily want it's employees to use their own devices. Part of it is that banks have to allow their employees to use the tools they use at home to the same equivalent or better.
"Ideally the bank wants to make sure whatever the work that is being down on personal devices is secure.
"Most banks will start over controlling what they allow their employees to do then slowly release freedoms back to them."
BT finds that the average number of devices is 2.5 per person. This may reduce as people are more likely to have a work device which doubles as a personal one.
According to BT it is possible to install software on a device which, if the device is lost or stolen, will remove the company sensitive information on the device but leave the personal information intact.
The device depending on where you are and what you're doing with the device, it will allow you to do different things.
Wifi in the branch is something that BT is seeing a lot of demand for. BYOD for banks isn't just for the employees. It's just as important for the customer to be able to bring their own device.
Having the bank allow the customer to hop on to the banks wifi is a big step towards this being used much more widely.
Banks are beginning to think about having one wifi for employees and one for customers, the corporate wifi allowing employees access secured data.
Barclays has rolled out wifi cross 1,600 of its UK branches. Barclays' thoughts are that in branch wifi would put customer service innovation into the hands of employees, for example by accelerating the use of Barclays online apps and enabling branch staff to give on-the-spot guidance on how to use them.
Free wifi could also help draw in casual visitors, who might then be encouraged to switch to a Barclays account.
BT proposed a white label service, with branch wifi provided by BT but identified to the public as BarclaysFreeWifi.
To make BarclaysFreeWifi as attractive to potential customers as possible, the bank wanted to eliminate hassle, with no form-filling or elaborate logon procedures, allowing customers and employees to use BYOD and connect quickly.
After piloting the BT Wifi solution at three high street branches, Barclays pressed ahead with the rollout to 1,600 of its branches.
"The feedback from customers and colleagues at the three pilot branches was really terrific," says Peter Josse, co-head of infrastructure at Barclays.
But the BYOD revolution could have died before it has even got off the ground. Earlier this year Barclays introduced 8,500 iPads for staff in order to improve customer service and boost sales. The devices are being given to front-office employees in its 1,600 branches, an average of five per branch.
Sovereign Bank in the US and others are following suit.
Even if BYOD is already on the way out, to be replaced by corporate owned devices the issues over control remains.
The main concerns with employees, and, to a lesser extent, customers bringing in their own devices are the level of access these devices are given and what is the damage potential to the bank if the worst should happen and the banks data was compromised.
This issue and the lessons that we've learnt from the BYOD experiment remain and will serve to guide banks as they move to either embrace BYOD on a larger scale or invest company money into devices of their own to distribute amongst the staff.