Profitability is now the most important challenge facing the Eurozone's banks. According to our Global Retail Banking Analytics (GRBA), banks in France have lowest Net interest margins in Europe and their margins are decreasing gradually which means they are not very profitable compared to their peers in the same region.
One factor affecting efficiency in banking is commonly highlighted by higher cost/income ratios – that is, the ratio of total operating costs (excluding bad and doubtful debt charges) to total income (the sum of net interest and non-interest income). Banks' cost/income ratios can be broken down into various categories of operating costs:
Personnel
IT
Occupancy
Other costs (which include expenses such as marketing, litigation etc.)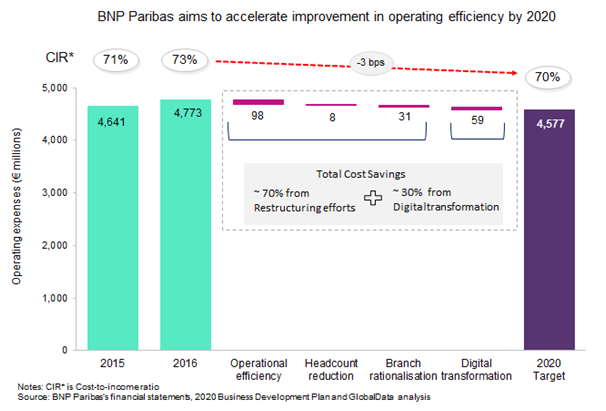 Personnel and IT costs are the largest components of banks' total costs and, as such, are important drivers of cost/income ratios. In keeping with this, the banks that reported the lowest ratios in the sample benefitted from the lowest personnel and IT costs.
In this scenario, BNP Paribas (one of the largest bank in France) is aiming to reorganise its French retail banking arm by renewing its focus on savings costs in order to increase its profits. This is also highlighted in its 2017- 2020 Business Development Plan.
According to the development plan, BNP is planning to reduce 640 jobs in its French retail banking unit by the end of 2020. It also plans to invest in technology, streamline top management, and reduce branches to reduce its cost to income ratio to 70% by 2020 as part of its restructuring program to improve profitability.
As pressures on efficiencies continue, other French banks will have to follow BNP's strategic steps to drive similar competences in their retail banks to remain profitable.
For more, click here.