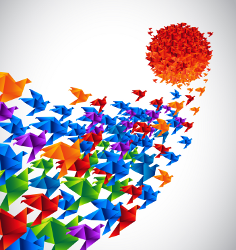 US retailer Wal-Mart has teamed up with American Express (AmEx) to launch Bluebird, one of the most innovative banking product launches of recent years. As Charles Davis reports, Wal-Mart believes that the new product stands a chance of taking off as a result of an aggressive pricing strategy
Weary from battling the financial services lobby over its attempts to gain a banking license, Wal-Mart instead quietly went about building a storefront banking operation that offers just about everything but demand deposits.
From cheque cashing too prepaid cards, the nation's largest retailer offers its millions of customers a wide range of financial services. Now Wal-Mart has completed the puzzle by teaming up with American Express to essentially circumvent the traditional bank.
Wal-Mart and Amex recently launched Bluebird – a bank account for all practical purposes, housed on a card. It's being marketed as an alternative to debit and checking accounts, while offering most of the same features.
But its game-changing feature is the pricing: Bluebird features no minimum account balance, no fees (either monthly or annual), a free debit card and no credit inquiry required to open the account.
There also are no charges for inactivity, for replacement cards, for electronic bill payment, for customer service calls or for foreign currency transactions. There are no overdraft charges because cardholders can't withdraw or charge more than their account balance.
It's the most novel approach to alternative banking product development in the United States to date, a one-size-fits-all offer that allows the unbanked access to all the features of a traditional checking account without any of the controversy engendered by a bank charter.
The effects on the rest of the prepaid industry, as well as to the broader US retail market, are hard to predict, but it's safe to say that Bluebird will place real pricing pressure on the competition.
Bluebird cardholders can access their funds or deposit cash at any Wal-Mart cash register. They can download a free smartphone app that lets them deposit checks into their Bluebird account by taking a photo, and they can pay bills online.
Friends or relatives with Bluebird accounts can transfer money directly to other Bluebird cardholders, and if customers sign up for direct deposit of their paycheck, the Bluebird card can be used with no fee to withdraw cash at more than 22,000 MoneyPass network ATMs free of charge.
Early this year, Bluebird customers will get access to additional features, such as more options to deposit cash and the ability to write checks.
Not only does Bluebird replicate a bank account, but it also provides cardholders with all the perks of an American Express charge card. It can be used to charge purchases at any merchant or online site that accepts American Express, complete with purchase protection. And holders also get Amex roadside assistance, Global Assist services and fraud protection.
Bluebird is sold as an "account in a box," for $5, at Wal-Mart stores, or customers can get a free account at Bluebird.com. The poorly kept secret behind all Wal-Mart strategy – volume-based discounting – applies equally to Bluebird.
Wal-Mart is betting that it can make money off the product through sheer mass. Its tens of millions of customers, many of whom are unbanked or underbanked, can generate billions of transactions, keeping its customers' cash in the store and generating income through incremental sales.
Bluebird also establishes Wal-Mart as the undisputed leader in low-cost financial services, undercutting its alternative financial services competitors, including prepaid issuers, payday lenders, Western Union and anyone else vying for a share of the unbanked marketplace.
It also moves Wal-Mart into the realm of full-service financial services provider free from the political baggage of a charter – a battle the retailer surely wanted to avoid rekindling.
Underscoring just how close the big-box retailer has come to full-scale banking services, Wal-Mart presaged its Bluebird announcement by allowing its customers to add cash to prepaid cards from multiple networks at its cash registers. Previously, users had to visit specialized areas of the store called Wal-Mart Money Centers to load cash onto cards.
Prepaid card users can now load cash onto cards backed by Green Dot, InComm's Vanilla Reload Network and First Data's Money Network as well as Bluebird, and Wal-Mart has said that it will continue to work with all of its prepaid partners.
For AmEx, Bluebird gives the issuer access to a whole new market segment, and while its interchange rates might be lower in Wal-Mart stores, they remain standard in all other locations. Currently, the average American Express household earns about $97,000 per year, while more than half of Wal-Mart's customers make less than $50,000 a year.
"The financial services landscape is changing. Technological advances, regulatory changes and evolving consumer needs are redefining payments ranging from prepaid to checking and debit," said Dan Schulman, group president of the Enterprise Growth unit of American Express, in a statement. "Bluebird is our solution to help consumers who currently may be poorly served by traditional banking products. It allows them to easily and safely move, manage and spend their money."
The account, which is the first non-Serve card to be built on top of Amex's digital wallet platform, clearly represents a new direction for the issuer, which until now had hewed exclusively to a credit- and charge-card strategy.
AmEx long has banked on its higher spend per transaction, charging higher transaction fees from merchants and, in return, bringing them affluent customers who are willing to spend more. The implementation and scale of the Bluebird card creates an alternative revenue stream for the company.
The Bluebird card is a model of what all prepaid cards will become – low-cost and full of added-value services – the equivalent of a bank account on a card.