With more than five million RBC Rewards members, a best-in-class value proposition and digital-first mindset, RBC is clearly leading the loyalty industry among financial institutions in Canada. As cards, payments and banking EVP Sean Amato-Gauci tells Douglas Blakey, there is tremendous opportunity for growth as the bank looks to transform beyond a traditional credit card points programme
Loyalty programmes are big business in Canada: not only are 91% of Canadians part of a loyalty programme, but Canadians have 12 loyalty memberships on average, seven of which they actively engage with and use.
For Royal Bank of Canada (RBC), the affinity that Canadians have for loyalty programmes was an opportunity the company first saw almost 20 years ago when it launched its proprietary loyalty programme, RBC Rewards.
Since then, RBC has invested in making it a unique, market-leading programme that provides unparalleled value to consumers on a digital platform, personalised to individual clients. RBC Rewards is the largest proprietary rewards programme in Canada. It delivered over C$1bn ($0.75bn) in value to its members in 2017 alone, and today serves more than five million Canadians.
"From the beginning of its development, we recognised that RBC Rewards was a core competency that should not be outsourced," says Sean Amato-Gauci, EVP of cards, payments and banking at RBC.
"Today, all you have to do is look at the disruption in the marketplace that consumers are faced with to see the value in that decision."
Even with its leadership position, Amato- Gauci tells RBI that RBC is focused on continued growth and constantly innovating as the company looks to the future.
Reinventing rewards
The rewards landscape in Canada is constantly changing, and consumer value propositions have undergone fundamental shifts over the past few years.
RBC is taking the opportunity to lead the way in redefining what loyalty programmes look like for Canadians, providing them with experiences that align with their evolving digital expectations.
The theme of constant innovation is embedded in the culture of the RBC Rewards team; this encompasses new partnerships with leading merchants to digital experiences that drive a more engaged client. Moreover, new value propositions are continually tested and refined to improve the programme.
The success of the proprietary loyalty programme can be attributed to the strong focus on putting the customer at the centre of every decision. Having a value-first approach to loyalty is helping RBC to accelerate growth and deepen engagement with consumers.
The programme offers value ranging from attainable everyday rewards to highly aspirational travel and experiential rewards. Notably, RBC Rewards members are 1.7 times more digitally engaged, have 1.5 times more RBC products and are two times more profitable.
"Providing superior client value has always been a core strategy for RBC Rewards," says Amato-Gauci."Having this privileged proprietary asset is something that can't be easily replicated. We get to control the strategy, manage the value proposition and measure success while driving deepened client relationships."
Consumer choice
A one-size fits all approach is a thing of the past for loyalty programmes.
To be successful, they must have a client-centric approach that creates rewarding experiences for consumers. This holds true for financial incentives such as points, cash-like rewards or discounts, which continue to be the primary reason to participate in loyalty programmes.
"Consumers want and expect choice and flexibility in how they earn, what they earn and how they can use their rewards," explains Amato-Gauci. "They are also looking for a loyalty experience that is embedded into their everyday lives, gives them more control over the type of rewards they can access, and offers the ability to earn and redeem points across multiple channels and products."
More recent innovations allow members to unbundle the reward-redemption experience and rebundle it with the payment experience. An example of this is the recent launch of Pay with Points: a capability that allows RBC clients to pay for part, or all, of a purchase at the point of sale using RBC Rewards points.
This is one of the ways in which RBC is creating a true digital currency that can be used at almost any retailer in real time – reward points are essentially as good as cash.
"This most recent innovation is central to our broader strategy, which is to provide relevant and unmatched value that goes beyond traditional transactions," explains Amato-Gauci.
"We're redefining loyalty to be much broader than earning and redeeming points. Clients have the ability to access events, concerts, big-ticket sporting events and once-in-a-lifetime experiences. They have such a broad range of choices, and almost anything can be a redemption item using RBC Rewards points."
A digital-first mindset
At RBC, the focus is on building a digitally enabled relationship bank where the client is at the centre of every decision made.
What sets RBC apart and drives its success is the ability to seamlessly integrate into its clients' daily digital habits and be a consistent partner that provides value on their life journeys. The success of the RBC Rewards app and website is proof that the strategy of continuous digital innovation is paying off.
The pace of adoption has been staggering, with approximately 90% of all redemptions now completed using digital channels. This not only delivers a seamless and convenient experience that clients expect, but it also provides RBC with efficiencies, as the rewards redemption process is now completely digital.
Says Amato-Gauci: "For RBC, integrating new technologies makes it simple and easy for members to earn, redeem and manage rewards, while creating a seamless experience that bridges online and offline channels. Having a proprietary programme also enables us to leverage our own data and insights to provide a more relevant, tailored and engaging customer experience."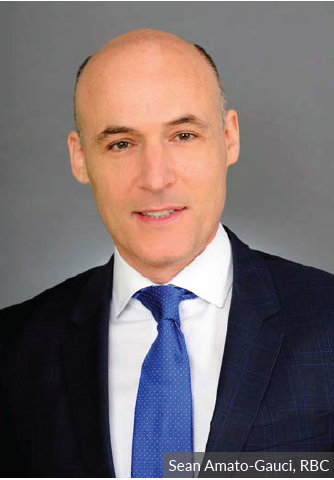 Leading brands
Partnerships will continue to be a core element for best-in-class loyalty programmes.
"A significant amount of growth has been driven by the strength of our strategic partnerships with iconic brands that Canadians love," notes Amato-Gauci.
"These partnerships allow us to offer robust redemption options and more value to our clients.
"A good example of how we have innovated our business model is RBC's partnership with Petro-Canada. In just the first year since its launch, the loyalty programme has resulted in more than 830,000 linked loyalty accounts, delivering more than C$17m ($12.8m) in fuel savings to consumers."
Traditionally, banks have partnered with fuel companies to design a co-brand credit card or other niche products. This innovative business model allows RBC to benefit from a range of products – debit, credit, retail and business – for both RBC clients and Petro- Canada customers. RBC also has a strong relationship with WestJet.
Their partnership resulted in record growth for new accounts in fiscal 2018, along with delivering over 36% year-on-year growth in purchase volume and 70% acquisition via digital channels.
Leading retailers that leverage RBC Rewards offers as a digital marketing platform for their customers include global and Canadian brands such as Starbucks, Indigo, Apple and Roots.
Making it personal
With different consumer segments valuing different rewards, RBC is focused on offering consumers a simple, relevant and highly personalised rewards experience.
"We want to empower our members to create a tailored loyalty experience that allows them to enjoy rewards how and when they choose," says Amato-Gauci. "Offering clients
personalised value based on their preferences through our digital marketing platform as well as our banking and rewards apps is what we have found to be a winning formula."
The future
According to Amato-Gauci, an expanded RBC Rewards programme open to all Canadians on a common platform is a strong focus for the future.
He explains: "For RBC, the future ultimately means evolving our loyalty programme beyond the traditional loyalty landscape. It's about creating a personalised, digital-first, open loyalty and engagement platform that offers almost endless access to rewards and experiences for all Canadians, not just RBC clients."
The loyalty landscape will only continue to evolve, and RBC has a clear view on what its future will look like. As a leading loyalty program with a highly engaged membership, the opportunities to continue to provide personalised everyday value to digitally engaged consumers will drive the success of RBC Rewards for years to come.