The physical bank branch has been suffering for some time now, and since the pandemic began, bank branch closures have accelerated significantly. But what does the future look like? Evie Rusman writes 
A

new report by cloud banking platform Temenos reveals that nearly two thirds (65%) of banking executives believe branch-based banking will be "dead" within five years. This is up from 35% four years ago.The report written by the Economist Intelligence Unit (EIU), "Branching out: can banks move from city centres to digital ecosystems?", is based on a recent survey of 305 senior global banking executives.It comes as banks across the world – the UK in particular – have been axing their branches at a significant rate. For instance, over the past six years, more than 4,000 bank and building society branches have closed across the UK.Covid-19 has also accelerated bank branch closures, with TSB set to close 155 branches, Banco Santander SA subsidiary Santander UK 111, HSBC Holdings PLC 82 and Barclays 63 this year, while Marks & Spencer Group PLC's M&S Bank will close all its in-store branches by the end of the summer.Why such a rapid rate? Speaking to RBI, Kanika Hope, Chief Strategy Officer, discusses how the bank branch trend has been developing.

"Bank branch closures is a trend that we've been observing for many years and it's a structural trend throughout the world, particularly in North America and Europe," she says. "In Latin America and emerging Asia, this trend is not as mature.

"In the initial first instance, it was just lockdowns that prevented people from visiting branches and as a result banks were forced to rethink their operations."

She continues: "Digital banking existed before the pandemic, but you always knew that for a complex transaction or to seek advice on a complex digital product, you could always drop in on the branch. But Covid meant that suddenly could not happen anymore, and therefore, banks had to adapt.

"Now, it is essential, banks ensure that even the most complex customer journeys and the most complex products, which were never originally meant to be sold or serviced digitally, have a digital equivalent."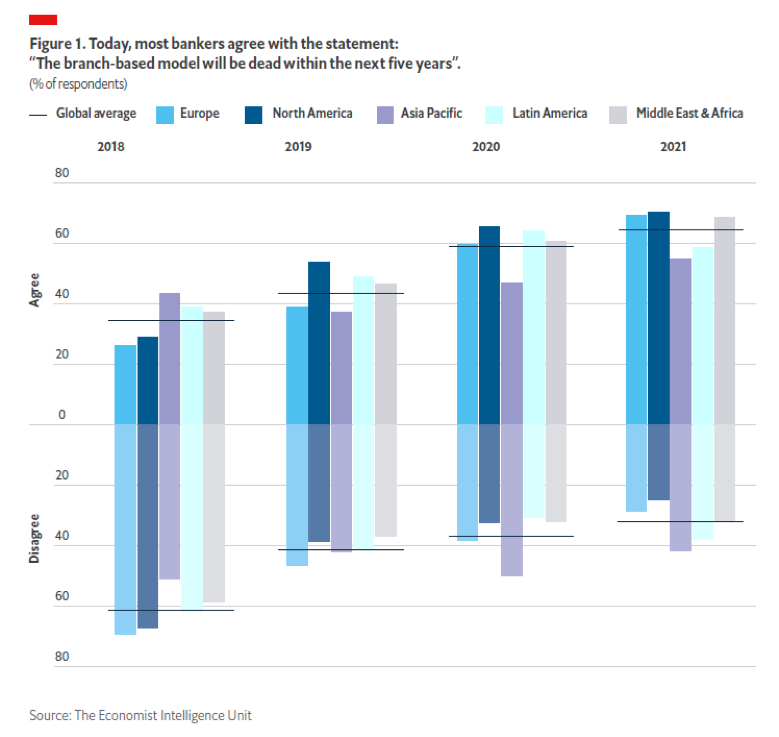 Customer behaviours will endure
Because of this temporary move to digital, Hope argues that customers are unlikely to go back to physical branches as they are now used to using digital services. As a result, the physical bank branch will suffer further."These sort of behaviours, where customers are starting to engage digitally on journeys that they didn't make digitally before, tend to endure. They will endure beyond the pandemic because now they've got used to doing it," she says."People are now more comfortable with digital banking, and the fact that they feel they can meet their needs without having to go into the branch means banks have accelerated branch closures. In the UK it has been very quick."

With excessive bank branch closures, there is a danger of isolating older demographics, who are unable to access online services. Although, according to Hope, several banks are offering tools to help the older generation "get comfortable with digital".

For example, Hope says banks across China and Asia have launched online tutorials to help vulnerable customers. She also says they are providing direct support.

Hope further warns that the few bank branches left may be different to what we know them to be currently.

"The nature of the bank branch may change – there may even be co-located branches," she says. "There are lots of ideas being thrown about and it may be that multiple different banks share a branch. Banks could even share space with supermarkets or department stores. The idea is that banks co-locate so they are still able to provide a physical in-branch service to help the vulnerable."
Technology and banking
Temenos' study shows that four in five bankers believe that banks will seek to differentiate on customer experience rather than products. Meanwhile, 65% of bankers see new technologies as the biggest driver of change for the next four years, up from 42% three years ago.AI is one of the main up-and-coming technologies banks are investing in. The research reveals that 81% of bankers believe unlocking value from AI will be the key differentiator between winning and losing banks."Banks are taking AI very seriously, but it is obviously in different phases of maturity, depending on where you are in the world," says Hope. "But the only use cases now are around customer analytics and fraud. So, banks are starting to deploy AI to personalise customer journeys. They aren't really using it to personalise products but that will come next.

"The other category of use cases is more internally focused, where banks are using AI and robotic process automation to optimise their own operations, their own ID their own back office, and their own efficiency. Efficiency is a very big driver of AI use."

According to the report, the most common use of AI is in digital advisors and voice-assisted engagement channels.

Although technology drives industry change, bankers are also mindful of the impact of its regulation—in data protection, digital taxation and the like. Regulation is the second most impactful trend that bankers identify in the sector.