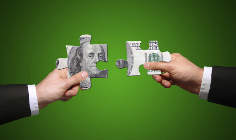 Royal Bank of Scotland (RBS) has reportedly resisted renewed pressure from the UK government to sell its US-based retail subsidiary Citizens Bank.
The government, owner of 81% of RBS, encouraged RBS to dispose of the $140bn assets Citzens unit as part of the bank's drive to slim down its operations and refocus on its home market, according to a report in The Wall Street Journal.
RBS acquired a controlling interest in Citizens in 1988 for $440m and the interim period has made further major investment in the bank, the 17th-largest US lender by deposits.
Analysts forecast that RBS would expect to realise around $6.6bn in the event of disposing of Citizens.
Citizens ranks as the 9th-largest US retail bank by branches and ended the first half of the year with 1,411 outlets (down 116 from 1,527 in June 2011).
A report released in early October from consultants GfK highlighted Citizens' success in improving its customer service levels.
GfK's Loyalty Benchmark Plus study covered 10 major US retail banks.
Citizens (together with USAA) showed the highest year-over-year increase in overall customer loyalty scores, with gains of 6 points and 3 points, respectively.
The report covered four key segments of customers in terms of their loyalty: Loyal Advocates, Hostages (troubled by sources of dissatisfaction), Ambivalent (generally satisfied but still at risk of being lured away), and Exit Bound.
Across the 10 banks as a whole, the report noted that around 18% of customers were Exit Bound.