It is another digital first for RBC: NOMI Forecast is the newest capability within RBC's award-winning NOMI platform. As Peter Tilton, SVP Digital at RBC tells Douglas Blakey, it is the first time RBC has integrated Borealis' AI technology into a retail banking offering
RBC clients can now get a seven-day future view of preauthorised payments. It is not just a devilishly clever use of AI technology. It offers clients the ability to better manage their cash flow. Moreover, it sets the stage for RBC to deliver more value to clients through enhanced capabilities
Royal Bank of Canada's focus is easy to summarise-if a little harder to execute. At the bank's core is the goal to provide an exceptional client experience by creating a digitally-enabled relationship bank that is simple to deal with. And one that delivers more value to clients.
RBC Senior VP Digital Peter Tilton speaks with RBI editor Douglas Blakey
Digital and innovation strategies are fundamental to creating exceptional client experiences, driving customer loyalty and increasing market share.
By uniting the power of data-driven insights with the creativity and expertise of its people, the bank believes this will improve the lives of its clients.
That is why RBC is one of the world leaders in financial services for its investment in AI and emerging technologies. That investment is paying off by delivering insights and predicting outcomes that until recently, customers could not have imagined. And all the while, maintaining trust around the use and safety of customer data.
RBC integrates Borealis' AI technology into a retail banking offering
Borealis AI is a world-class AI research centre backed by RBC, recognised for scientific excellence. RBC and Borealis have already enjoyed success with Aiden, an award-winning AI-based electronic trading platform that uses the computational power of deep reinforcement learning in its pursuit of improved trading results and insights for clients.
Now, RBC is integrating Borealis' AI technology into a retail banking offering.
Incorporating AI into digital banking and empowering people to make better financial decisions is a compelling challenge. Specifically, Borealis AI is creating tools that help RBC clients manage their finances.
Leveraging AI for forecasting, such as reminding clients when bills are due or helping manage cash flow or anticipating needs means that AI is making banking easier. Finding actionable patterns in banking requires subtle analysis of sequences of data over time. Borealis' machine learning helps capture these nuances and makes accurate predictions-it is a neat way to elevate the client experience.
Giving customers more confidence, enhanced security
With good reason, Peter Tilton, Senior VP Digital, RBC, is upbeat about the success of NOMI-and has the numbers to prove it. The release of two additional industry capabilities will give clients more confidence in managing their money and enhanced security when banking digitally.
Tilton tells RBI: "NOMI Forecast is the latest capability in RBC's award-winning NOMI offering. It gives clients a view into their future cash flow by forecasting upcoming preauthorised payment withdrawals from their deposit account.
Meanwhile, 2-Step Verification is RBC's newest security feature within the RBC Mobile app. This provides added protection when clients access their accounts.
"At a time when Canadians are more conscious than ever of their daily finances, and banking digitally more frequently, they expect solutions that help them confidently manage their money and safeguard their accounts and information.
"With NOMI Forecast, we're giving clients next generation cash flow advice and insights to take the stress out of balancing their accounts. Equally important, 2-Step Verification will work to provide clients added peace of mind as they navigate this rapidly evolving digital banking landscape."
RBC active mobile users (90-day active) now exceed 5.4 million.
RBC clients love NOMI
But it is the NOMI stats that truly jump out as deserving special mention. RBC now boasts around 1.5 million active NOMI users.
Tilton adds: "Our clients really love NOMI. More than half (53%) of RBC Mobile clients surveyed see it as a game-changer for RBC. We believe that's because NOMI delivers personalised insights and advice that helps clients build confidence in managing their money."
NOMI also plays a big part in tailoring clients' experience in RBC's Mobile app. All the data-driven insights are generated to be hyper-personalised to client's individual finances with the intent of making it easier for clients to stay connected to their money.
These AI insights help clients with personalised insights, simplified budgets, automated savings, and now a glimpse into their future cashflow.
Since launch in 2017, RBC clients have read more than 2 billion personalised insights through NOMI Insights. Meantime, more than 2 million budgets have been set through NOMI Budgets since it launched in 2019.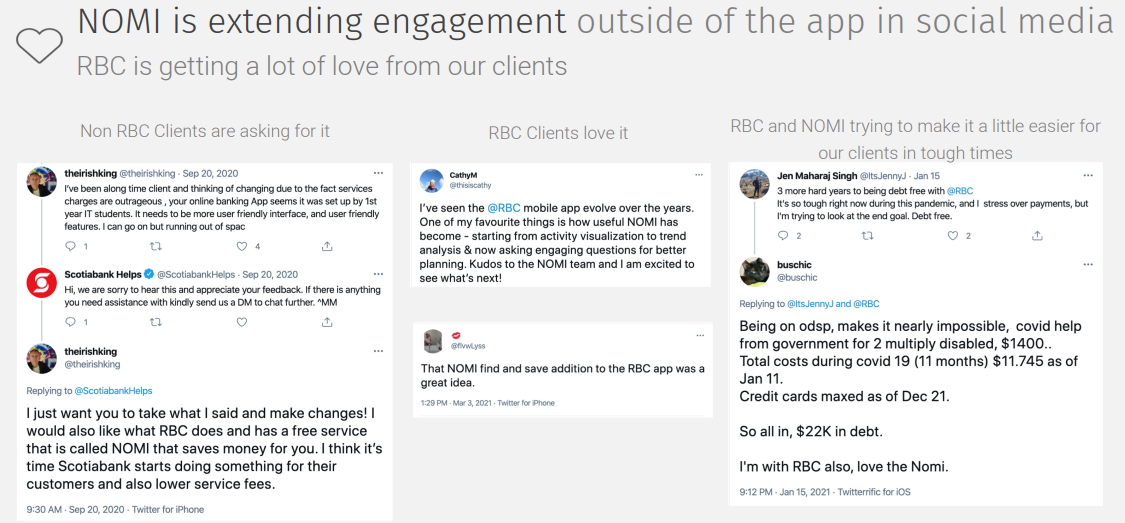 NOMI Find & Save: client savings of an average of C415 per month
He adds: "NOMI Find & Save has helped clients put aside more than C$1.7bn in savings, since launch in 2017. Clients using this feature have saved about C$415 on average per month – adding up to nearly C$5,000 per year. In addition, some four million questions have been answered through Ask NOMI.
"As we continue to focus on the digitisation of advice and build technology for clients and customers, such as NOMI, we are seeing a change in how customers use mobile."
For example, on average, clients spend about 3.5 minutes in the RBC Mobile app.
Building out NOMI has increased that time spent to about 7.5 minutes. That means that NOMI users are using the RBC Mobile app more than twice as much.
There will be many clever and innovative uses of AI across the retail banking sector that attract international attention. But few will be better examples of a practical example of AI bringing added value to clients.