'Platform' and 'ecosystem' are two commonly used business buzzwords, describing business models that investors and board members around the world seek to emulate. As Douglas Blakey reports, while the two words are often used interchangeably, they are not synonymous. Research from the consultants Arkwright entitled 'From platforms to ecosystems-developing high value business models' examines over 600 publicly listed companies to compare the performance of those operating platform and ecosystem business models with linear businesses.
Platforms and ecosystems benefit from higher price-to-earnings ratios on account of their superior performance, compared to so-called linear business models. Some of the numbers that the Arkwright research brings out are striking.
Report author and Arkwright partner Francesco Burelli tells RBI that the result of the research is remarkable. Platforms and ecosystems significantly outperform other companies in terms of higher revenue per employee, growth rate and valuation premiums.
When comparing the largest 43 publicly listed digital platform companies from 1995 to 2015 with a control sample of 100 linear businesses in the same set of businesses, it was found that the two samples had roughly the same level of annual revenues.
Platform companies twice as profitable, growing twice as fast
But platform companies achieved their sales with one-half of the number of employees. Moreover, platform companies were twice as profitable and were growing twice as fast as their conventional counterparts.
In the payments sector, Square is an excellent example of a complementary platform and ecosystem. Square started out as a linear business with a simple plastic dongle that enabled small merchants to accept card payments in the US.
Square's payment value proposition evolved into a platform before becoming a platform-based ecosystem in less than nine years.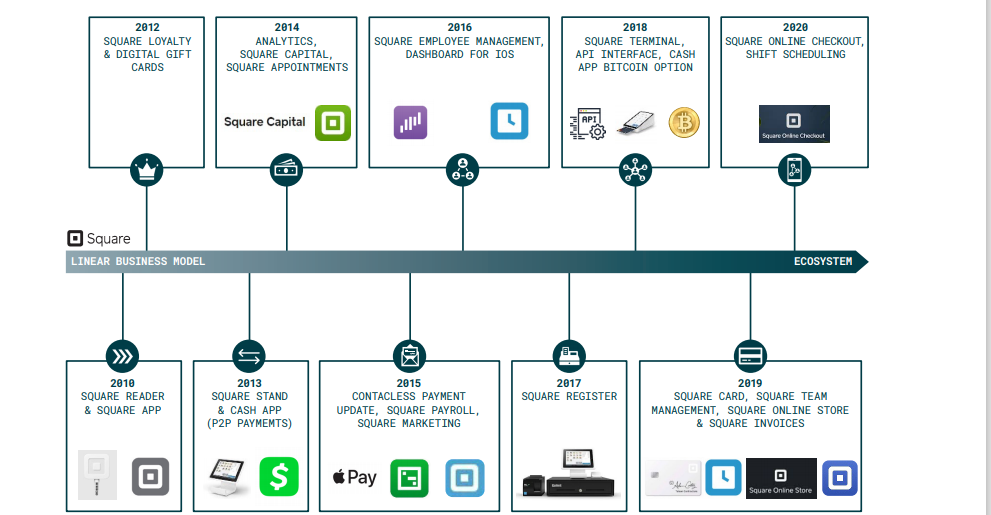 The Square value proposition now encompasses the whole range of tasks linked to running and growing a small business.
Says Burelli: "Square's services quickly went beyond the development of software and hardware to process and accept payments with apps to manage payroll. Taxes, work shifts and detailed sales reports."
These are just a few examples of the functionalities available to small merchants out of Square's own value propositions and functionalities made available that are leveraging Square as a platform distribution channel.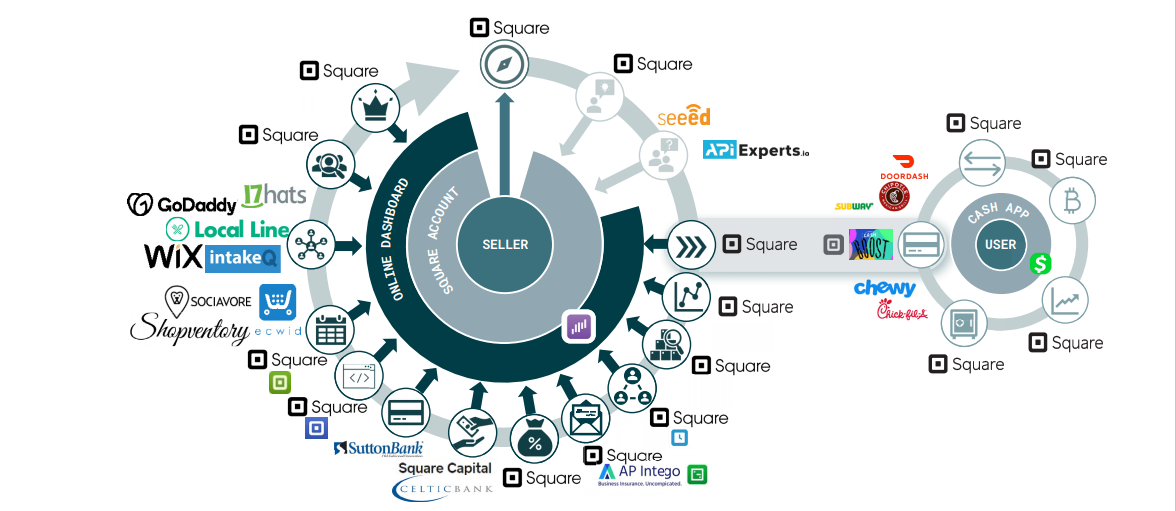 So, simple platforms or linear business models can, over time, become wide-ranging platform-based ecosystems. If a company cannot provide a useful addition to the customer journey on its own, it can develop an ecosystem partnership to create added value for the customer.
An ideal example of such a development is demonstrated by Thailand's KBank.
Platforms and PBE partnerships
KBank and social media platform teamed up offering Thailand's first social banking platform Line BK in October 2020.
LINE and KBank are connected through the LINE BK feature in the LINE app. This means it is possible for LINE users to log into the LINE app (the basic one with messaging, calls and payment options) and from there, apply for savings accounts and loans and manage existing bank accounts.
On the bank's side, KBank customers who are using the KPLUS app get access to a multitude of services that go beyond usual mobile banking.
So KPLUS users can buy insurance, shop online and collect points for discounts with each transaction in one app.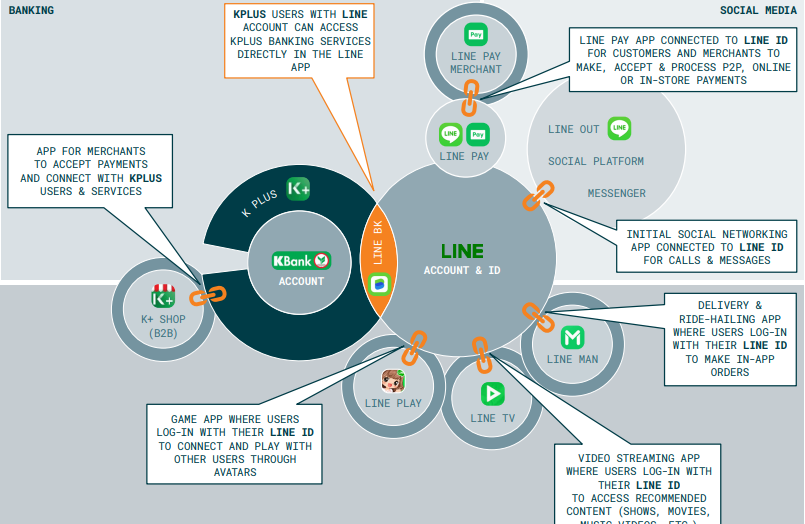 On the other side, LINE users can log into a number of different LINE apps with a single LINE ID to connect with friends via messaging, calls or online games, order food and groceries, make in-store payments or transfer money to friends.
Together, the joint venture between Kasikornbank and Kube offers advanced digital banking services through the LINE BK feature in the LINE app. The cooperation is valuable for both firms. It offers new banking services like loans and savings accounts to potentially underserved LINE users. At the same time, it connects KBank to a potential reachable market of 44 million LINE app users.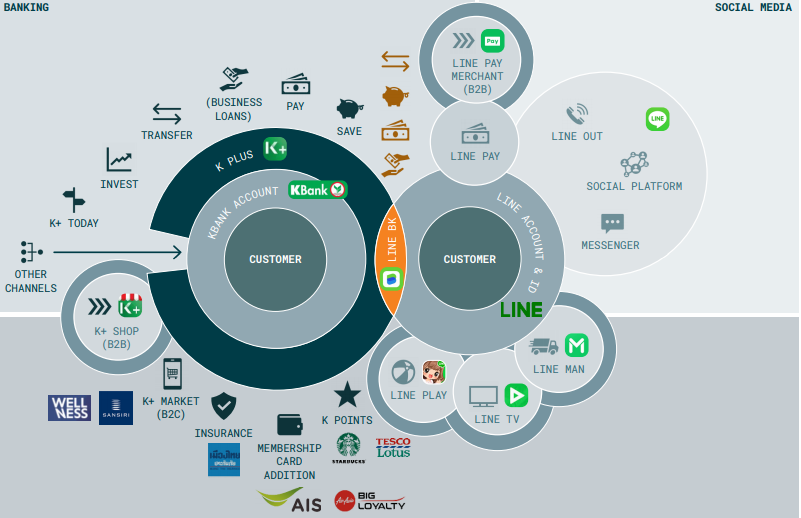 Platforms create value by eliminating friction
Burelli stresses: "It is important not to confuse 'platform' and 'ecosystem'. Platforms create value by eliminating friction from transactions and exchanges, for example in the case of a marketplace.
"Platform based ecosystems do so by organising the contributions of multiple companies which collaborate to create a unique value proposition within a thematic customer journey."
In comparison to PBE's, platforms are simple business models. Both within the B2B and B2C sectors, success will require the ability to sustain large scale investment, often over a period of time.
But as Burelli concludes: "A number of models have been replicated in other geographies, proving the universal applicability of these ideas and the benefit of being able to look to success stories in other markets for inspiration."
Video interview: Francesco Burelli, Partner, Arkwright speaks with RBI editor Douglas Blakey