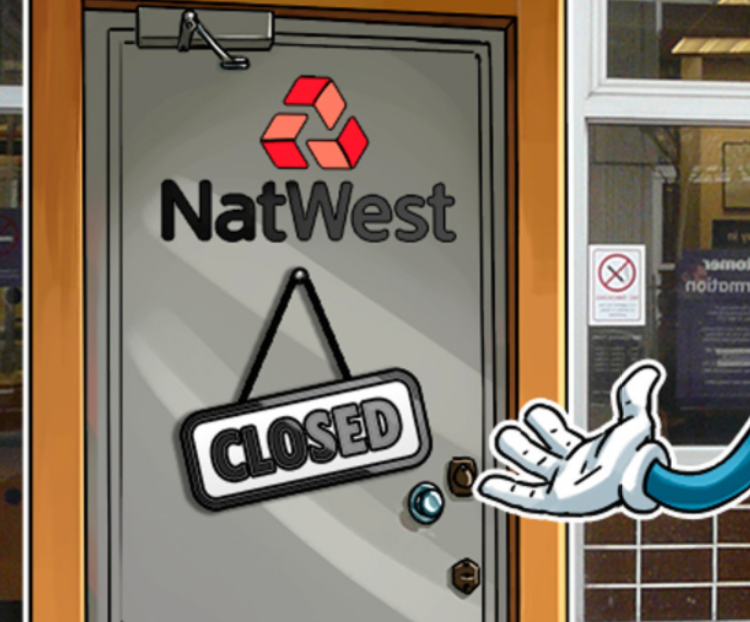 Cryptocurrencies are high risk and speculative, and NatWest will refuse to serve any business customers that accept them as payments, says the UK retail and commercial bank.
"We have no appetite for dealing with customers, whether taking them on as new clients or having an ongoing relationship with people, whose main business is backed by an exchange for cryptocurrencies, or otherwise transacting in cryptocurrencies as their main activity," said Morten Friis, a NatWest board member and head of its risk committee.
"We think of cryptocurrencies as high risk and we're taking, for that reason, a cautious approach to this. It's an area where regulation is very much in evolution and we'll obviously respond to that as things change," he added.
The risks of trading cryptocurrencies are mainly related to its volatility. Any unexpected changes in market sentiment can lead to sharp and sudden moves in price.
Financial watchdog FCA has warned that consumers should be prepared to lose all their money if they invest in schemes promising high returns from digital currencies such as bitcoin.
Sheldon Mills, the executive director of consumer and competition at the FCA, said: "We are worried that some investors are being tempted … into buying higher-risk products that are very unlikely to be suitable for them."
Key risks for businesses
Although the benefits of cryptocurrency can include lower processing fees and faster payments, the risks may increase for cyber fraud and computer attacks, said Timothy Zeilman, vice president for HSB, a leading provider of cyber insurance and services.
"Cyber criminals follow the money and fraud can be a serious problem," he said.
"A number of currency exchanges have been hacked or embezzled and millions of dollars were lost. Smaller businesses, especially those starting out, can't afford to be cheated."
Cyber thieves target small businesses with many schemes, he said, from sophisticated computer attacks to malware infections spread through simple phishing emails.
Operating outside the banking system, with little regulation
Smaller businesses also may be targeted by hackers, who infiltrate a company's data system and divert computing power to record and verify cryptocurrency transactions.
Since digital currency exchanges bypass the banking system, trade globally and operate with little regulation, a small business owner may have nowhere to turn when fraud losses occur.
"Small business owners should learn all they can about the technology before accepting cryptocurrency," said Zeilman. "And make sure they have strong data security and insurance to protect against cyber fraud and financial loss."