With bank and building society branches disappearing at a frightening pace, some members of Parliament are pushing for the ubiquity of basic banking services across the UK.
Norfolk MP, Duncan Baker has proposed a legislation calling for "a bank in every village, town and city."
Sir John Hayes (Con – South Holland and the Deepings) has thrown his weight behind the proposal, which could compel banks to offer basic banking services through the Post Office branch network.
Baker's bill would "place a duty on major High Street banks to provide banking services to Post Offices. To make associated provisions about access to Post Office services, including for elderly and vulnerable people and for connected purposes."
Sir John said:
"Banks were once at the heart of every high street and every community. Now, in an attempt to maximise profits irrespective of social cost, as we know from experience in Holbeach and, most recently, Long Sutton, banks are closing valued branches.
"They are insisting that customers interact instead with a faceless automated robot online."
Banks have said that branch closures have been driven by a rapid increase in online and mobile banking, and a rapid decline in the use of physical branches.
The decline of the High Street bank
Banks and building societies have closed (or scheduled the closure) of 3,836 branches since January 2015, at a rate of around 55 each month. Along with the rest of the figures in this article, this includes branches at 20 major current account providers.
The NatWest Group, which comprises of NatWest, Royal Bank of Scotland and Ulster Bank, closed 1,086 branches during the period.
Lloyds Banking Group, made up of Lloyds Bank, Halifax and Bank of Scotland, shut down 624 sites.
This chart shows the actual number of branches each bank and building society has closed since 2015.
This chart shows the actual number of branches each bank and building society has closed since 2015.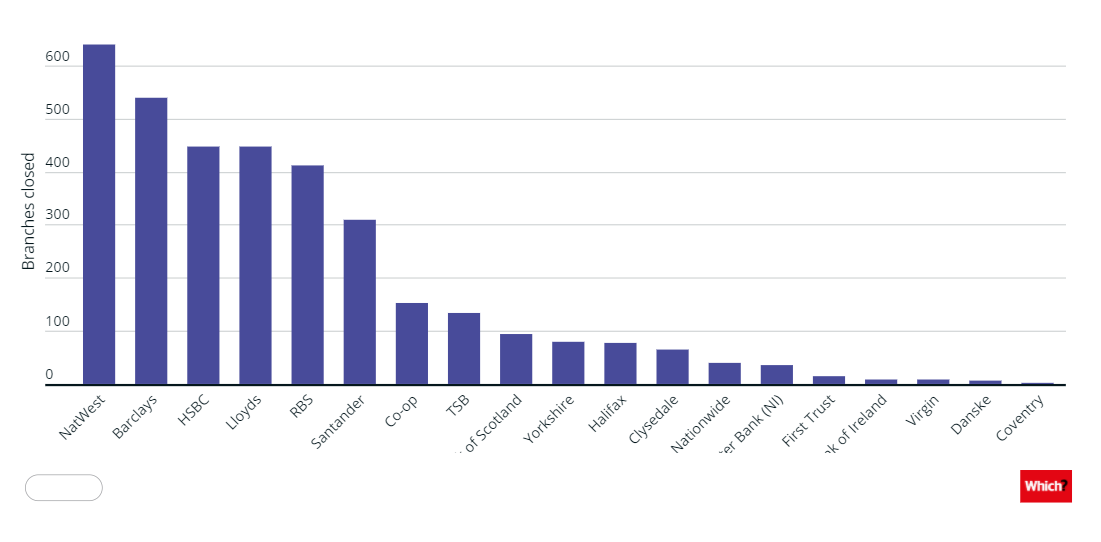 Consumers may not be ready to make the switch
If the Parliamentary move is successful, it would introduce mandatory legislation regulated by the Financial Conduct Authority.
Baker said: "The FCA must regulate the arrangement between banks and the Post Office, so that minimum guaranteed services are compulsory. It must not be up the banks to walk away and leave communities without any provision."
"We don't want a fragile agreement. Not some sort of Lovers' embrace as we have now. We want it bound in law to protect vital services for our communities."
He said the Post Office network currently generates over 400m customer visits to neighbouring businesses, which equates to over £1bn to local economies.
The Post Office seems uniquely positioned to take up some of the slack – with a network that dwarfs that of the major banks and building societies combined.
However, a survey by consumer research organisation Which? Indicates consumers may not be quite ready to think of the Post Office as their bank.
"Customers are uncomfortable embracing the Post Office as the alternative to a physical branch," the researchers said. "They are not yet convinced it can offer a suitable alternative to bricks-and-mortar banks."
Duncan Baker presenting his first Bill in Parliament: a Ten-Minute Rule Motion on High Street banking services