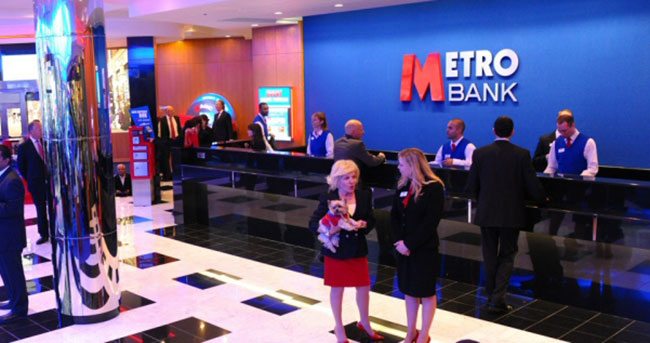 UK challenger lender Metro Bank has always been dog friendly. Metro Bank founder Vernon Hill would not have it any other way. And now branch staff at its Liverpool store have hosted a Bring Your Dog to Work Day. Among the dogs attending is Bella, a six-year-old Staffy/Labrador cross and puppy Tilly – a miniature Dachshund who is just about to celebrate her first birthday.
"As key workers, we are proud to have remained open and working during this pandemic. But it was lovely for our dogs to be able to join us for the day," says store manager Vicky Newby.  "We have had these days before. We held one during the last lockdown as a way to brighten our colleagues' working day. It helps reduce the anxiety of lockdown – as well as being good fun.
"Everyone was well behaved – especially the dogs who sat happily by their human's desk on their blankets.  Obviously, they were given the freedom to take their humans for regular walks outside store during the day. We even had five customers who brought their dogs in store – so lots of opportunities to make new friends.  
Metro Bank 'dogs-rule' policy dates back to Commerce Bank
Dogs are always welcome in store. We provide water bowls, treats and even a branded bandana to all our four-legged visitors. "We will definitely repeat the day again as judging by the waggy tails, everyone loved it". Metro Bank's dog-friendly policy dates back to an incident in Commerce Bank, the US-bank founded by Vernon Hill. Hill's wife Shirley was once refused entry into a Commerce store with her pet. The Hill family Yorkshire terrier, Duffy, would accompany Hill to the Metro Bank main store in Holborn.
And Duffy was quite a presence, resplendent in a bandana in Metro Bank red and clue corporate colours. Hill founded Metro Bank in the UK in 2010.
Metro Bank store numbers grow to 78
Opening stores in the north of England, located in Sheffield, Manchester and Liverpool, expands the Metro network to 77 stores. Bradford will be the 78th store when it opens later this year. The Metro Bank launch in Yorkshire will, says the bank, "inject much needed competition into the small business banking market". Metro Bank says that it is the fastest-growing challenger bank for SME current accounts in the UK.