Embedded finance: it is the latest buzzword on the fintech block. But what does it actually mean and what impact will it have for traditional banks? RBI busts some myths with an expert on the subject, Andrea Ramoino, Chief Strategy Officer at Contis
Embedded finance has the potential to reshape the financial services ecosystem in Europe over the next five years. But will the real fintech threat for banks come from the Silicon Valley tech giants?
The argument about the potential challenges and opportunities presented by embedded finance for banks is hotting up. And according to Andrea Ramoino, Chief Strategy Officer at Contis, it is timely to burst some myths.
He tells RBI: "On the surface, it may appear that embedded finance presents a threat to banks. However, the idea that banks are at risk of being 'taken over' by it is a myth.
"Banks will never disappear as long as they are trusted by their customers. While many consumers and businesses try out new fintech products, many will in fact maintain their primary banking with long established and recognised high street retail banks.
Andrea Ramoino, Chief Strategy Officer at Contis speaks with RBI editor Douglas Blakey
"Embedded finance has the power to elevate, not eliminate. Often, banks are too busy with legacy systems, multi-billion-dollar loan books and huge batch reconciliations to drive the innovation agenda. But their significant budgets and long-standing consumer trust means they're perfectly placed to take advantage of innovations driven by others.
"Fuelled by the power of embedded finance, new market entrants and existing corporations with expertise in niche areas are pushing consumer and business finance capabilities to new frontiers, which is in turn driving collaboration between banks and fintechs through acquisitions and partnerships."
Andrea Ramoino joined Contis at the start of 2021. As Chief Strategy Officer he has responsibility for corporate strategy and global expansion. An expert product and marketing transformational leader, he has over 15 years' experience across many industries including fintech, crypto, AI and SaaS.
Revenue +40%, transaction volumes +80%
Not only does he bring added entrepreneurship, creativity and strategic expertise to Contis' senior leadership. Following a 40% increase in revenue and 80% increase in transaction volumes over the past year, it also aligns Contis' continued growth and international ambitions.
Ramoino adds" Embedded finance is an opportunity. They have the brand, competencies, the funding and the customer base. That is, all the good ingredients to be successful. Traditional commercial banks have obsolete platforms to deal with. Indeed, some platforms might be 40 years plus old. They have never done a complete re-structure. They have to innovate and do a fundamental digital transformation."
Looking ahead, there is potential for embedded finance to transform financial services.
Customers sit at the centre of the future of Banking-as-a-Service. Ramoino says that embedded finance will be the most prevalent use of open banking, and Banking-as-a-Service will operate in a way that underpins that.
With its track record in transforming payments, issuing and processing. Contis is well placed to tap into the growing demand for Banking-as-a-Service, to help organisations unleash their true potential with cloud-based, real-time accounts and payments solutions.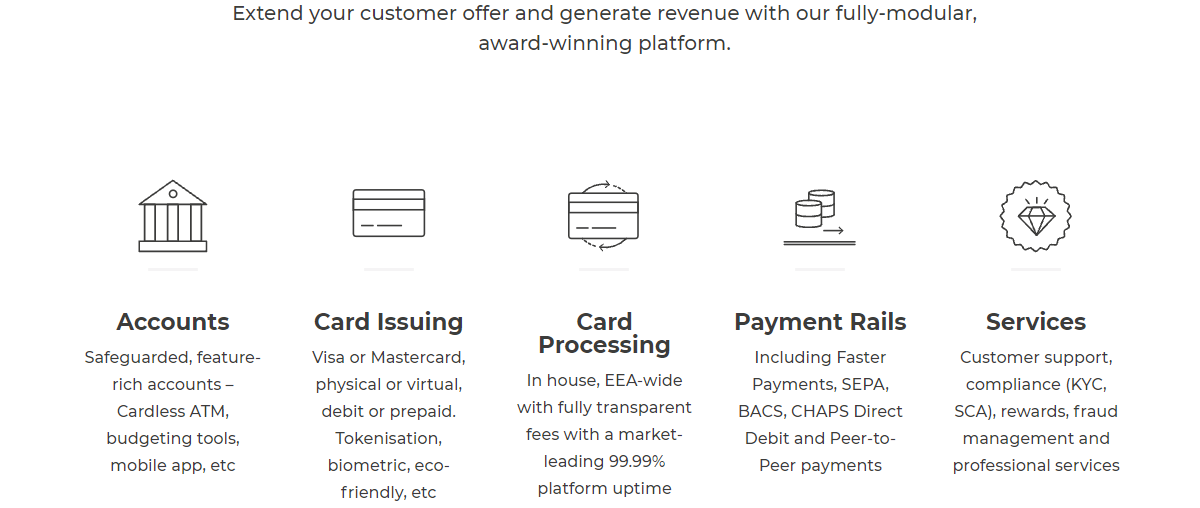 Embedded finance: any business can become a fintech
For the non-traditional banks, embedded finance offers the potential for any business to become a fintech. The Contis' proposition is that they can help firms to integrate payments and financial services to develop new revenue streams and at the same time, optimise the customer experience.
That means in practice, helping firms plug in all of the infrastructure that they need: accounts, debit cards, rewards programmes, mobile wallets and mobile payments and more.
He concludes: "We have been working in the BaaS for a while and we can take away the complexity. We work more and with the large banks. Contis can do in three months what a large bank may need two years internally to accomplish. We are growing so rapidly. This is an exciting place to be."