Citi Q1 2O21 earnings are way ahead of analyst forecasts. Net income for the three months to end March rise to $7.9bn from $2.5bn for the year ago quarter.
Meantime, revenue dips slightly to $19.3bn from $20.7bn for the year ago quarter.
But it is the Citi strategic review that grabs the headlines on the consumer side.
Citi Q1 2021 earnings: to exit 13 retail banking markets
Citi is to axe its consumer franchises in 13 markets. Specifically, Citi will exit Australia, Bahrain, China, India, Indonesia, Korea, Malaysia, the Philippines, Poland, Russia, Taiwan, Thailand and Vietnam. The bank says that its Institutional Clients Group will continue to serve clients in these markets. Citi will now focus its retail banking efforts outside the US in just four markets. These are Singapore, Hong Kong, the UAE and London.
Jane Fraser, Citi CEO, says: "As a result of the ongoing refresh of our strategy, we have decided that we are going to double down on wealth. We will operate our consumer banking franchise in solely from four wealth centres, Singapore, Hong Kong, UAE and London. This positions us to capture the strong growth and attractive returns the wealth management business offers through these important hubs. While the other 13 markets have excellent businesses, we don't have the scale we need to compete."
Citi Q1 2021 retail banking highlights
Citi's global consumer banking group posts net income of $2.2bn for the first quarter. This compares to a net loss of $740m from the year ago quarter. The improvement results from the lower cost of credit, partially offset by a decline in revenues. But overall, the position is decidedly mixed with global consumer banking revenue down by 14% on a reported basis and 15% in constant dollars. Strong deposit growth and momentum in wealth management is more than offset by lower card volumes and lower interest rates across all regions. This reflects the continued impact from the pandemic.
For example, North American retail banking revenue falls by 15%. Citi branded cards revenue falls by 11%, reflecting higher payment rates driving lower average loans. Citi Retail Services revenues decreases 26%, reflecting higher partner payments as well as lower average loans. Retail Banking revenues of $1.0bn decrease by 8%, as the benefit of stronger deposit volumes is more than offset by lower deposit spreads.
LatAm and Asia consumer banking revenue falls
In the Latin America region, consumer banking revenue is down by 16%. This is driven by lower loan volumes and lower deposit spreads, partially offset by strong deposit growth. And in Asia, the unit posts revenues down by 9% on a reported basis and 12% in constant dollars. This reflects lower cards revenues, as well as lower deposit spreads, partially offset by strong investments revenues and deposit growth.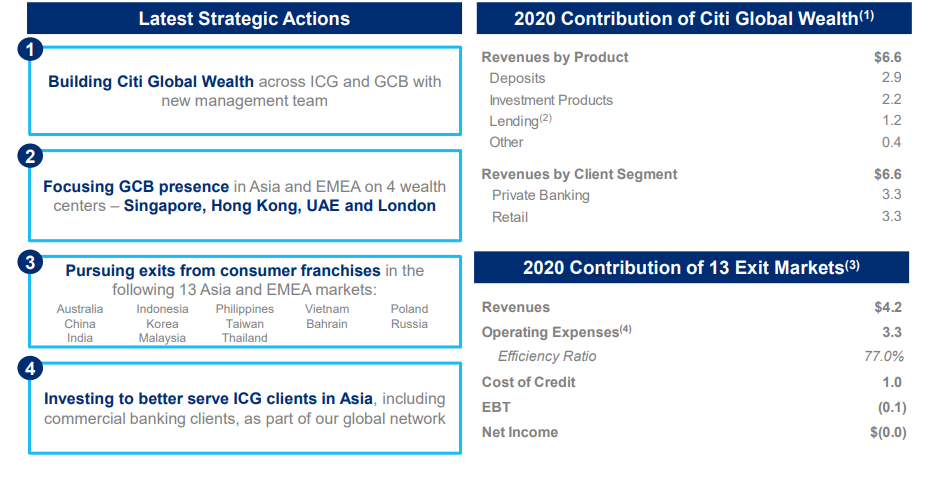 Citi Q1 2021 digital banking hits
Citi ends the first quarter with 20 million active digital banking users in North America, up 2% y-o-y. Active mobile banking users rise by 4% to 13 million. Branches in the region inch down by 2 units to 687 outlets.
Retail bank branches outside North America fall by 6%or 93 net outlets to 1,554 outlets. In Asia and LatAm, active digital banking users rise by 9% y-o-y to 15 million. Meantime, active mobile banking users increase by 15% to 13 million.
Citi's share price of $74.30 is ahead by 23.5% for the year to date for a market cap of $155bn.