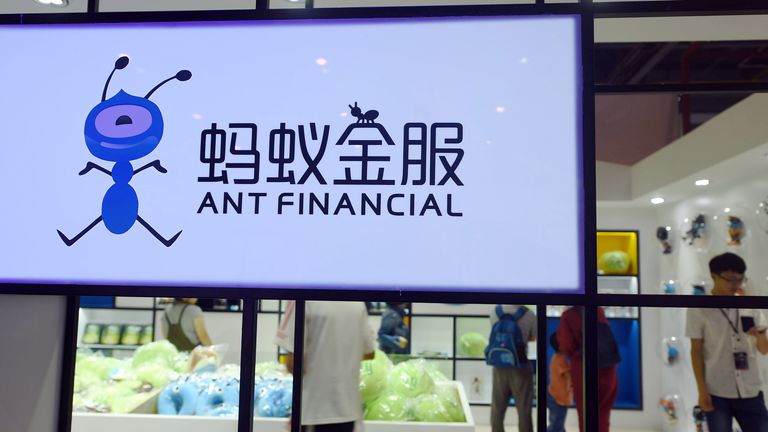 China has slammed brakes on Ant Group's $37bn listing, which was set to become the largest stock market debut in the world.
The Shanghai Stock Exchange (SSE) suspended the IPO on its tech-focussed STAR Market.
This has prompted the financial technology giant – founded by billionaire Jack Ma – to also pull out of its Hong Kong leg of dual listing.
Ant was scheduled to go public in Shanghai and Hong Kong on 5 November 2020. The suspension of Ant's dual listing comes after certain regulatory changes.
Ant, which is one of the dominant players in Chinese mobile payments space, also offers loans, insurance and asset management.
China's financial regulators summoned Jack Ma and his top executives to a meeting, in which they were told that Ant's online lending business would face tighter scrutiny.
The country's central bank Pboc, and financial watchdogs CSRC and CBIRC, jointly released new draft regulations on online lending.
According to the new rules, Ant will have to cap loans at RMB300,000 ($44,843) or one-third of a borrower's annual pay, whichever is lower.
Moreover, as of June 2020, Ant's consumer lending balance was CNY1.7trn ($254bn), representing 21% of all short-term consumer loans.
According to Ant's IPO prospectus, only 2% of these loans were recorded on its balance sheet.
Under the new draft rules, online lenders must provide at least 30% of any loan they fund jointly with banks, on their balance sheets.
Ant had attracted global investment firms to raise $37bn for its IPO. Ant said that it will soon roll out applications for refunds and apologised to the investors.
CICC and China Securities were co-sponsors for Ant's STAR IPO, while US banks JPMorgan, Citigroup and Morgan Stanley were co-sponsors of Ant's Hong Kong IPO along with CICC.
The shares of Alibaba Group Holding, which owns nearly one-third of Ant, plunged 9% in early US trading, losing nearly $76bn off its value.
Alibaba said that it will help Ant adapt to the evolving regulatory framework.
Comments
In a statement addressed to Ant, the SSE writes: "Lately, the ultimate controller, the executive chairman and the CEO of your company have been summoned to a joint regulatory interview by the relevant regulators, and your company has also reported on material matters including a change in the regulatory environment on financial technology.
"According to Article 26 of the Measures for the Administration of the Registration of IPO Stocks on the Science and Technology Innovation Board (for Trial Implementation) and Article 60 of the Rules of the Shanghai Stock Exchange Governing Review of Offering and Listing of Stocks on the Science and Technology Innovation Board, and after consulting the sponsors, the SSE has decided to suspend the listing of your company.
"Your company and your sponsors shall make public announcements according to regulations, explain the situations related to the material matters and state that your company is suspended for listing. The SSE will keep in touch with your company and the sponsors."