CaixaBank Q1 2021 underlying net profit rises to €514m ($620m) compared with €90m in the same period a year ago.
And including the effects of Caixa's merger with Bankia results in attributable net profit of €4.79bn in the first quarter. This is largely accounted for by an extraordinary item associated with the merger of €4.3bn. In addition, there are extraordinary expenses associated with the integration.
Gonzalo Gortázar, CEO, CaixaBank, says: "We reinforce our leadership in the financial system, reaching market shares of around 25%, and exhibiting the best solvency, liquidity and credit quality ratios among the largest banks in Spain.
"We are aware of the enormous structural challenges facing the banking sector. This derives mainly from the digitalisation of the economy and negative interest rates. That is why we have completed a merger that will allow us to substantially improve our competitive position".
Caixabank Q1 2021: rising market shares
Caixa ends the first quarter with a market share for loans in Spain of 25.3%. For consumer loans and deposits, the respective market shares are 22.2% and 25.2%.
Core revenues at CaixaBank —without including Bankia's earnings in the period— total €2.07bn, up 1% year on year. On the other hand, net interest income is down 0.7% to €1.19bn. But this is offset by revenue from insurance contracts (+9.3%) and earnings from insurance investees (+39.2%). Meantime fee and commission income rises by 0.2%.
Following the Bankia deal, Caixa ends the first quarter with total assets up 47% to €663.6bn.
Customer funds are up 39.6% year on year to €579.93bn. Without counting the funds contributed by Bankia, customer funds gain 0.9%.  Gross loans and advances to customers stand at €363.82bn, up 49.2% in the quarter (-0.5% without counting Bankia's contribution).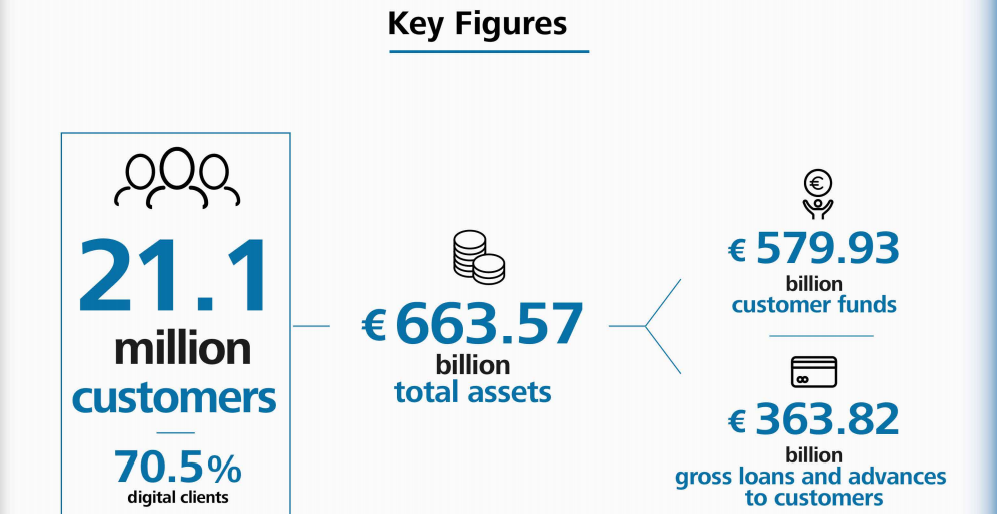 Digital growth, reduced cost-income ratio
Caixa maintains its reputation for digital innovation and a high level of digital engagement. It now has 19.3 million customers with a digital engagement rate of 70.5% of customers.
Caixa also reports progress in reducing its underlying cost-income ratio, down from 56.1% a year ago to 53.3%.
The bank's non-performing loan ratio remains flat year-on-year at 3.6%.
Caixa ends the quarter with a total branch network of 6,298 outlets, of which 5,552 are in Spain. Prior to the merger, Caixa operated 4,208 units with 3,571 located in Spain.
In April, Caixa said it planned to shrink the bank's workforce by 18.7% to 36,109 from 44,000. And it is planning a major rightsizing of the branch network. Specifically, it plans to close 1,534 branches, or 27% of its physical network.