The Bank of Thailand decided today to cut rates by 25 basis point to 1.00% amid growing concerns that the coronavirus outbreak could hinder economic performance.
The Thai economy would expand at a slower rate in 2020 than previously forecast and much further below its potential due to the outbreak of coronavirus, the bank of Thailand said.
The delayed enactment of the Annual Budget Expenditure Act, and the drought that would affect a large number of related businesses and employment, the bank added in a statement.
The move, which brings the policy rate to an all-time low, was a surprise for the market given the consensus tilted on a stable policy decision. But it was a unanimous vote by all committee members.
The "worst drought in 40 years" currently hitting Thailand is so brutal "it has turned Bangkok tap water salty."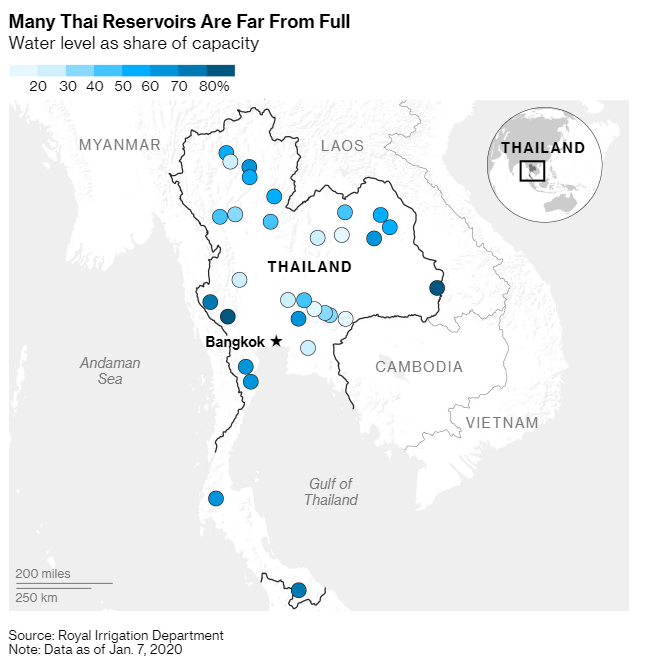 The pneumonia-like illness is expected to depress growth, most likely via a slump of the tourism industry and the overall GDP growth for a substantial part of the year.
Although nowhere near the number of cases in China (with more than 24,000 people currently infected) Thailand has detected 25 coronavirus cases, making it the third most infected country in Asia.
Thailand's export-reliant, $500bn economy, Southeast Asia's second largest, was showing signs of fatigue. It was reeling from simultaneous blows from the US-China trade war, and a persistently strong currency.
Inflation rate hits 8-month high
Thailand's annual inflation rate rose to 1.05 percent in January 2020 from 0.87 percent in the previous month and above market consensus of 0.96 percent. This was the highest inflation rate since May last year.
Thailand inflation rate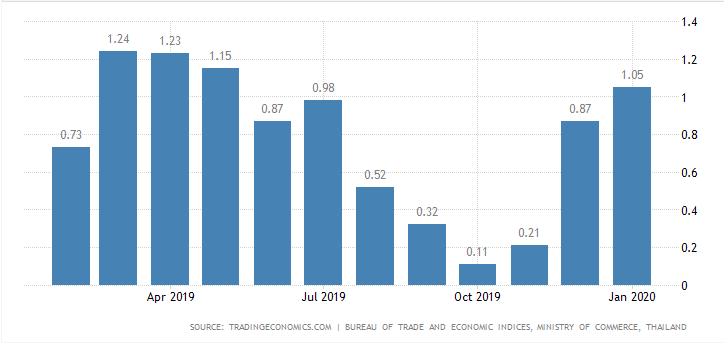 Thailand has lagged its Southeast Asian neighbours for some time. While political upheaval has been a major drag, there are others too: an aging population, poor productivity, flatlining consumption and hefty household debt.
The central bank now expects GDP growth of 2.5% for 2019. That's considerably worse than even lacklustre peers like Malaysia and Indonesia, and the country's weakest pace since 2014, the year a military junta took power.
Exports also shrank in 2019, with shipments in the key carmaking industry declining. Thailand is a regional hub for vehicle manufacturers like Nissan Motor Co., which have been affected by poor demand in major markets such as China.
Meanwhile, fiscal stimulus, including an infrastructure drive, was held up by wrangling around the 2020 government budget.
The Wuhan coronavirus is the final stroke that many fear could tip Southeast Asia's second largest economy into a recession.