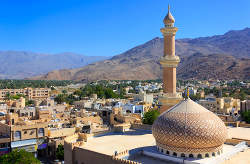 Bank Muscat, the largest bank in Oman by assets, has recently unveiled a co-branded credit card, created in collaboration with Oman Air, the Sultanate's national airline.
The card's aim is to marry banking and airline services into a single product which rewards frequent flyers. For every RO1 ($2.60) spent on the card, cardholders receive two air miles under Oman Air's frequent flyer programme, Sinbad.
Other benefits reserved to holders of the co-branded Bank Muscat Oman Air credit card include bonus air miles, dedicated facilities at the airport, additional baggage allowance, priority and business class upgrades under the Sinbad Frequent Flyer Programme.
The guest of honour at the launch ceremony, Minister Responsible for Financial Affairs H.E. Darwish bin Ismail Al Balushi praised the cooperation between the two companies, stating that "The new card encourages electronic payment in line with the government's e-governance initiative".
Earlier in the year Bank Muscat reported impairment charges of $39m after a number of prepaid cards issued by the bank were compromised.
Bank Muscat said in a statement that "no customers suffered any financial loss and no other credit or debit cards issued by Bank Muscat have been affected."
Related articles
HSBC Oman draws savers with incentive rewards
BankMuscat plans to launch sharia-compliant banking arm in Oman