News
Secret Diary of a Job Hunter (Aged 43 1/2)
As someone actively looking for a new role in 2020, Simon Cadbury shares his observations on the current status of bank career opportunities
At a macro level, two factors are impacting the hiring market.
Economic and political uncertainty has reduced recruitment confidence

Retail banking, like most other industries, is currently being hit by political and economic uncertainty. According to recruitment specialists Robert Walters, this is leading to reduced "client and candidate confidence".
In the UK, for example, this relates to Brexit and the prospect of a Jeremy Corbyn led government with plans for a "radical shake up of UK banking.
A changing proposition is leading to massive job cuts
As McKinsey recently reported, all customer groups – even those aged over 50 – now prefer digital channels. As a result, the key barrier to removing branch and telephone banking – and all the cost-saving this represents – has all but disappeared. This is leading to a massive rethink of the banking proposition.
According to statements by the Accord Union, Lloyds announced internal restructures on five occasions in the last 12 months.
This impacts 27 different business divisions.
These have all contributed to the approximate 60,000 job cuts the bank has made since its 2008 acquisition of Halifax Bank of Scotland. Roughly 75,000 staff remain.
Meantime the number of full-time staff employed by Royal Bank of Scotland has tumbled from 199,800 in 2008 at the time of its government bailout, to 68,600 at the end of September 2019.
Significant bank job losses announced in 2019 include:
Deutsche Bank 18,000 (one-fifth of its workforce)
HSBC 10,000 (4% of its workforce, 17% of its European workforce)
Commerzbank 4,300 (one-tenth of its workforce)
Barclays 3,000, and
Société Générale 1,600
Looking forward, a recent study by Wells Fargo envisages even deeper cuts. They state that radical automation of back end processes, undertaken by robots and other technologies, will lead to a further "10% of total bank jobs being cut" in the next ten years, clearing the way for a "golden age of banking efficiency".
The digitalists haven't taken over
Despite the changing banking proposition, we haven't see as many new digital roles as one would imagine. As McKinsey discovered, the percentage of digital positions at most banks remains less than 10%. In comparison, most technology companies have a digital staff density of close to 40%.
McKinsey note that many banking executives equate traditional IT roles with digital roles, leaving them with "an inflated perception of their institutions' digital staff composition".
In addition, this huge job cutting has meant a need to recruit from within, hampering their ability to bring in talent from outside.
The incumbents are struggling to retain their digital talent
With such emphasis on digital skills, it is interesting to note many incumbent banks are proving unable to retain their own digital talent.
A quick analysis of the Power 50, Retail Banker International's 50 most innovative and powerful people in European digital financial, from 2017, found many have left the retail banks all together.
The great Brain Drain – Power 50 participants who have left Incumbent Retail Banks
| | | |
| --- | --- | --- |
| Name | Role when featured in Power 50 | Where is he/ she today |
| Alessandro Hatami | Director & COO of Digital Banking, Lloyds (until 2014) | A partner at the Pacemakers, a consultancy helping financial institutions implement digital change. |
| Chris Gledhill* | Disruptive Innovation Lead, Lloyds (until 2015) | Independent FinTech Advisor, Futurist, Writer & Speaker (having recently wound up Secco Aura, the reputational-economic start-up he founded). |
| Daryl Wilkinson | Group Head of Digital Innovation, Nationwide (until 2016) | A principal consultant for financial services at HCL Technologies, an Indian multinational IT service and consulting company. |
| Frankie Woodhead* | Various digital roles culminating in Product & Commercial Director, SME Lending (until 2018) | Head of Client Product & Partnerships at 10x Future Technologies. |
| Garvan Callan | Director of Strategy, Digital & Innovation, Bank of Ireland (until 2018) | Self-employed – advising businesses on innovation and transformation. |
| Grant Bourbousson | Digital Director, Tesco Bank (Until October 2019) | Set up his own design consultancy (Madfish Advisory). |
| Ian Morgan | Managing Director of Digital Channels, Barclays UK (until June 2019) | Joined a digital fashion retail start up. |
| Jon Webster | CIO for Digital and Transformation, Lloyds (until 2017) | A partner at Boston Consulting Group. |
| Roy Vella | Director of Mobile, RBS (until 2009) before taking several advisory roles. | Back in San Francisco, working for a start up outside of Financial Services. |
| Teppo Paavola | Chief development officer and GM of new digital businesses, BBVA (until 2018) | Group Chief Digital Officer at Human Resources provider Adecco Group. |
| Terry Cordeiro | Head of Product Management – Group Transformation, Lloyds (until 2019) | Recently started role he describes as 'Product Stuff' at 11:FS. |
*Featured in the Power 50 within the 'Rising Star' category
The challengers aren't hiring from the incumbents
What is most interesting from this list is that, while many have gone into consultancy, none have jumped to Challenger Banks.
While the Challenger Banks still look to the industry for Risk, Compliance and Operational experience, when it comes to Marketing, Product, Strategy or Digital Expertise they are tending to look outside. As an example, Monzo's recent hire of a Director of Product and Starling's appointments for Chief Growth Officer, Head of Propositions and Head of Customer Engagement all had a non banking background.
Bank career opportunities: focus on the challengers
What is even more surprising is, if you look at the where the vacancies are, much of them are within the Challengers.
At the time of writing, Lloyds have 174 vacancies; none of which are at Director level and only one is a 'Head of' role.
In comparison, Revolut have 504 globally; 240 in London, of which 78 could be described as 'Senior'.
2 – Chief of …
13 – Vice President of …
63 – Head of
Figure 1: Breakdown of London based vacancies at Revolut.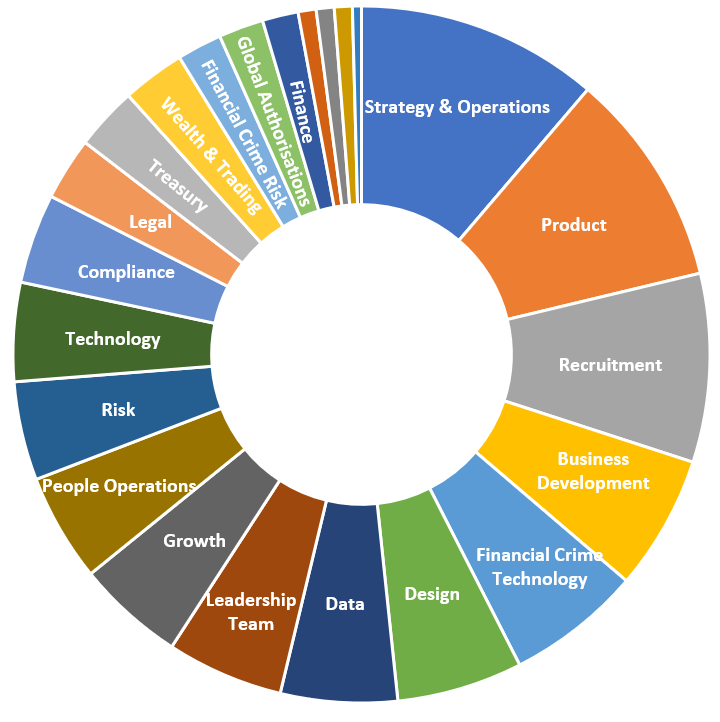 Specialists not Generalists are thriving at the moment
Looking more broadly at the available 'Senior' roles, based on vacancies at present, the overarching trend for opportunities is for specialists with deep technical knowledge.
Some predict this is a trend that is here to stay. Martin Chavez, CIO of Goldman Sachs, recently said the next generation of bankers will all need coding skills. He described it as important as "writing an English sentence".
Key roles the Challengers are looking to fill:
Financial Crime, KYC & Regulatory Compliance
Machine Learning Engineers & Data Scientists
Operations & Customer Support Managers or Specialists
Product Owners & Designers
Recruiters & Recruitment Coordinators
One of the most in demand skill sets is machine learning; which is underpinning, in particular, many new risk and fraud prevention roles.
Despite this, attracting and retailing the data scientists is proving a struggle for most organisations.
Not only is there a highly limited pool of available candidates but many data scientists want to avoid being the first to join a company where, to quote Gartner, "the amount of energy needed to just get access to data, integrate it and have the first machine learning models deployed into the business can be staggering."
To address these challenges, Gartner and others recommend organisations avoid the costly recruitment route and focus on training existing staff.
In an uncertain world, recruiters need to focus on soft skills
Whether it be Retail Banking or beyond, the key trait that will enable an individual to thrive in the future will be a willingness to adapt and learn.
If you look at the ten skills the World Economic Forum believe you need to thrive in 2020, you can see a greater emphasis on soft skills, with many aligned to mindset.
The ten skills you need to thrive in 2020:
Complex problem solving.
Critical thinking.
Creativity
People management
Coordinating with others
Emotional intelligence.
Judgement and decision making.
Service orientation
Negotiation
Cognitive flexibility
Source: World Economic Forum
In an uncertain world, where many skill sets may not be readily available, recruiters and recruitees alike would be best to look for these softer skills; something which is currently very much a secondary consideration when it comes to recruitment.
Until recruiters find a way to hire for adaptability rather than short term impact, the industry will continue to be highly inefficient.
Breakdown of London based vacancies at Revolut