The Turkish banking sector has strong growth potential and has overcome financial upheavals over the past decade. Briony Richter speaks to Yakup Doğan, assistant general manager at Yapı Kredi, about how the bank is revamping the industry
Yapı Kredi is one of the largest banks in Turkey, with a network of over 842 branches across the country.
Yapı Kredi was established in 1944 as Turkey's first national retail-focused private bank, and has TRY365.1bn ($67.1bn) in assets. In 2018, Turkey's political and economic turmoil caused its currency to hit a new low, unsettling investors in the process; however, the banking sector seems to have pulled through, and Yapı Kredi certainly shows no sign of slowing down on innovation.
Rapid changes across the banking sector are transforming the way in which banks communicate with customers. There is greater focus on customers' financial habits and lifestyles to better understand their needs. Speaking to RBI, assistant general manager Yakup Doğan describes how Yapı Kredi connects with its customers.
"Users now demand products and services via new channels, such as mobile or wearable technologies, which are becoming more and more prevalent in everyday life," he explains.
"It is now critical to develop products and services compatible with the new technologies that meet customers' needs, make their lives easier and offer them special solutions." For banks aiming to enhance the overall customer experience, it is critical to embrace the personalisation tools that will facilitate a seamless and tailored banking experience.
"Yapı Kredi has set its vision to lead the digital transformation in banking, and renovated all its platforms and infrastructure accordingly," Doğan says.
"In the last three years, we have focused on designing The Digital Bank of Turkey. Our three-pillar strategy focuses on customer experience, data analysis, and digitisation of infrastructure and processes.
"We plan our investments in the digital domain accordingly, and implement these in line with the latest technologies and trends. Yapı Kredi has a strong digitisation strategy; we adapt our digital channels to technological developments constantly. With our innovative approach and devotion to pioneering the digitisation of our sector, we continue to introduce new technologies that will make life easier for our customers."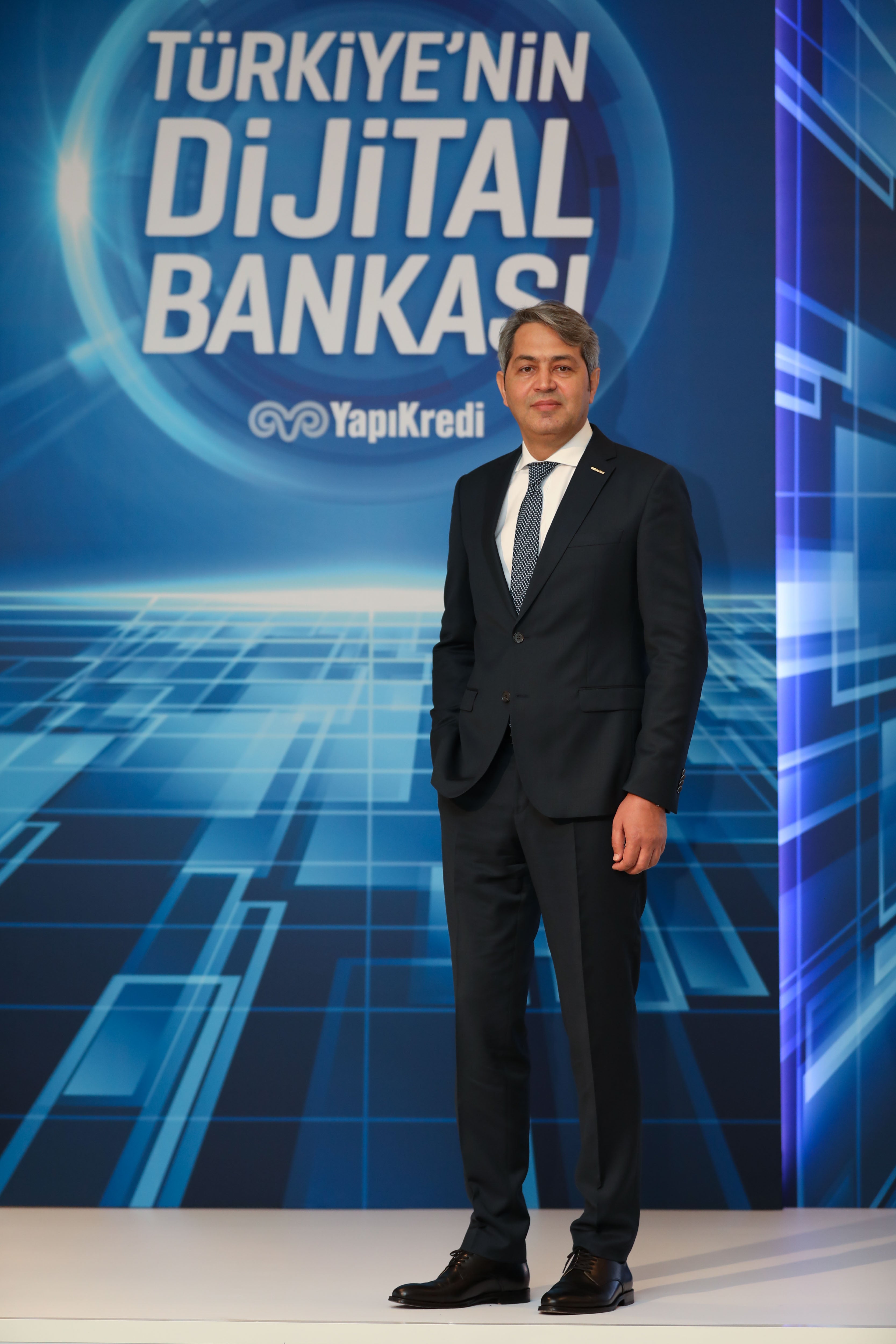 Strategic pillars
Doğan continues: "While we are delivering digital products and services, and implementing our strategic pillars, our focus is on driving innovations that make customers' lives easier.
"Since 2015, we have been launching one innovative solution every month, or at least bimonthly, and we continue to deliver new innovations at an increasing pace. At this point, it is crucial to map the specific customer need with the right experience and technology. At Yapı Kredi, we offer our customers the innovations or products that we apply the right technology at the right time."
As of November 2018, the bank's digital banking customer base had increased by 27% and the mobile banking customer base by 33% year on year. Furthermore, the share of digital channels in non-cash transactions has grown to 96%.
"Currently, the focus of banking is a multichannel strategy – a term that describes all end-to-end digital banking transactions," Doğan highlights.
"At Yapı Kredi, we are moving beyond multichannel: we are designing and switching to an ecosystem. Lately, we have significantly increased our investments in digital banking. In the last two years, we have introduced crucial new products to the sector, and added value to our customers' lives. While doing this, first and foremost we have positioned Yapı Kredi Mobile as the Remote Control of the Bank. Consequently, we integrated innovative functions into Yapı Kredi Mobile, introducing new milestones in the digital transformation of banking."
Digital and mobile banking enables customers quick access and a secure platform to conduct a wide range of banking tasks. As digital continues to surge, one wonders if branches will survive in the future. Doğan explains that while mobile banking is enhancing customer satisfaction, Yapı Kredi firmly believes that branches will remain a fundamental part of the industry. He highlights that all banks will continue to take advantage of digital tools, but communicating face to face will still have its place for supporting customers when searching for new products or services.
For many customers, it is about having the balance between both worlds. Customers still feel it necessary to go into a branch to discuss advisory services such as mortgages, car loans and investment products.
At Yapı Kredi, Doğan says the "hybrid banking" model will become the key to growth across the financial industry. The bank has already started to implement digital transformation within its branches, and will continue to combine both physical and digital innovations.
YapI Kredİ Mobile
The popularity of mobile payments has surged in recent years following increases to spending limits on contactless payments, as well as a rapid expansion in the locations where such payments are accessible.
Consumers regularly log on to mobile banking to conduct routine tasks such as checking balances, transferring funds and making quick P2P payments. However, in order to keep customers engaged, banks need to take service levels up a notch by providing more unique and personal services, coupled with heightened security.
The Yapı Kredi Wallet was introduced for the bank's card customers in January 2016, enabling registered users to add credit card details to the wallet and make contactless in-store mobile payments. Users can also find information on nearby shopping locations, claim promotional campaign benefits, and access credit card transaction details and other financial information.
Expanding on what sets Yapı Kredi Mobile apart from other competitors, Doğan says: "In the last two years, Yapı Kredi has introduced 35 innovations that constitute milestones in the digital transformation of banking.
"Using Yapı Kredi Mobile, our customers can carry out banking transactions wherever and whenever they wish. Yapı Kredi offers its customers secure and password-free access to Yapı Kredi Mobile via Eye-ID, as the first in Turkey and Europe. We make our customers' lives easier through features like cash withdrawal and deposit via QR code without touching an ATM, and direct connection to the Customer Relations Center.
"The Banking Keyboard enables fast money transfers via messaging apps on smartphones, without switching to another screen or app. Our customers can transfer money swiftly and conveniently via Siri and iMessage with voice or text messages.
"Through the mobile payment feature of Yapı Kredi Mobile, our customers enjoy contactless and secure shopping by holding their NFC-based Android phones near POS devices. Moreover, we offer banking services via the WhatsApp and Facebook Messenger chat bots – another first in the sector."
According to GlobalData, 43% of Turkish consumers have a mobile wallet, while 27% like being early adopters and a further 26% are comfortable with using mobile wallets for payments. Furthermore, 48% of smartphone owners are ready for mobile payments at the POS as soon as they are available.
"Using Yapı Kredi Mobile, our customers can book appointments at requested dates and time slots at any branch. They can view branch density maps to decide which branch to pick. Customers who have lost their cards can use the Don't Panic button on Yapı Kredi Mobile to instantly place a temporary block on their cards and continue transactions on their mobile app," he says.
"They can notify the bank for lost or stolen cards, and request new cards. Furthermore, customers can make donations to prestigious civil society organisations via Yapı Kredi Mobile, as well as our internet branch. With all these features, we not only expand the boundaries of Yapı Kredi Mobile as the Remote Control of the Bank, but also those of mobile banking in Turkey overall."
Aiming to assist its customers beyond banking tasks, Yapı Kredi has collaborated with Ford, and introduced a new feature to make drivers' lives easier. The Yapı Kredi Mobile app integrates into vehicles with Ford's Sync 3 Applink technology, enabling Ford customers to safely access Yapı Kredi while driving, keeping their eyes on the road and hands on the wheel.
Drivers can also use the app to receive market updates and exchange rates through voice commands in Turkish, and also connect to the Yapı Kredi Customer Relations Centre while on the road, without having to dial a number, also through voice commands in Turkish.
Via Yapı Kredi Mobile, Ford drivers who have the stock navigation system in their vehicles can get directions to the nearest ATM or branch through voice commands. The service is currently available for iOS devices, but Doğan states that it will be made available for Android users in the near future.
He adds: "With an innovative approach, we use NFC technology on Yapı Kredi Mobile login, a first in Turkey. Our customers simply need to hold their credit cards near their NFC-based phones and enter their card PIN.
"We have also added the Jet Transactions menu on the Yapı Kredi Mobile login screen. We have thus enabled cash deposit and withdrawal via QR code, remittance to mobile, and payment via QR code transactions to be carried out in a swift and convenient manner.
"Moreover, Yapı Kredi has come up with innovations to expedite the payment experience in online shopping. When shopping online, our customers can complete payments by scanning QR codes via Yapı Kredi Mobile. As the leading corporation in Turkey's banking sector, our newest feature allows consumers to become Yapı Kredi customers without visiting to a branch, by simply contacting video assistants via Yapı Kredi Mobile."
Adoption and loyalty
The number of consumers using mobile payments in Turkey increased throughout 2018. Furthermore, the proportion of those not aware of mobile wallets fell by nine percentage points, indicating that Turkish consumers are gradually embracing new technology and are keen on mobile wallets to make payments.
To further increase mobile wallet use, banks such as Yapı Kredi will have to continue creating innovative and rewarding solutions to maintain brand loyalty.
Asked what is on the horizon for Yapı Kredi, Doğan concludes: "In line with our digital banking strategy that foregrounds both the human aspect and technology, we will continue to work on technologies that will make an impact in the near future, such as machine learning, artificial intelligence, Big Data and the Internet of Things. Moving to the future, we will mostly focus on machine learning, deep learning, neuro-linguistic programming, speech recognition and computer vision, blockchain, and an Open Banking API that we believe will completely change the definition of the banking.
"We will continue to publish comprehensive APIs that we believe will make a difference in the world of finance technology by helping innovative ideas become realities. We think these advancements will democratise banking, create smarter experiences, and make customers' daily lives much more seamless than ever, wherever they are."