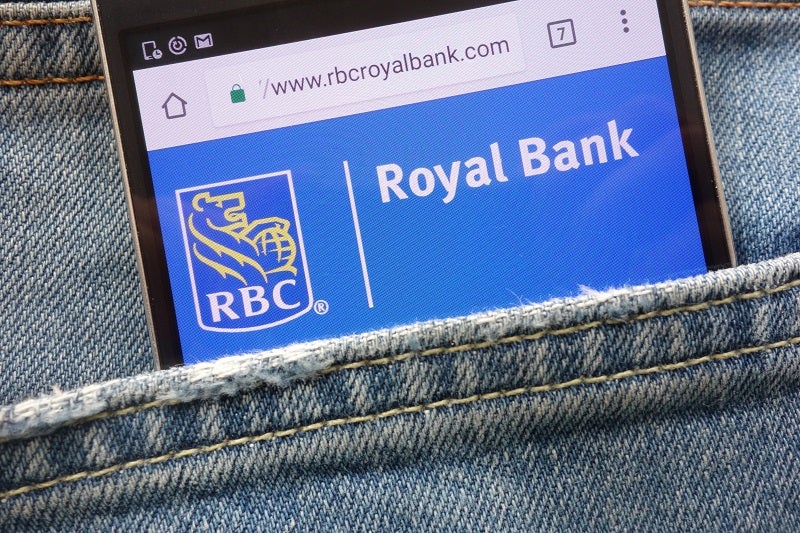 Digitisation of the financial services sector has led to exponential change in a short period— and that pace of change has only accelerated during the Covid-19 pandemic, reports Douglas Blakey
Client expectations were already increasingly shaped by experiences. Leading technology and global businesses, new non-traditional bank challengers were already entering the market, and now post-Covid, physical distancing requirements have pushed more people to digital channels than any other single event in recent years.
Royal Bank of Canada's Canadian banking business already enjoyed strong adoption of its digital channels. For example, it's self-serve transactions grew by 500 basis points to 93.8% in one year (from Q1 FY20 to Q1 FY21). Traditionally, that kind of growth would have taken about four years to achieve.
It's reasonable to expect that new consumer behaviours will stick and banking will become increasingly digital. For an industry that has historically relied on building relationships in person, it's more important than ever to start building those relationships digitally. At the same time, consumers must "feel known"— specifically, that they've formed a trusted and connected experience with their bank, and have access to tailored advice and insights to help them achieve their financial goals.
As mobile is increasingly becoming the front door to the bank, it's a critical place to start. RBC is making clients feel known in the RBC Mobile app in two distinct ways. First, at a macro level by creating unique digital experiences for specific client segments; and second, at a micro level by leveraging artificial intelligence to provide insights to individual clients on their unique spending habits.
World-class digital experiences highly tailored to the individual
"We understand each client has unique needs," says Peter Tilton, Senior Vice President, Digital, RBC. "By providing a layer of personalisation at the client segment level, we can efficiently bring forward valuable experiences for users. We also go a layer deeper with NOMI. A play on 'know me', NOMI represents a suite of capabilities that leverages AI to provide hyper-personalised insights, budgets and a savings solution that help clients stay on top of their finances.
Developing the mobile experience across these two planes creates world-class digital experiences that are highly tailored to the individual—and our clients love it."
RBC offers a student, business, self-directed investor and a mass-market experience in the RBC Mobile app. Each provides the most important features at a macro level to that demographic. For example, the RBC Mobile Student Edition of the app is tailored to the youth segment's digital preferences and empowers them to learn how to manage their finances.
It provides them with easy access, customisable features, familiar design and quick touch banking definitions. It was also designed in collaboration with students to enable features that matter most to them.
Experiences that grow with customers over time
For entrepreneurs, a customised mobile banking app allows business owners to easily toggle between their personal and business accounts and provides a financial snapshot, an easier way to get paid, and tailored NOMI Insights for their business. The RBC Direct Investing Mobile experience on the RBC Mobile app brings forward the key actions relevant to the self-directed investor, such as looking up quotes, making trades and transferring funds.
"Since all are built within the single RBC Mobile app, these experiences are designed to grow with clients over time and adapt to their changing needs," adds Tilton. "For example, as a student grows up, they automatically graduate into the mass market experience. Should they choose to open a business, they would automatically gain access to the business features—all without having to download a new app.
AI-driven financial insights
Within each segmented experience, a client also has access to NOMI, which creates deep and individualised personalisation at a micro level. RBC was the first bank in North America—and one of the first globally—to offer AI-driven financial insights and a fully-automated savings solution through NOMI.
NOMI Find & Save uses predictive technology to find money that it thinks clients won't miss and automatically sets it aside for them in a savings account, and recently marked a major milestone by helping clients save more than $1bn in total since launching in 2017. On average, NOMI Find & Save is helping clients find savings of about C$390 per month.
"The true magic of NOMI Find & Save is that it helps clients save when they think they can't," says Tilton. "It looks at a client's cashflow and expenses and automatically puts aside small amounts of money it thinks they won't miss. It's a great introduction to saving—for about 20% of our clients in Canada, this is their first savings account with the bank. It's having a profoundly positive impact on helping tens of thousands of Canadians to start developing life-changing financial habits."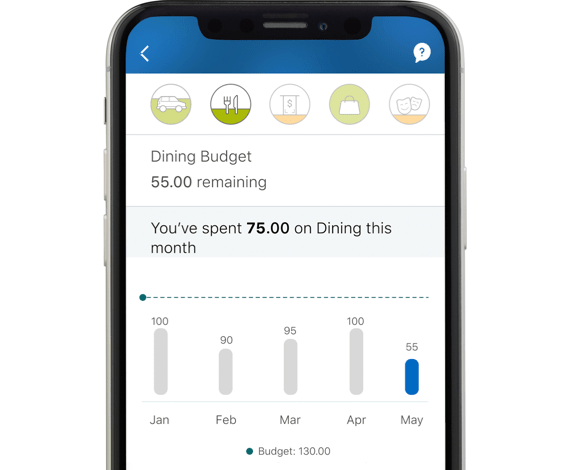 NOMI Insights: timely and personalised
In addition to savings, NOMI provides clients with nudges to keep them on track. First, NOMI Insights helps clients manage their everyday finances by providing timely and personalised trends, alerts and overviews based on their spending and saving habits. Since its launch in August 2017, clients have read more than 1.6 billion insights.
Second, NOMI Budgets helps clients by taking the thinking—and the manual calculator work—out of setting up a budget. It takes a close look at a client's spending and suggests a personalised monthly budget based on their habits.
"We know Canadians are looking for simple and quick ways to stay on top of their finances and to live a rewarding lifestyle within their means," says Tilton. "The ideal tool for this is a budget. However, for a number of reasons it doesn't work for everyone—likely because it requires time spent analysing and categorising spending, setting reasonable goals and proactively monitoring it. NOMI Budgets does this for you, creating an easier and more accessible experience for all. It's already helped more than 1 million Canadians set and monitor a budget, since it launched in 2019."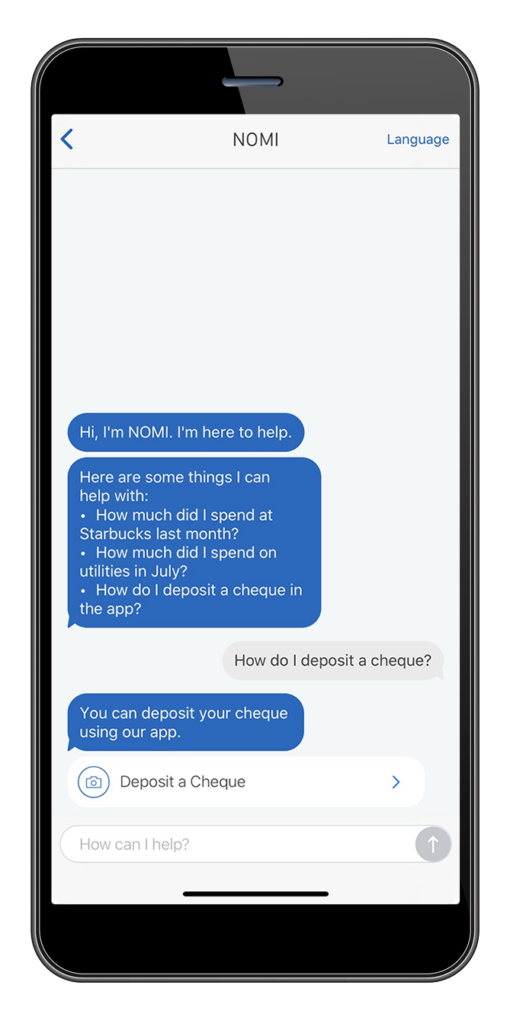 Ask NOMI: an extra layer of personalisation
Adding an extra layer of personalisation is Ask NOMI, an interactive personal guide to the RBC Mobile app. It uses artificial intelligence to answer questions, help clients navigate the app and simplify tasks like transaction search—assisting them in making important decisions about their finances.
It also can talk to clients in a dozen languages, connecting them to the right information in the language most comfortable for them. Ask NOMI launched in March 2020 and has played an important role in helping clients new to the app get more comfortable with banking remotely. In that short time, it has helped clients with answers to more than 2.5 million questions.
"With NOMI, we can offer clients valuable, personalised insights, in the palm of their hand," adds Tilton, "This can help them achieve their goals more effectively than in other traditional, one-size-fits-all online banking systems."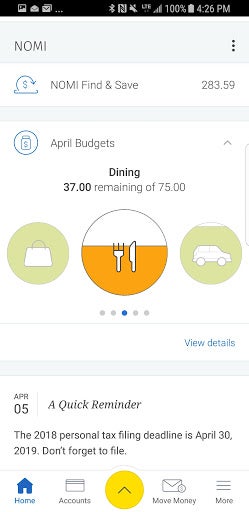 Connecting with clients by live video, phone or in-person
While RBC may provide digitally-driven insights to clients with AI through NOMI, they are also laser-focused on delivering investment advice that is enabled through digital platforms like MyAdvisor. MyAdvisor provides RBC clients with digital access to their personalised plan and connects them to an RBC adviser in their community via live video, phone or in-person within a branch.
It allows clients to see the potential future impact of today's money decisions on tomorrow's outcome, with interactive scenario planning. Clients can explore their possibilities on their own or with the help of an advisor. MyAdvisor also provides clients with a complete view of all their money, including savings and investments, pension funds, and what they owe. Clients can also choose to include and view balances for accounts they hold at other financial institutions.
MyAdvisor has been especially useful during the pandemic, since clients can connect with an advisor safely and remotely from the comfort of their own home. Anticipating this added demand, RBC adapted the platform to allow for increased volumes of client and advisor interaction and expanded the ability for advisors to connect from home with video.
It's resulted in increased adoption—in particular, the number of completed appointments increased by 84% between March 2020 and January 2021 and use of the live video option to meet with advisors has soared to 42% from 3% over the same time period.
"We believe that every Canadian deserves a personalised financial plan and access to the right service," notes Michael Walker, Vice President & Head, Mutual Funds Distribution & RBC Financial Planning, whose team led the development of MyAdvisor at RBC.
2.5 million Canadians onboarded onto MyAdvisor
"We know each of our clients is different and requires different strategies to plan for their future," adds Walker. "Whether they're planning for retirement, saving for their first home, or somewhere in between, a plan offers a powerful way to reach that goal. We're proud that we've now onboarded approximately 2.5 million Canadians onto MyAdvisor with a personalised plan, to help them stay more closely connected to their finances."
Looking to the future, RBC is planning to bolster its approach to digital personalisation. As just one example, this year RBC intends to expand NOMI's capabilities to simplify investing for RBC clients, as well as help them take better control of their finances with more transparency in upcoming reoccurring transactions.
Overall, RBC knows how critical it is to keep Canadians connected to their finances through its remote capabilities as the pandemic continues and beyond. "We're helping to ensure Canadians always know where they stand when it comes to their finances, to give them some certainty and confidence in an ever-changing world," concludes Walker.