Technology and data underpin everything a successful bank does, but as RBC's Jacqui Allard tells Douglas Blakey, data in itself is not valuable, it is how RBC uses data to convert it into actionable knowledge and then value that is key.
Royal Bank of Canada has set the ambitious target to grow client acquisition at up to three times its current rate. As part of the drive, RBC will leverage its unique advantages in payments and data and loyalty to accelerate growth.
"Technology and data underpins everything we do," says Jacqui Allard, SVP and head of strategy, performance and marketing for personal and commercial banking at RBC.
She tells RBI that for a modern bank, maintaining customer relevancy and connectivity has never been more challenging. Allard adds that we are living in a world where scale becomes more important, and a bank needs scale and data to maintain that relevancy and insight. She also believes that there has never been a greater opportunity for RBC to connect with more Canadians.
Allard explains RBC's investment strategy to grow organically in its key markets, and how its tech investments are paying off. RBC is noted among its peers for a class-leading focus on risk and cost control, leading to strong credit quality.
Efficiency improvements in its retail banking and wealth management businesses have helped to drive a premium ROE and long-term shareholder value. In its last quarter, RBC's Canadian banking business generated record revenue, surpassing $4bn.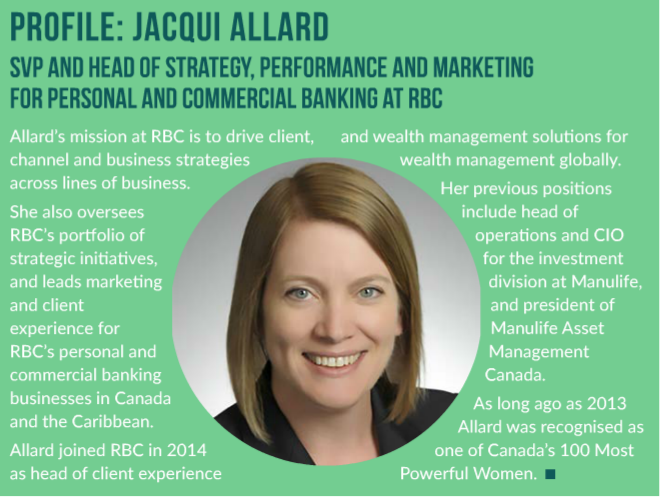 RBC market shares
In every key segment in Canada, RBC ranks first or second by way of market share. In mutual funds, for example, it holds a first-place ranking and a market share of 32.8%. In business loans and deposits, again it ranks in first place, with a market share of more than 26% – and rising. In home equity and consumer lending, again it is placed first in both, with market shares of 21.4% and 20.9% respectively.
In segments where RBC ranks second, such as credit cards with a 27.3% market share, RBC is targeting gains. It is currently growing credit card customer numbers at between two and three times its rivals, with 35% of Avion cardholders new to the bank. Moreover, it is winning market share without impacting its credit-risk appetite, with new cardholders having strong credit scores.
The same applies to personal core deposits with a market share of a mere 20.0% – not the sort of metrics one would associate with a business that talks about an ongoing and ambitious transformation programme. Normally, companies that discuss transformation do so from positions of weakness. By contrast, Allard discusses with enthusiasm just how RBC is transforming its business from a position of strength.
Creating client value
Says Allard: "The goal is to create more value for clients, and the vision is to be among the world's most trusted and successful financial institutions."
Although RBC is already a market leader with a focused growth strategy, there is a feeling within the bank – from CEO Dave McKay down – that more Canadians could bank with RBC. Around 44% of Canadian adults are RBC clients, and some 925,000 Canadian businesses bank with RBC, but the RBC leadership team is anything but complacent.
Explains Allard: "We will leverage our unique assets to drive a market-share shift. This will create more value for clients, all with the aim of RBC being a digitally enabled relationship bank that is driving shareholder value."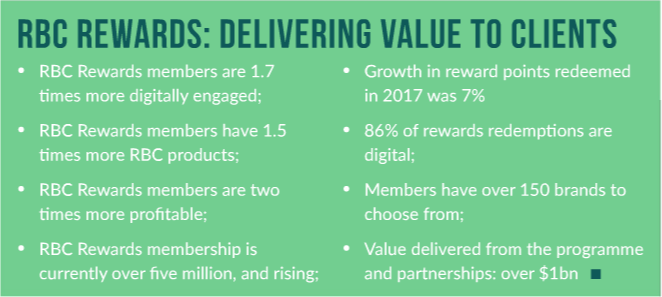 Supercharged data
"We were already the leader in Canada just based on the amount of data we held and the number of customers we have but we can do so much more," Allard notes.
"We have really supercharged our data gathering, capturing up to 500 times more data than we did previously. This provides a foundation that is incredibly powerful.
"We now have a truly 360-degree view of clients across RBC, so it offers great opportunities to deepen client relationships. We know, for example, that we have 170,000 wealth management clients who do not hold a primary banking relationship with us but could benefit from tailored banking packages; we know we have 60,000 high-end banking clients who may benefit from an introduction to our wealth management colleagues."
She continues: "But data is not just about cross-sell: it is about using data to add immediate value to clients. Data is now exciting." Five key pillars are at the heart of RBC's mission to create more value for clients:
1: Understanding clients
Allard says: "RBC has a deep understanding of clients – that comes from our class-leading payments franchise, loyalty programme and successful partnerships."
Nowhere is scale more important than in the deposits and payments franchise. Around 9 million Canadians hold a personal banking transaction account with RBC, and such customers are four to five times more likely to consolidate their business with RBC. This business unit alone delivers around a quarter of RBC's Canadian revenue.
"The data from this franchise fuels the business in a number of ways, such as client insights. It powers our CRM algorithms, and it fuels our risk and fraud-management models. More data means we can be more predictive and that means we can make more relevant offers for our clients."
As an example of the strategy paying off, consider this: RBC's new CRM platform has helped to produce a 16% lift in net response rates across all channels. At RBC's scale, that is a meaningful lift.
Getting its digital marketing right has helped to increase customer responses to digital campaigns by over 240% in the past two years. In the same period, RBC has reduced its cost per click by 25%.
2: Relevant advice
"The next key pillar is advice: that comes from having the best people and marrying together data and analytics and artificial intelligence.
"Our solutions embed data-driven insights. NOMI delivers AI-powered financial insights for our customers, while myAdvisor seamlessly connects advisors and clients with digitally empowered planning and advice."
3: Products, services and loyalty
There has been lots of banking press and analyst comment about the potential disruption to, and rewards of, the impending cut in average interchange fees by 10 basis points from May 2020.
Unlike its local peers, RBC did not outsource its rewards programme. Having control of its own proprietary loyalty programme, combined with its market-leading scale and winning partnerships, makes RBC Rewards a unique asset. It offers a comprehensive and superior value proposition to its 5 million RBC Rewards customers with significant scale and partnerships.
This includes being able to use points to pay for virtually anything at the point of purchase – the first loyalty programme in the country to provide this level of value and flexibility. With card-purchase volumes up 11% in the last quarter, RBC is growing organically, and at a premium to the market.
4: Convenience
The fourth pillar is convenience. That comes from the traditional branch plus integrated digital and mobility.
5: Expanding client relationships
The final pillar, expanding relationships with clients, involves the introduction of new value chains, ventures and partners.
Trust and Brand value
The five pillars would not, however, be enough without the core element of consumer trust. Here, RBC has the major advantage of having the most trusted brand in Canada; that asset cannot be underestimated. Nobody appreciates this more than Allard.
"Trust is paramount," she notes.
"We will never sell a customer's data. People will share data if they see a positive value exchange – like receiving relevant insights and advice. As sentiment continues to evolve, we are cautious that we never step over the 'creepy' line.
"Looking ahead, at the current trajectory that we are gathering and augmenting data, there will be interesting challenges, such as how we use cloud and other technologies to store and manage data.
"The rate of change and of growth will not slow down. Our data investments over the past five, 10, 15 years are still paying off today. The winning banks will not be the banks with the most data – the key is turning the data into insights; there, we are really well positioned," she concludes.