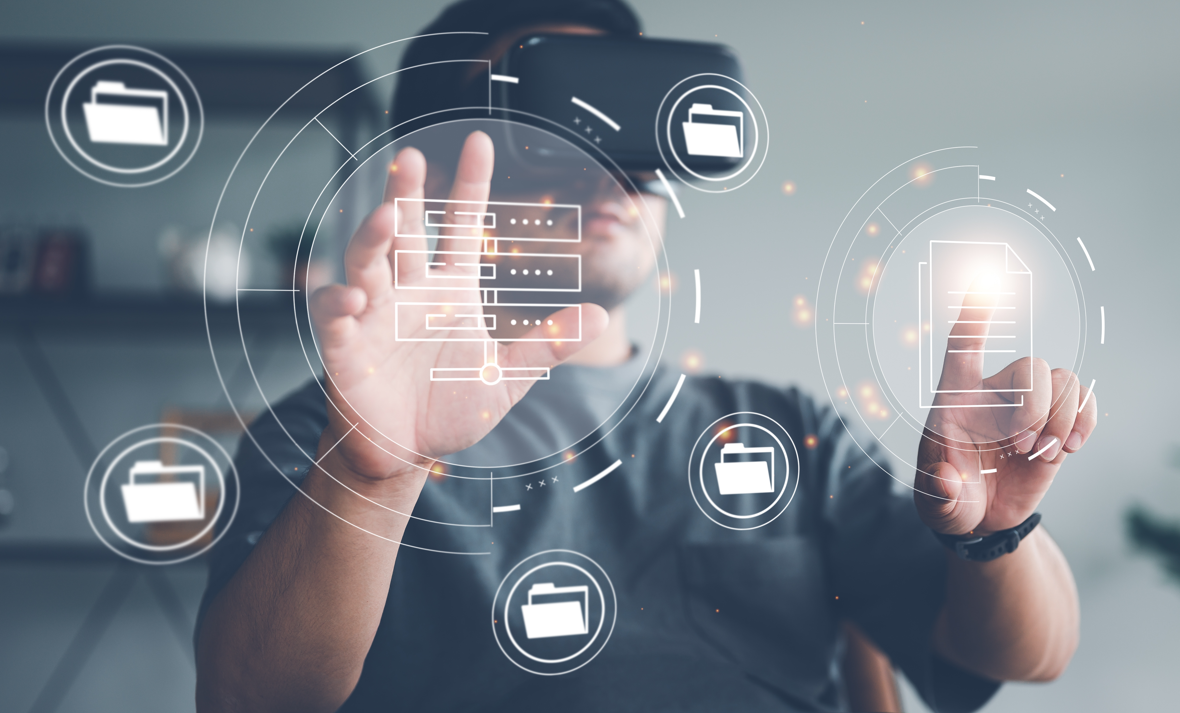 Metaverse is an online virtual world where users interact and share experiences in a simulated environment.
The recent drive in metaverse investment owes to progress in underlying technologies such as augmented (AR) and virtual reality (VR). Forecasts about AR and virtual reality VR market vary, but GlobalData experts estimate it to reach $204bn in 2030, up from $11bn in 2020. That means a compound annual growth rate (CAGR) of 33% over the 10-year period.
In the business sector, enterprise spending on AR and VR accounted for 19% of total AR and VR revenue in 2020. However, that share is set to increase to 64% by 2030.
Whether there is a real need for metaversal experiences in the B2B or B2C world is debateable. Jonothan Hunt, senior creative technologist at Wunderman Thompson Commerce & Technology, says adoption depends not just on improved tech stacks, but also on how a company's clients operate.
In the sphere of digital banking, Hunt notes, completing payments in the metaverse would be no different from paying online using a mobile phone. In fact, according to Wunderman Thompson's B2B Future Shopper Report 2023, 45% of respondents felt online buying was more complicated than offline buying.
However, that still leaves room to friction, the expert tells RBI.
Q: What makes the metaverse different from other recent technological developments, such as virtual or augmented reality?
Jonothan Hunt: Virtual reality and augmented reality are mediums that help you access metaversal experiences or platforms. The metaverse is more of a concept or vision, the difference being it surrounds a lot of areas. In contrast, mediums are just one way you access it, whether via mixed reality glasses, virtual reality headset, your phone, your desktop, or augmented reality on your phone.
Q: Can the metaverse play a real role in a professional context i.e. business-to-business transactions, companies trading with each other, or digital banking?
Hunt: Yes – I mean, B2B buyers are no different from consumers, right? According to our B2B Shopper Report 2023, 35% of B2B buyers are going to be using social media to make purchases in the next five years. We can expect the same to happen if a big buying platform appears in the immersive world and people use it.
There are some specific business-to-business use cases, such as digital twins, which are often there to be illustrative, right? That is because there are many difficulties, especially with digital products communicating how they work. Or, for example, let's say you're trying to buy that perfect van for your business; in that sense, a configurator in a virtual space would be really useful because you can try all of those different combinations. That's the sort of thing that a virtual experience might be useful for. Because in the real world, you can't have all those variations in one parking lot.
Q: How do you think the market will develop in terms of providers?
Hunt: It depends on how far we go into the future. Certainly, this generation of the metaverse is heavily democratised by big tech. The leading hardware is provided by Facebook, or Meta rather. In the B2B space, we've got HoloLens from Microsoft. So you need to invest resources to be able to put together such a product today.
Platforms-wise, I'd say it's a little bit more open because the barrier to entry is lower for developers or smaller players. So there are lots of different virtual platforms. But still, the most dominant ones are the platforms on Quest that you can use for interacting, often owned by Meta or a subsidiary. You have got some slightly smaller ones, but certainly, right now, very heavily democratised by big tech.
The further we get into the future, like with any technology, the more people will be able to access it. Similarly, more companies will offer and build the hardware for these experiences.
Q: At the moment, how inclusive do you find virtual experiences to be from the perspective of tech stacks required from users?
Hunt: I think it's fair to say that because most people don't have a VR headset, many still see the metaverse experience as being on desktop or mobile, essentially, like game-like experiences or socialising. Therefore, the barrier to entry should not be too bad.
What is potentially a barrier to entry is internet infrastructure, for example. Much of the world doesn't have great internet, which throttles a lot of [online] experiences.
Right now, if you're creating something that streams a metaverse experience, there are two main technologies.
One is WebGL, which renders directly in your browser. That can be quite heavy on your hardware. But there's another that essentially streams the environment from what is essentially a PC in the cloud to your desktop. And that requires a great internet connection because it's streaming real-time to your device.
However, overall, access right now – if you define the metaverse as being something that's your virtual world on a desktop or a mobile – is okay. If you're talking about VR, then there's a high barrier to entry because you've got to go and set aside several hundred pounds for a headset.
Q: What do companies need to prepare for in order to adopt the metaverse from a regulatory perspective but technically so as well?
Hunt: Starting right from the beginning and realistically speaking, with some companies, there is just not that much need for them to [join the metaverse], especially if all of their customers are in a physical space that works for them. If it's a specific kind of business, having a virtual place where they can have a configurator could be great. Think about our example of the van from earlier.
If that is the case, then, firstly, they have got to think about how to make it accessible. Consider hardware – many business PCs or laptops out there may not be that powerful since many people are usually handling office documents on a day-to-day basis. If they were to spin up and opt for a virtual space, that can already be quite heavy [for their computers].
So obviously, if you've got someone who's going to be spending time doing sales in the virtual world, they must make sure that they are on hardware that will support the virtual experience and not going to overheat and throttle.
At the same time, companies have also got to consider – and we've seen it before – how their customers operate. In some cases, clinets are on their mobile phones, which isn't a great venue for the metaverse experience.
I have seen numerous cases, particularly during the initial hype cycle, where enterprises were looking for ways to enter the metaverse. The question is, does it make sense? For example, if you're going to do a keynote [speech], does it really make sense to have a metaverse space if you're just talking at people?
Q: This brings me to my final question: How do you see the metaverse's impact on digital banking?
Hunt: Now, specific to banking and banking services right now, making payments or browsing the web is no different in virtual reality or the virtual world than on your phone. However, there might be some friction.
Again, in the B2B Future Shopper Report 2023 [published by Wunderman Thompson Commerce & Technology], 45% of respondents felt online buying was more complicated than offline buying. And that will only be more so if you're now asking people to make a purchase in a 3d environment that they are not used to.
Right now, because of the VR headset specifically, you don't want to be trying to look at your card and then type in VR – that is annoying. In addition to that, virtual reality headsets are something you put on for an hour, and then you take [them] off, often for gaming.
But looking into the future mixed reality glasses, if they're going to be looking to be a replacement or an alternative to our mobile phones, chances are, it'll have all of your preferences and payment details saved for when you checkout. And chances are, if we're using a mixed reality headset more than we use our phone, or it replaces our working laptops altogether, then it'll also have all the software we use on a daily basis saved. Therefore, there will be very little friction.
But if anything, I think it will become less visible, probably for other reasons. We've seen over time, the trend of checkouts becoming lighter and lighter because nobody wants your checkout experience to last five minutes and make it difficult. Shopify enters all your details from any other Shopify site. Amazon has a one-click buy button. So, if anything, [metaverse in banking] just becomes quite simpler, I don't see how the interaction becomes different.