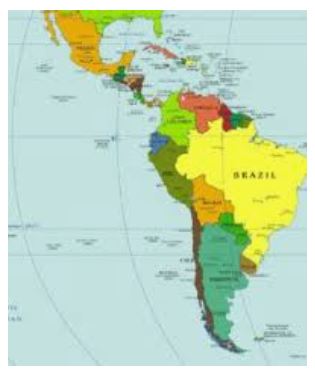 The pandemic has brought about a reduction of 40 million in the unbanked populations of Brazil, Colombia and Argentina. Mohamed Dabo reports on a study by Americas Market Intelligence, commissioned by Mastercard
The World Bank has declared that an average of only 55% of Latin American adults have an account at a financial institution, meaning 207 million as of January 2020.
Building financial inclusion means removing barriers like high fees and restrictions, increasing product and service value, and greater digital and financial education – as well as a better overall user experience to build a foundation of trust for the future.Progress towards financial inclusion in Latin America has been steady so far, if slow. But the pandemic of 2020 may have changed everything.

In the following excerpts from the report by Americas Market Intelligence, programmes in Brazil, Colombia and Argentina are reviewed to assess their impact on financial inclusion.
Population behavioural change: Guided by government subsidies and extended quarantines
Since the beginning of Covid-19 lockdowns, government subsidies have been critical to sustaining low-income families and to providing access to financial services to underbanked populations. In response to Covid-19, the Brazilian government devised the coronavoucher programme, an emergency subsidy for low-income informal workers to be distributed by the state-owned bank Caixa Econômica Federal (CEF).

The coronavoucher application – as well as disbursements – were made exclusively through the Caixa Tem app, thereby giving consumers the following options:

The impact of the coronavoucher programme has been immense. As of 5 August, 66 million people have received the subsidy – an estimated 36 million of them were previously unbanked.

That means more than 17% of Latin America's unbanked population has been brought into the financial system in mere months.

But cash is sticky.
The 'coronavoucher' pushes Brazilian poverty to record lows
Many beneficiaries immediately transferred the coronavoucher funds to another account so they could withdraw the whole balance in cash.As Marcelo Augusto Areas da Silva, managing consultant of the government executive board at CEF, explains: "In general, people withdraw the money out of fear that they will be charged some fee or general mistrust of the bank. They don't believe that their money is safe, and that the bank or the government could somehow take it back."

To assuage these fears, CEF provided several online videos explaining how to use the app and all its features. For those who needed additional assistance, bank tellers ended up offering in-person mobile technical support in an informal fashion, instilling peace of mind.

Following this, subsequent coronavoucher installments were therefore deposited exclusively to free CEF digital accounts, where the funds couldn't be transferred or withdrawn in cash for around 30 days.

And this strategy worked. As of 11 May, less than 5% of coronavoucher funds had been used to make digital transactions within the Caixa Tem app. By August 3, that figure had jumped to 63%.

The programme's impact on regional poverty was nearly equally profound. The Instituto Brasileiro de Economia da Fundação Getulio Vargas states that the extreme poverty level7 is at its lowest in 40 years, down to 3.3% of the population in June compared to 4.2% in May.

Other Brazilian and Latin American programmes have had nearly as great an effect by employing fintechs and neobanks.

The state-level programme in Brazil, Merenda em Casa – a programme paying out food subsidies to families with kids in public schools – leverages partnerships with fintechs PicPay and PagBank to distribute funds.
Covid accelerates financial inclusion in Colombia and Argentina
Similarly, in Colombia, the national government created the Ingreso Solidario to help families cope with Covid-19. The programme assists over 3 million families, which represent around 19% of the total population. The programme employed a hybrid approach, first sending funds directly to the accounts of banked Colombians, then using digital wallets Daviplata, Nequi and MOVii to reach the 1.5 million unbanked.

In Argentina, the government established Ingreso Familiar de Emergencia, to be paid into bank accounts or redeemed in cash at ATMs, post offices and retail stores.

The government subsequently restricted payment to bank accounts only, but the incentive of ARS10,000 ($140) was still powerful enough to move 3 million previously unbanked to open an account.

Both national programmes automatically assigned unbanked benefit recipients to the institution where they would receive their benefit. This simplified the process for millions of Latin Americans, providing a straight, clear path to accessing their much-needed funds – and a strong start toward eventual financial integration.

In total, Covid-19 related social benefits programmes helped financially integrate more than 40 million people in Brazil, Colombia and Argentina alone.

Brazil reduced its unbanked population by an astounding 73%, while Colombia and Argentina also made admirable reductions of 8% and 18% respectively.

While markets like Chile, Peru and Uruguay were not included in the study, if their programmes had a similar effect, the unbanked population in all of Latin America will have been reduced by 25% due to the impact of Covid-19 social benefit programmes alone.