RBC's 2010 $5.4bn deal to snap up City National, the California headquartered bank serving high net worth and commercial clients, represented its biggest ever acquisition and represented a unique opportunity to complement and enhance its existing US businesses. As Douglas Blakey reports, the deal is already exceeding the bank's expectations
Five years ago, RBC's president and CEO Dave McKay signed the deal enabling Canada's largest financial institution to acquire Los Angeles-based City National Bank, which has become an integral part of RBC's US growth strategy.
Since then, City National's loans and deposits have more than doubled, growing at rates well above industry averages. Over the past five years, City National has been responsible for approximately 25% of RBC's loan growth and 15% of its deposit growth.
During that time, City National's total assets have increased from $37bn to $75bn, thanks in part to its strong partnership with RBC's wealth management and capital markets businesses.
In 2015, City National's RBC Banking Solutions group, which is responsible for providing loans and deposit services to RBC Wealth Management's US financial advisers, had only four colleagues in California and could make mortgage loans in just five states.
Since then, its nationwide team has made $2.5bn in loan originations to RBC's US wealth management clients, including nearly $1bn in 2020 alone. In addition to home mortgages and commercial loans, City
National is helping RBC offer its clients deposit products, treasury management and equipment leasing services.
Creating growth opportunities, expanding investment capabilities
City National is also exchanging referrals with RBC Capital Markets – referrals that involve real estate and entertainment, as well as private, commercial and specialty banking.
Now that it is a part of RBC, City National no longer has to worry about losing clients that need access to capital markets. Instead, the company can introduce them to one of the nation's leading investment banks.
The fifth anniversary of RBC's largest US acquisition to date points to the success of a combination that continues to create growth opportunities and deliver expanded banking and investment capabilities to targeted segments of the world's No. 1 economy.
City National is America's premier private and commercial bank, serving mass affluent, high-net-worth and business
clients in densely populated urban markets like Los Angeles, San Francisco, New York, Washington, D.C., Las Vegas, Nashville, Atlanta, Minneapolis and Miami.
Thanks to a highly successful entertainment division, the company is widely known as "the bank to the stars." However, its balance sheet reflects considerably more diversity than the Hollywood moniker would imply.
City National banks a wide array of small and mid-size businesses, business owners, entrepreneurs, investors, professional services firms and manufacturers.
Grow. Simplify. Transform.
Kelly Coffey, who succeeded Russell Goldsmith as City National's CEO in February 2019, is well into her second year
at the helm. Coffey left her home in New York and a 25-year career with JPMorgan to become only the fourth chief executive in City National's almost 67-year history.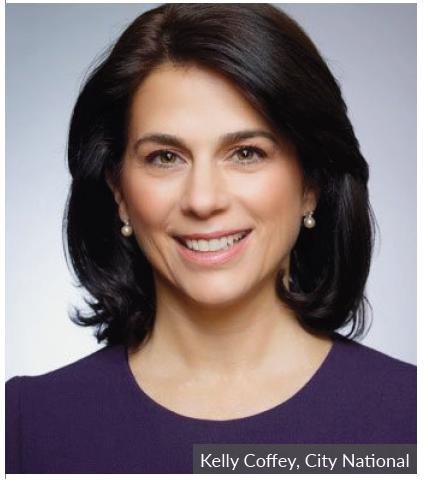 She is one of four female CEOs at top-50 U.S. banks, and recently she was named to American Banker's list of the 25 most powerful women in banking.
Coffey has wasted no time putting her signature on City National. She has made key hires to the company's executive committee, adding a new president, a new general counsel, and new heads of risk management, treasury services, and marketing, product and and digital solutions. Organic growth is clearly the order of the day, so City National's CEO has built a strategic plan for the organisation to grow, simplify and transform.
For almost seven decades, City National has succeeded on the strength of its client relationships, white-glove service and enthusiastic referrals. The company avoided big-bet acquisitions, opting instead to open branches and recruit banking teams in selected markets. It has grown steadily, mainly by winning business clients and then earning their personal banking and investment business.
Today, Coffey is intent on further developing the company's already strong private banking business. She has family roots in banking. Her grandfather was the CEO of a small community bank in Pennsylvania, and she talks with conviction about the unique combination of personal service and robust financial capabilities that City National brings to each of its communities.
Expansion in New York, Miami, Atlanta and Washington DC
"We want all of our clients to see us as their hometown bank," she says.
Geographic expansion is a big focus for City National's CEO. The bank has a strong legacy in Los Angeles and throughout Southern California, but during the past year it has opened four new offices in New York and one each in Miami, Atlanta and the Washington, D.C. area.
Despite the emphasis on organic growth, City National is also making niche acquisitions in the fintech space. In 2019, the bank successfully integrated Exactuals, the software-as-a-service payments platform it acquired to allow the entertainment industry to track and manage royalties.
'Banker to the stars' snaps up FilmTrack
Exactuals expanded in 2019 to simplify payments for the insurance industry. The bank also purchased FilmTrack, a leader in intellectual property rights management, known for transforming the way the entertainment and media industry manages and monetises intellectual property.
Founded in 1996, FilmTrack's cloud-based platform enables its global entertainment clients to calculate, track and analyse billions of dollars of distribution revenue and participation payments, and manages every aspect of the complex intellectual property life cycle, including rights contracts, invoicing, financial reporting, and royalty and participation calculations.
FilmTrack strengthens City National's leadership in providing the entertainment industry with complex payments solutions and intellectual property rights management, and it builds on the bank's strong set of entertainment-focused services.
City National has been growing rapidly, and Coffey is determined to create more scale by simplifying and adding technology to replace time-consuming manual procedures.
"It's not enough to grow," she says. "We have to grow in a scalable way. One way to do that is by leveraging more of RBC's technology and scale."
Digitally-enabled relationship bank
In addition to growing and simplifying the company, Coffey also has set out to transform City National into what McKay
calls a "digitally-enabled relationship bank" with the successful launch of a new mobile app, the roll-out of improved treasury services capabilities, and measures to streamline the process for adding new clients.
More advanced digital capabilities are strengthening City National's brand and expanding the bank's reach beyond its geographic footprint.
Digital banking has become particularly important during the Covid-19 pandemic, and Coffey is eager to take advantage of RBC's advances in things like robotics and artificial intelligence.
"On the digital front, RBC has been a real leader among multinational banks," she says. "We want to tap into its capabilities."
Adjusting in 2020
This year has been an eventful one for banks everywhere, and City National is no exception.
First came the Covid-19 pandemic, which forced companies everywhere to develop new safety protocols and send employees home to work.
It was followed by a deep recession that sent interest rates plummeting and put enormous pressure on bank earnings. And then the death of George Floyd in Minneapolis brought about a reckoning over racial equity and social justice.
Together, these events shook corporate America and served as a reminder that companies are only as healthy as the
communities they serve.
Coffey acted quickly, keeping clients, colleagues and communities at the centre of her focus.
Paycheck Protection Programme: working round the clock
In March, she spearheaded an enormous effort to provide City National's clients with emergency relief loans through the US government's Paycheck Protection Programme.
For several weeks, well over 1,000 bankers worked around the clock, reaching out to clients and processing loan applications in time to meet the government's deadline.
Virtually all of the company's colleagues were involved in one way or another. Bythe time they were finished, City National had made nearly 16,000 loans for a total of $4.6bn. The funds saved thousands of jobs and were credited with helping to shore up the U.S. entertainment industry.
Coffey also announced the largest single donation in City National's history: $2m to help clients and communities deal with the humanitarian, healthcare and financial challenges caused by the Covid pandemic.
The bank's donation included contributions to organisations like United Way, Save the Children and Broadway Cares. Some of the money was also used to create a fund that is providing direct assistance to colleagues facing financial hardships due to the pandemic.
"2020 was a year unlike any other," Coffey says, "And our colleagues stepped up in a big way. The world changed, and we adapted. City National remained profitable despite the pandemic and the deepest economic downturn since the Great Depression. What's more, we helped our clients when they needed it most."
Ongoing Commitment to Diversity and Inclusion
Diversity and inclusion are two of Coffey's long-time priorities. For over a decade she led the Women's Network at JPMorgan. On her first day at City National, she met with the company's head of multicultural strategies
and immediately focused on making diverse appointments to the bank's executive team.
The bank now has 11 diversity groups to serve colleagues and has earned a spot on Forbes' list of America's most diverse companies.
In the wake of Floyd's death, Coffey committed to doing more to promote diversity and inclusion at City National.
She is launching a new unconscious bias training programme, and, under her leadership, the bank recently surpassed its five-year commitment to provide underserved communities with $11bn in loans, investments and philanthropy.
Tackling the Challenges of Growth
Growth presents its own set of challenges, of course. Among them are heightened regulatory standards that apply to US banks with assets of more than $50bn. Under Coffey's leadership, City National has managed to grow even while investing a good deal of time and money to meet these standards.
Another challenge is maintaining collaboration during the current pandemic. Coffey emphasises the importance of
preserving what she calls City National's "client-obsessed" culture.
"Working from home – away from one another – makes it harder," she says. "But our colleagues are committed. We're constantly looking for ways to stay connected, to have fun and create virtually the kind of energy and passion that comes with working in an office together. That isn't easy, but it's really important if we want to preserve the values and culture that set our company apart."
Coffey puts a premium on communication. She spends a lot of time reaching out to colleagues and clients through Zoom and Microsoft Teams. She likes to keep them informed and eagerly solicits their feedback.
She hosts a weekly podcast featuring one or more of the bank's leaders. Colleagues hear directly from City National's CEO about the company's performance and priorities, recent developments and upcoming initiatives.
They are encouraged to speak up. Through her "Tell Kelly" programme, Coffey receives hundreds of suggestions through email and the company's intranet. Anyone can send her a growth idea, flag a problem or recommend a better way of doing something. She reads all of these suggestions and makes sure every colleague gets a personal response.
Coffey is quick to implement good ideas. At the suggestion of colleagues, City National extended its parental leave for birth and adoptive parents and doubled its financial support for colleagues adopting children. It also rolled out a less formal dress code, a step in Coffey's quest to innovate and attract new talent.
"Feedback is a gift," she says. "I can't fix what I don't know."
Coffey expects today's challenges to continue into 2021. "We'll need to tighten our belts, there's no doubt about it," she said. "But eventually the pandemic will end and the economy will recover. When it does, we will be a better company for everything we've accomplished and all that we've learned. We'll be more productive, more agile, more diverse and inclusive. We'll be better able to serve our clients and communities."