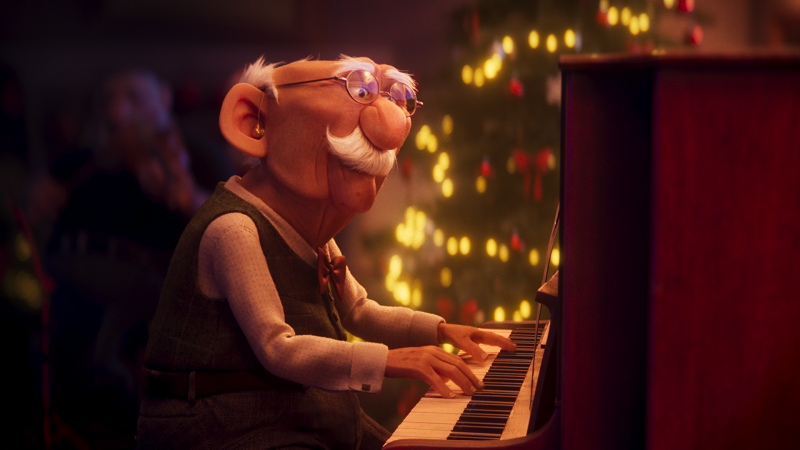 For the third year in a row, Vienna-based Erste Bank has released its animated Christmas advert. And just like last year, the bank's latest offering is likely to shed a few tears. Evie Rusman writes
Last week, Erste Bank launched its 2020 #believeinyourself story #EdgarsChristmas, which so far has been welcomed by stellar reviews. This comes as Christmas adverts have become huge money makers throughout the last decade, with retail giants like John Lewis spending millions on them each year.
Following the success of its last two Christmas adverts – which have been viewed more than 180 million times – the bank has decided to focus this year on the impact of Covid-19.
It is safe to say, 2020 has been a turbulent time for the whole world, with the feeling of loneliness more present than ever – Erste wanted its advert to reflect this.
Martin Radjaby-Rasset, Head of Group Brand Management at Erste Group, says: "Loneliness and isolation have been the defining themes of this pandemic year. Unfortunately, that is likely to remain true for most people also during the Christmas season, when we would usually get a chance to be close to our family and friends. We wanted to show what's possible when people are there for each other and when they believe in themselves and others, especially in these times."
Erste Bank's newest advert follows an elderly man living in a nursing home, who is struggling due to the loss of his hearing. This makes for emotional viewing and really homes in on the fact we need to be there for each other during these difficult times.
#EdgarsChristmas
The mastermind behind Erste's ad is once again creative media company Jung von Matt DONAU, who worked with the bank on its last two Christmas ads, which followed the story of a lonely hedgehog (2018), and a bumblebee learning to fly (2019).
Speaking on the company's latest work, Creative Director, Michael Nagy, says: "After taking two excursions into the world of animated animals, this year we're addressing a theme that's important for Christmas every year, but all the more in these exceptional times – namely: being there for each other.
"That's what drives Marie, the optimistic and lively caregiver who doesn't want to accept that the ageing composer Edgar is increasingly withdrawing into himself as his hearing loss progresses. With the help of the other residents at the old age home, Marie manages to warm Edgar's heart and ensure that he enjoys a very special Christmas celebration."
#believeinyourself
Last year, the Austrian Bank released its second animated Christmas ad, following the life of Hanna the Bumblebee.
The tag line each year remains the same, which is #believeinyourself.
Radjaby-Rasset says: "At Erste Group, #believeinyourself is not only the central theme of our marketing and branding across our group – it's actually at the very core of our approach to what we do as a business.
"We're here to help our customers, who believe in themselves, pursue their dreams by giving them access to prosperity. Of course, we wanted to create an advert that touches on the emotions all of us have around the holidays – but we also wanted to bring across just how important and powerful that #believeinyourself spirit is."