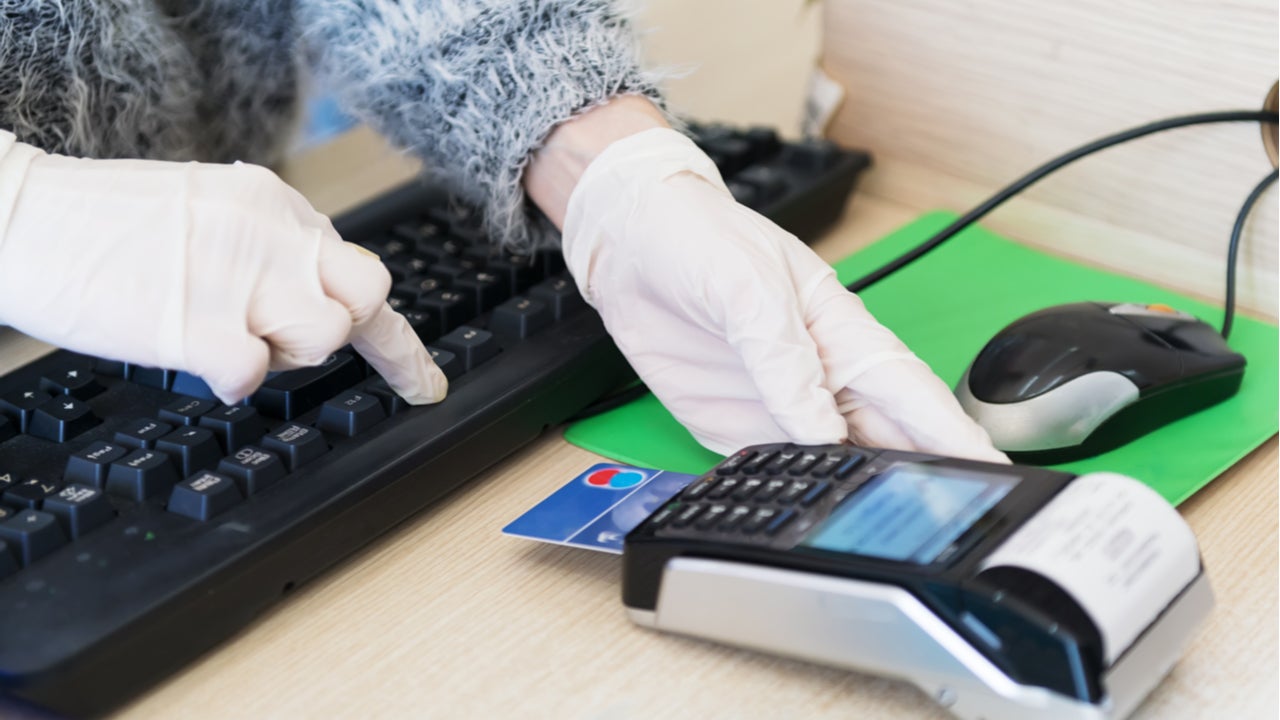 Retail Banker International lists the top five terms tweeted by Covid-19 Banking & Payments Influencers in October 2020, based on data from GlobalData's Influencer Platform. The top tweeted terms are the trending industry discussions happening on Twitter by key individuals (influencers) as tracked by the platform.
1. Covid-19 – 1,435 mentions
Digital payments empowering women during the Covid-19 pandemic, Wells Fargo sacking employees for embezzling Covid-19 funds and Airbnb's plan to go public were some popularly discussed topics in October. Melinda Gates, founder of Bill & Melinda Gates Foundation, tweeted a video about digital payments bridging the gender gap in middle and low-income countries in Africa. The ongoing pandemic has put the progress towards gender equality at risk. Digital payments and identity (ID) systems have helped women connect directly with the formal economy apart from empowering themselves financially, the video highlighted.
Further, Win Smart CFA, a corporate credit expert, shared an article about Wells Fargo firing more than 100 employees for swindling US federal government's coronavirus relief funds. The bank employees illegally applied for relief apportioned for small businesses that incurred losses due to the ongoing pandemic. The findings of Well Fargo corroborate the claim that the funds were misused by various companies across the spectrum, the article noted.
Covid-19 also trended in discussions shared by Joshua Franklin, a corporate finance reporter for Reuters, about Airbnb planning to raise $3bn in an initial public offering (IPO). The home rental company wants to exploit the sudden recovery its business made after the slump caused by the coronavirus pandemic in the travel industry. The company's IPO is highly anticipated by the entire US stock market, after other firms like Warner Music Group and Snowflake went public earlier this year, the article highlighted.
As #COVID19 puts progress toward gender equality at risk around the world, simple tools like digital payment and ID systems can help women remain economically empowered. pic.twitter.com/NyupI9dl1L

— Melinda Gates (@melindagates) October 5, 2020
2. Fintech – 272 mentions
The enhanced use of technology in financial services during the pandemic, digital transformation in transaction banking and slump in Bitcoin after Donald Trump tested positive for Covid-19 were widely discussed during the month. According to an article shared by JC Gaillard, founder of Corix Partners, a management consultancy firm, Covid-19 pandemic is pushing financial services companies to use technology in their day-to-day operations. After the pandemic struck the world in March, the use of technology in financial transactions became the new normal for both customers and companies. This new trend also brought to light the fact that financial service providers are struggling to adopt technology.
Dr. Marcell Volmer, a social media enthusiast, further, shared an article about Covid-19 crisis advancing the transformation towards digital technology in transaction banking. The banking industry's versatility came to the fore during the pandemic as it enabled government payments, and supported customers, companies and clients in transitioning to digital
payments. The revenue from global payments is expected to reach $1.8tn in the next four years, thanks to increase in electronic transactions and e-commerce, the article highlighted.
Another discussion surrounding fintech was shared by Spiros Margaris, a fintech influencer, about the impact of the news of US president Donald Trump and First Lady Melania testing positive for coronavirus on Bitcoin and stock markets. The cryptocurrency registered a 1.9% drop from $10,678 to about $10,400, even as the Australia ASX All Ordinaries and S&P 500 futures declined 1.35% and 2% respectively after the news, the article noted.
How #Covid19 has injected new life into the #fintech sector > https://t.co/tBKsFsIuPB via @ITProPortal#tech #finance #banking #payments #digital #innovation #leadership #startups #pandemic #crisisresponse pic.twitter.com/OsZH62NXMX

— JC Gaillard (@Corix_JC) October 3, 2020
3. Financial Services – 155 mentions
Latin American remittances defying World Bank predictions, bright prospects for Indian start-ups post pandemic and consumers opting for new payment service providers (PSPs) during the pandemic were popularly discussed in October 2020. Alex Jimenez, chief strategy officer at Extractable, a strategy consultancy firm, shared an article about remittances in Latin American countries surging during the pandemic.
The World Bank estimated that remittances to countries in the Caribbean and Latin America would plunge by 20% in 2020. Countries such as Honduras, El Salvador and Dominican Republic, however, witnessed a substantial rise in money transfers during the crisis. Millions of migrant labourers working in various sectors in the US, who hail from these countries, sent money to homes during the pandemic leading to an upsurge in remittances, the article highlighted.
Further, Chuck Russel, an entrepreneur, shared an article about the positive developments for Indian start-ups from the Covid-19 pandemic. The Reserve Bank of India has given priority sector lending (PSL) status to the start-up sector enabling start-ups to access banking credit, which has long evaded the sector. All commercial banks and foreign banks are now required to allocate 40% of their banking credit to priority sectors such as start-ups, the article noted.
Financial services was also discussed in an article shared by Nafis Alam, a fintech researcher, about more than one-third of consumers choosing new payment providers during Covid-19 lockdown. Most of the payment companies made a quick digital transition to enable payments during pandemic, with 38% consumers choosing new PSPs even as 30% utilised payment services of tech giants such as Amazon, Apple and Google. Interestingly, half of the consumers opted for payments services of challenger banks, the article highlighted.
How COVID-19 Has Reshaped Latin American Remittances https://t.co/nm8eNuNML4#paytech #paytech #banking #finserv #fintech

— Alex Jiménez (@RAlexJimenez) October 26, 2020
4. Equity – 90 mentions
Covid-19 pandemic's impact on firms owned by private equity managers, private equity firms' recycling assets and equities surge on the back of Covid-19 vaccine announcement were widely discussed during the month. According to an article shared by Theo, founder of Unconventional Ventures, a consultancy services provider, private equity-owned companies are bearing the brunt of the Covid-19 pandemic. The funding for these firms has decreased as coronavirus cases are rapidly spreading throughout Europe and US, raising concerns that the performance and credibility of alternative investments could take a beating, the article noted.
Benjamin Robertson, a European private equity reporter, further, shared an article about private equity firms opting for repackaging their aged assets, instead of divesting them. The ongoing pandemic restrained the equity firms from using the general exit routes through IPOs and sales. Wall Street is tapping into this trend, supporting the firms in the recycling process, with companies like Goldman Sachs collaborating with investors and banks like Citigroup turning into deals advisor, the article highlighted.
Other discussions surrounding equity included the news of Covid-19 vaccine by Pfizer affecting the value of equities, according to an article shared by Crypto Trader Pro, a crypto traders' community. The announcement by Pfizer and BioNTech, two pharmaceutical companies, about developing a coronavirus vaccine with 90% efficacy triggered an increase in value of SPX futures by 3%, while FTSE 100 index value rose by above 3%. The value of Bitcoin also surged riding on the back of Covid-19 vaccine news, the article noted.
One in 10 companies owned by private equity managers is in "intensive care" as a result of the coronavirus pandemic#startups #privateequity #funding
cc @Karunk https://t.co/RsR2zK7FBo via @FinancialTimes pic.twitter.com/7L0raIVfLb

— Theo – 劉䂀曼 (@psb_dc) October 11, 2020
5. Venture Capital – 39 mentions
The best ways for businesses to grow during the pandemic, venture capital investment helping Dialpad valuation cross $1bn mark and digital transformation in South America were some popularly discussed topics in October 2020. Bret Conkin, founder of Crowdfund Suite, a crowdfund solution provider, shared an article about ideal ways to revamp businesses impacted by Covid-19 pandemic. Various businesses across the globe are shutting down due to the pandemic induced economic downturn. These companies can overcome the hurdles created by Covid-19 by ensuring cash flow is not snapped and planning venture capital strategies aimed at growth, the article highlighted.
Further, Chuck Russel, shared an article about DialPad reaching a valuation of $1.2bn riding on the back of a new round of venture capital investment. The AI-powered cloud contact platform raised $100m in a Series A funding round, which involved the participation of existing investors. The demand for remote partnerships which is on the rise since the onset of Covid-19 pandemic helped in the growth of the company, the article noted.
Another discussion related to venture capital was shared by Syntax Error, a data scientist, about technology start-ups in Latin America mushrooming in the past three years. The region had no start-ups in 2017 but is now home to 17 with MercardoLibre, an e-commerce platform, being the most valuable company in the continent. The doubling of venture capital investments in the region is one of the reasons for the rise in the number of start-ups, the article highlighted.
Top 3 ways to position your business for growth during COVID-19 https://t.co/JdvN3VaDGu #growth #traction #venturecapital #funding #pandemic #crowdfunding #DigitalMarketing @CrowdfundSuite @NCFACanada

— Bret Conkin (@bretconkin) September 30, 2020