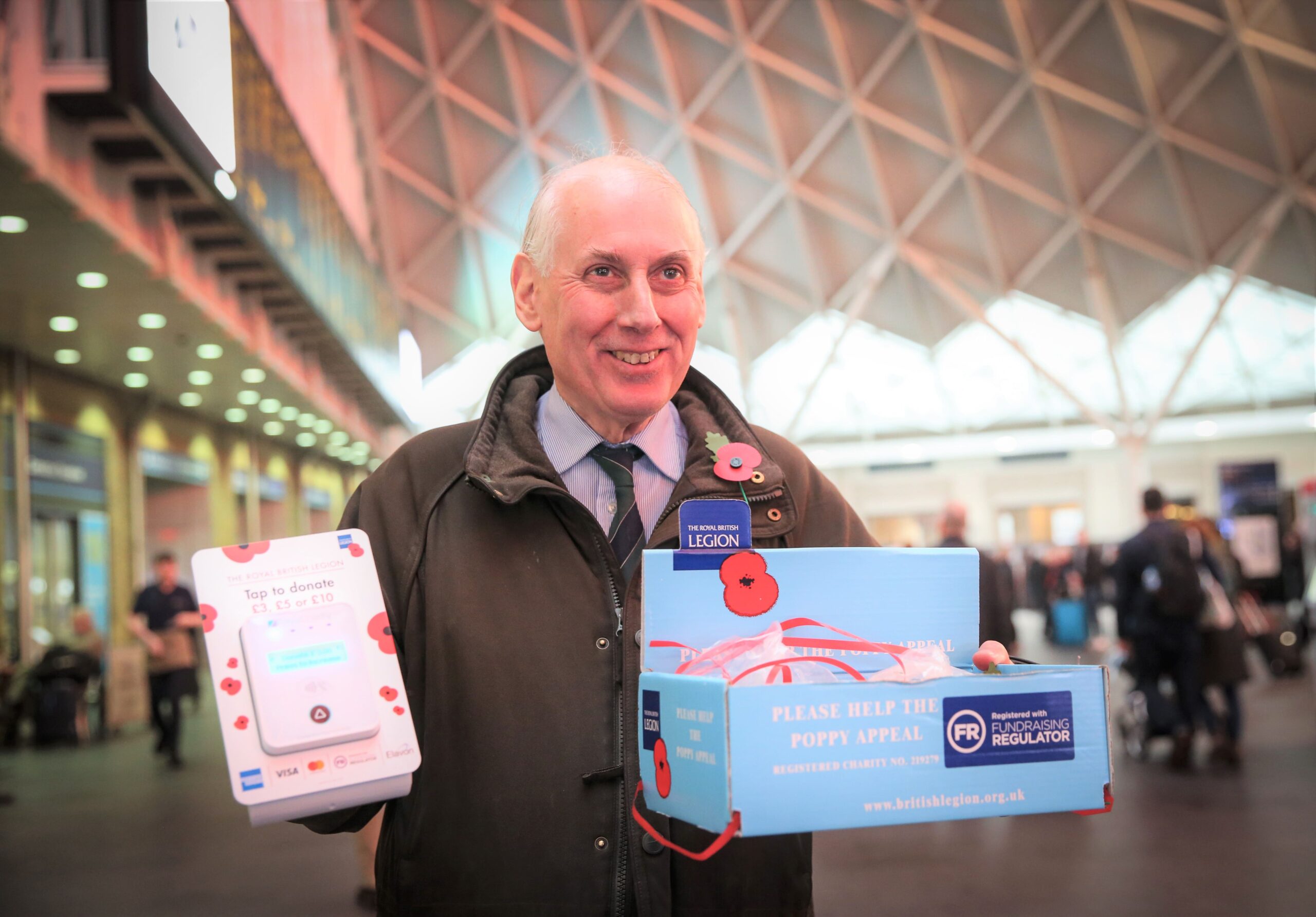 Contactless charity donations have been on the rise in recent years. Everyday more charities are investing in fundraising technologies to boost productivity and enhance the donation experience. So much so, gone are the days of volunteers standing in the rain with plastic buckets asking for change.  Evie Rusman speaks to the charities who are implementing this new tech
With the contactless era, it is evident that the fundraising landscape has altered significantly. As a result, this change has driven charities to adapt and hence, the rise of contactless donation points.
Nowadays, it is not unusual to see a bunch of charity volunteers walking around with iPads and contactless card scanners ready to accept a quick donation.
As well as this, permanent donation points are now scattered throughout towns and cities, usually with an average donation price automatically set at £2.
So what is the reason for this switch? Speaking to EPI, Marc Frost, founder of Liberty Pay, explains how contactless payment points are changing the world of donations and providing big opportunities for the charities investing in them.
He says: "Contactless donations have really transformed fundraising. It just brings it into the 21st century by allowing methods donors are familiar with. When dealing with charities and volunteers, the quicker and easier you can make the process, the better. It needs to be transparent for everyone and I think contactless donations do that.
"We all know that cash is declining substantially and the fact that you can now give money to charity easily, with a simple tap, is good for everybody. We have worked hard to keep the process of donating very simple."
Since 2017, Liberty Pay has worked with Tap For Change to set up contactless donation boxes throughout the UK and Europe. The pair recently formed an alliance with Just Giving and currently work with charities including Mind and Alzheimer's Society.
Charities trying contactless
One of the charities trialling contactless donations is the British Heart Foundation (BHF). Krystyna Grant, head of Innovation at BHF, tells EPI how contactless has changed the way they operate.
She says:  "Supporters want to give to charity in different ways, and the British Heart Foundation needs to be able to flex and accommodate to these needs. In January 2019, we decided to trial contactless devices for donations to offer supporters an alternative way to contribute funds to our life-saving research into heart and circulatory disease. This was really important for us because we recognise that as we move towards a cashless society, the fundraising landscape is changing and we needed to adapt.
"Contactless donation provides people with a fast and convenient way to support our cause and we've been encouraged to see an increase in donations since we rolled it out. It's also giving the charity sector the opportunity to innovate and develop their fundraising efforts, engage with supporters in different ways to raise funds, and remove the barriers that could be stopping people from donating in the first place."
Red Cross is another charity that has invested in contactless donation points this year. Ben Cohen, head of fundraising innovation, tells EPI about Red Cross' recent fundraising venture.
He says: "We've been running a number of contactless trials in 2019. During Red Cross Week in May we worked with VISA & Goodbox to get 150 portable devices out on the streets with fundraisers all around the UK. More recently we installed a contactless podium as part of an experiential installation we had in Westfield, about Cox's Bazar. And we have just installed a contactless device in the shop window of our Portobello Road British Red Cross shop; meaning donors can now give to us 24 hours a day."
 Contactless poppy appeal 
This month, Elavon announced it was to start introducing contactless donations for The Royal British Legion's annual poppy appeal. The payments company is providing 1,100 cashless terminals to help the charity collect donations.
Hannah Fitzsimons, EVP and general manager of Elavon Europe, says: "We are very proud to support this year's Poppy Appeal. As consumer behaviour and cash use changes, we want to be at the forefront to help important charities like the Royal British Legion maximise their revenue potential to provide vital assistance to people in need."
This effort, by Elavon, marks the largest-ever deployment of cashless terminals for a charitable campaign in the UK.
Simon O'Leary, assistant director of fundraising for the Royal British Legion, says:  "This is an exciting step for us. Often, people want to donate but can't as they don't have cash handy. By working with Elavon, we can make it simpler for the public to support our Armed Forces community."
The idea behind this is that charities like The Royal British Legion will be able to increase revenue and simplify administrative efforts by providing more digital payment options.
Cash decline
 Cash decline is inevitable in today's technology-centred society; especially as mobile payment apps such as Apple Pay continue to dominate the market.
According to research by UK Finance Payments Market Report 2018, four in 10 payments in the UK were made by debit card, highlighting a rapid growth in card payments and a decline in the use of cash.
Cohen highlights the idea that charities could be isolating a significant proportion of donors if they refuse to get on board with contactless.
"As a street or event fundraiser, you want to engage with as many potential supporters as possible," he adds. "And you'd seriously be narrowing down the market if you only take cash donations in a bucket. So offering contactless in those situations is fast becoming a must-have, as prices of devices start to come down.
"At British Red Cross we've also been keen to explore what new terrain contactless could offer us; like installing unmanned devices in our shop windows to enable 24-hour donations. The research shows that the more interactive you can make donating, the more donations you'll get; so there is a huge opportunity for charities to move beyond just offering a device to tap, and to begin exploring what kind of experiences we can create to bring our causes to life in more engaging ways."
Generate income
When it comes to adapting to this change, Frost argues that charities have been very open in trying this new technology. He also highlights that charities must put the necessary work in to ensure success.
He says: "I think they recognise that cash is declining and are very open to new ideas. One of the things we have to get across in our education processes is that it costs a charity less than £1 a day to run one of these boxes. The average donation is £6 and if they can get a tap once or twice a week, they already have a return on investment.
"When they use that additional money to fund some more boxes, they can very quickly start generating substantial incremental income. With that being said, just having the box doesn't necessarily mean you're going to get the money, charities need to put the effort in if they want to be successful.
"Charities like us have often found it hard to keep up to ever-changing supporter needs. That's why it's important that we always create some space in the organisation to experiment with new tech that can bring our cause to life in new ways, engage new audiences and help fund our work."
Frost says there have been mixed reactions to the boxes but in general he believes donors are happy to see them.
"We believe there is an eight second window when charities can present an opportunity to a donor and they agree to give you some money. It's got to be a quick process. We have got a museum that uses our box that drives videos and has a number of interactive features. So many innovative charities are actually using the technology to drive displays.
"It really depends on how engaged the charity is. For instance, do they want to simply just collect a donation or do they want to give a bit more of an experience?"
Corporate strategy
Tap For Change are also involved in more corporate-based initiatives. This involves providing corporate offices with the charity donation boxes so employees can tap and donate on a regular basis.
Typically, offices are able to adopt these boxes for a specific time frame, raising money for their chosen charity. In addition, due to the mechanics of the box, the registered charity can be altered if and when corporates choose to do so.
Frost says: "We have quite a number of corporate organisations, both large and small, who work with us on their CSR strategy and use our devices for their internal fundraising. For instance, when we work with Just Giving, we will be able to place boxes in their offices across the UK.
"They may be supporting a charity for a couple of months and then want to change it. That's when we step in. We can actually reprogram the box remotely and set it up for a different charity. This makes the process much smoother and easier. Most corporate offices tend to sign up for a one year agreement but halfway through may need to change the charity, and with this technology that is easily done."
Security
 With contactless payments, card fraud and security have been drivers of worry in recent times, especially as IT hacks are becoming increasingly more sophisticated and difficult to prevent. Frost explains how Tap For Change are ensuring all transactions are safe and secure.
He says: "In the Tap For Change boxes, there's actually no card data stored in the terminal. When I tap it with my card, the data is encrypted and travels to the acquirer. This means that if the device is stolen, nobody can do anything with it because there's simply no data on it.
"Another thing is that because there are no other buttons on the device, you can't do a refund on it. So charities can feel safe knowing that when they give these boxes to fundraisers or corporate partners the only thing that can happen is that money can arrive into their bank account."