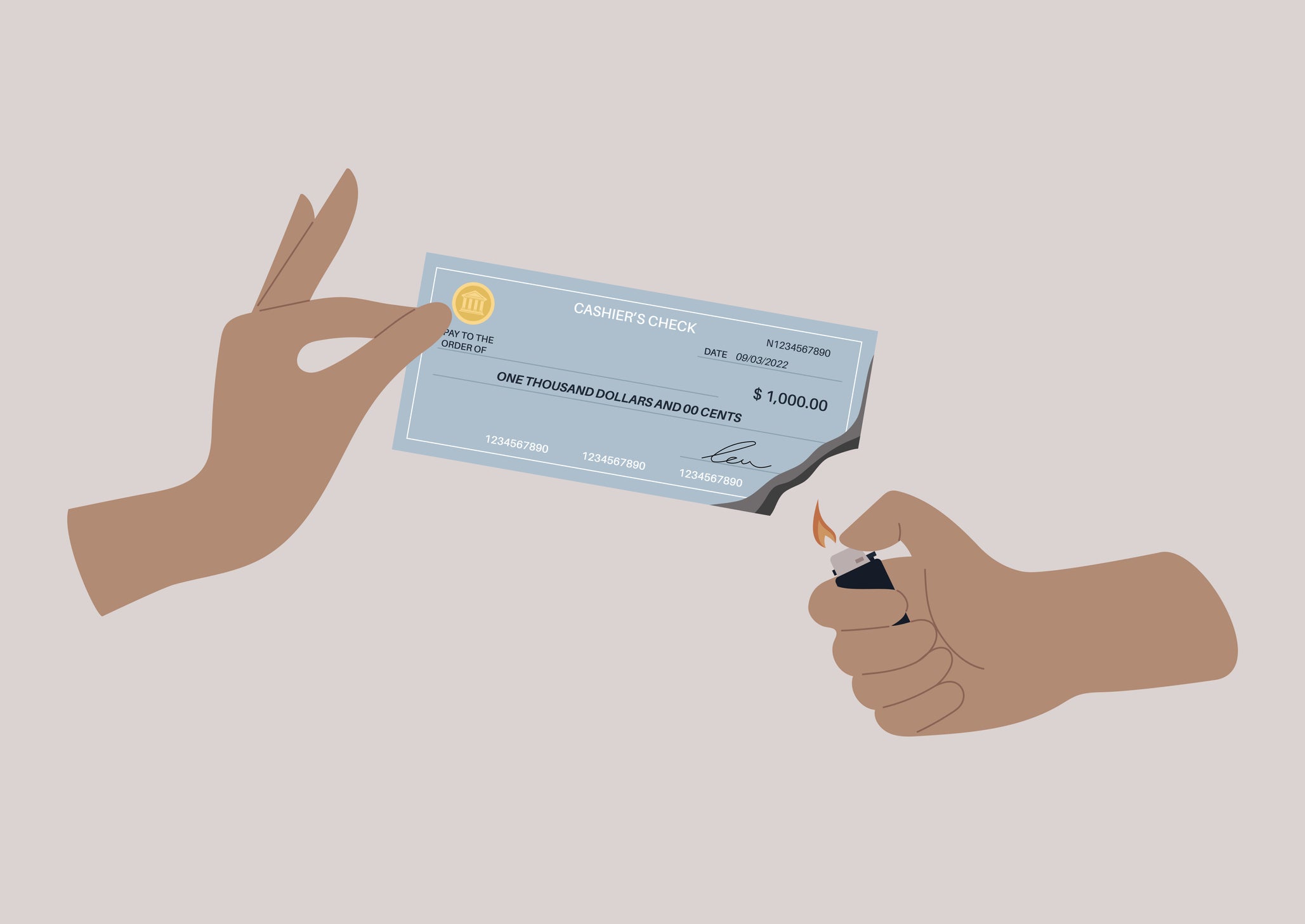 Fraud scams involving cheques have changed over time. In the past, scammers used to change the names and amounts on cheques, as well as use chemicals to erase the payee's name from them – a practice known as "check washing".
Nowadays, most are sent online, which means information is stored digitally in consumer systems. There's also the digital version called e-cheque, which resembles, to an extent, digital payments.
However, some fraudsters have learnt to take advantage of cheques being sent online, depositing them several times in someone else's name.
"With mobile phone banking widely used, banks have integrated digital cheques into mobile apps. Images of the cheques are sent through the internet, but they can be altered", says Arnie Cho, senior analyst, APAC Payments & Retail Banking at GlobalData, publishers of RBI.
In the UK, cheque fraud losses reached £7.5m in 2022, according to UK Finance, a trade association consisting of UK banks and financial services providers. That is 18% higher than the previous year (£6.4m) and down from £53.6m recorded in 2019, just before Covid hit.
Among the types of cheque fraud, the most common one reported last year involved fraudulently altering cheques, with losses amounting to £3.3m or a 110% rise. Counterfeit cheque fraud – which involves printing on non-bank paper to look exactly like genuine cheques drawn by a fraudster on genuine accounts – amounted to just £1.8m in 2022.
"Cheque fraud has always been around – it's paper, it's vulnerable", says Tracy Monson, chief product officer at Onbe, a fintech managing business-to-individual disbursements. "Think about the difference now with the rise in check fraud. I'm sure that many of these companies are sitting down and looking at their 2024 planning, and probably that status quo concept – looking for better digital disbursement options – is part of the conversation in many of these boardroom tables."
Monson's company acts as a payouts gateway, managing consumer workforce payments. According to her, when companies choose to disburse money through cheques, they are also in charge of additional costs such as postage and managing processes, which can range between $3 and $12 per cheque.
"The reluctance [to move away from cheques] doesn't resonate with me because we are seeing that growth and adoption of these digital-first payment experiences", Monson notes. "A lot of times, I think it's just status quo, and not necessarily understanding that there are better solutions out there.
Digital or physical – cheques are just not safe
When Covid-19 struck, governments worldwide struggled to keep people indoors and on furlough following business shutdowns.
In the US, huge volumes of government relief came in. Stimulus and relief cheques entered the market, as more people found themselves at the vulnerable end of the stick.
As a result of more people accessing payment services online, instances of online fraud grew in 2022. According to GlobalData, fraudsters learnt to impersonate companies to access people's banking details. Sam Murrant, consulting director in the Financial Services division at GlobalData, stated in February that 39% of all fraud reported in 2022 was social-engineering based.
"We are not talking about hacking into computers. We are talking about attacks on consumers through social engineering, extortion, and confidence tricks", Murrant said.
In a separate survey conducted by GlobalData, 31% of US respondents said they were victims of fraud in 2022. Among the reasons invoked, stolen personal information that was used to apply for financial products was the second most common type of fraud experienced by victims.
Cheque fraud scams do not require quantum computing. Monson says it didn't take too long for fraudsters to see a loophole and realise people's mailboxes aren't safe.
"I think the pandemic kind of exacerbated or accelerated some of the impact and pain of fraud", she notes.
"Cheques are mainly used still in the US and Canada. It's a very costly and slow payment process and can easily be a target of fraudulent activities", Cho further adds.
And it's not just digital cheques that are being stolen. In February 2022, the US Financial Crimes Enforcement Network (FinCEN) – part of the US Department of the Treasury – issued an alert warning people against check washing and scammers targeting the US mail.
In 2021, financial institutions reported more than 350,000 SARs to FinCEN to report potential cheque fraud – a 23% increase from 2020.
"Criminals committing mail theft-related check fraud generally target the US Mail in order to steal personal checks, business checks, tax refund checks, and checks related to government assistance programs, such as Social Security payments and unemployment benefits", said FinCEN in a statement.
What can companies do?
Cheque fraud is preventable. The Metropolitan Police in London recommends people accept cheques from those they know and trust. Monson advises companies to go fully digital, which is more secure, convenient and faster for people to receive money.
But giving up on a long-standing practice that's been around for years needs time.
"When you layer in the fact that the three most important things to the average consumer are speed, choice and convenience, paying by cheque is basically the polar opposite", Monson insists.
The contrast is even starker when blockchain is now disrupting the payment industry. GlobalData analysts expect the global blockchain revenue to go up from $4bn in 2020 to $199bn in 2030.
In 2021, venture capital (VC) deals – one of the two important driving forces behind investment in blockchain – hit $14.8bn. A record when compared to the $2.1bn reported in 2020.
Cho says there are several steps companies need to implement to fight cheque fraud. In the case of e-cheques, companies should adopt the same levels of fraud prevention as with all electronic banking and payment systems.
Advanced image scanning and recognition, as well as printing and detection tools – such as Magnetic Ink Character Recognition and Optical Character Recognition (OCR) – should also be on the table, as well as digital signatures.
"It will not 100% prevent fraud, but it will delay, slow down or make fraudsters go and look for another target", Cho from GlobalData explains. As concerns blockchain, he suggests using the technology to assign a specific ID to each cheque.
But the fight is far from over.
"Cops and robbers effect, payment providers keep updating their fraud prevention methods, and fraudsters keep upgrading their skills, including hard technical skills", Cho concludes. "But with all these techs, the best way to fight cheque fraud is to go for digital payments. Tech providers focus more on the current and future trends rather than something that they know will be phased out."