2020 saw a 67% increase in TMT IPO proceeds compared to 2019 with fintechs well to the fore. And according to GlobalData's proprietary Thematic research unit, the TMT IPO market has been largely unimpacted by COVID-19. Moreover, a number of high profile fintech IPOs' will grab the headlines in 2021.
In 2020, 323 tech, media, and telecom (TMT) companies completed IPOs. Total proceeds hit $96.8bn, up by 67% from the level in 2019. The US again dominated the market, accounting for 61% of total IPO proceeds.
Between 2018 and 2020, the two themes that generated the highest IPO returns for investors were collaboration tools and cybersecurity. Other themes that generated positive investor returns included digital media, robotics, social media, edtech, cloud, and fintech. By contrast, the themes behind the biggest IPO flops during this period were internet TV, quantum computing, and blockchain.
Global Data's TMT Thematic research: fintech highlights
Fintech is the number three theme driving the IPO market since the beginning of 2018, after e-commerce and mobile.
Between 1 January 2018 and 31 December 2020, there were 56 IPOs where fintech was the primary thematic driver. Together, they accounted for 11% of total IPO proceeds over the period. The US hosted 31 of these deals, EMEA hosted nine, and China hosted eight. In terms of IPO proceeds raised, the biggest three deals were MultiPlan (raised $3.7bn in a reverse merger with a SPAC vehicle), Lufax (raised $2.4bn in New York), and PagSeguro (raised $2.3bn in New York).
GlobalData analysis shows that investors in fintech-related IPOs between 1 January 2018 and 31 December 2020 made an average return of 157% as at 11 January 2021.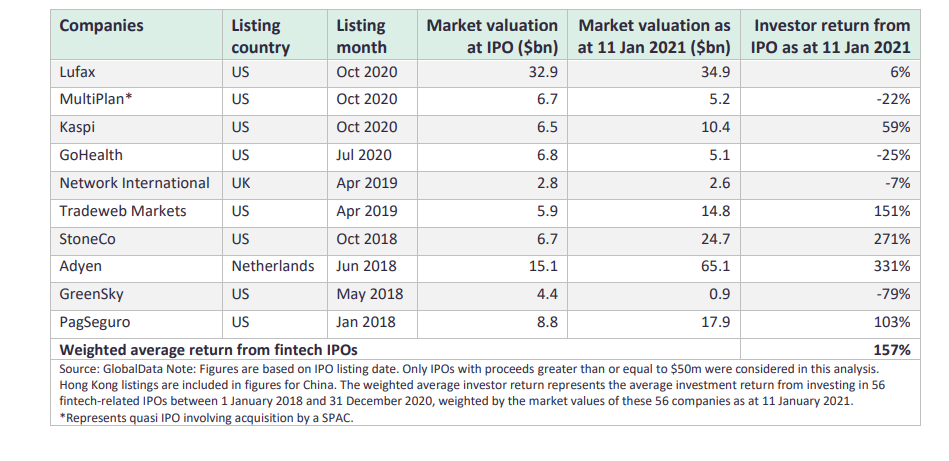 2021 outlook: TMT IPOs
Strong activity in the TMT IPO market in the second half of 2020 indicates investors' willingness to put the pandemic behind them. Indeed, the impact of the pandemic has strengthened the influence of several key themes as corporates and consumers accelerate their use of digital tools and platforms.
Companies from the ecommerce, gaming, and fintech are in vogue. In 2021, GlobalData expects to see IPO activity gravitating towards the themes driving these sectors.
The most prominent fintech IPOs to look out for in 2021 include: Ant Group, Robinhood, Chime, Paysafe, Affirm, and SoFi.
GlobalData Thematic Research
GlobalData has developed a unique thematic methodology for ranking all companies in all sectors based on their relative strength in the big investment themes that are impacting their industries. The thematic engine identifies which companies are best placed to succeed in a future filled with multiple disruptive threats.
To do this, the team rates the performance of the top 1,000 companies against the 50 most important themes impacting those companies, generating 50,000 thematic scores. The algorithms in GlobalData's thematic engine help to identify the long-term winners and losers within each sector.
GlobalData's Tech, Media and Telecom IPO Themes-Thematic Research Report was published in January 2021