Zentity is a global leader in the digital banking sector. Our Digital Banking solution has been deployed in leading financial institutions in retail banking, corporate banking, private wealth management, lending and insurance segments.
The company has been recognised by Gartner in various banking related reports and is among the fastest growing companies in Europe in accordance with Deloitte Fast 50 and CIO Business World.
Clients include members of Nedbank Group, Addiko Bank Group, KBC Bank Group, OTP Bank, ZUNO Bank, ING Bank, Raiffeisenbank, Vodafone Group, T-Mobile, O2, Allianz and many others.
Digital banking and communication management solutions
The Zentity Digital Banking solution offers a wide range of self-service, transactional, communications and promotional capabilities, which include:
Account self-service
Payments such as OCR scans, QR payments and beneficiary management
Cards and investment management
Open banking APIs (PSD2)
Communications module (built-in promotion management and push messaging)
Customer onboarding (chat or form based on ID scanning technology) and enrolment
Artificial intelligence (AI) based secure chat-bots and voice-bots
Loyalty scheme
Augmented reality (AR)
Enhancing the digital user experience
The digital user experience (UX) can singlehandedly determine the success of a product in financial services.
Winning many awards in their respective markets, Zentity products have always focused on the UX and are widely accepted by its user base. They are compatible with mobile and web-based platforms to provide a UX that clients have come to expect from leading online companies.
The wide range of functions also enables customer satisfaction as most of our projects offer a variety of features such as comprehensive dashboards, payment-related functions, multilingual support, and AR-based ATM locators.
Security measures against malware and unauthorised access
Digital platforms are constantly under threat from online hacking, phishing attacks and other malware-based attacks. The security of any solution has to be defined end-to-end.
Zentity's solution is engineered to monitor all modern threats as its secure integration gateway acts as a point that can be easily controlled centrally. Many protective measures against malware and unauthorised access are integrated into the platform but it can also remotely invalidate affected devices.
We focus on balancing the security with the UX on client devices via the enrolment process and creating easy access mechanisms such as PINs, Touch IDs and Face IDs.
Only validated SSL/TLS layers are allowed to ensure the communication channel is secure. Active operations are authorised and transaction requests are digitally signed. The model is based on a split-key architecture and therefore compromising the devices with malware will still not cause any damage.
Bespoke digital banking programmes
Digital channel production implementations are complex integration projects.
Zentity has recognised that the ability to launch the first release in a planned timeframe is crucial to its customer's success. Moreover, the digital products are outmoded very fast and require constant updates.
Thanks to the collective capabilities of our products, our banking experience and detailed knowledge of technology ensure our solutions have no time-to-market risks. Our typical initial implementation time is between three and six months.
We can also have a proof-of-concept (PoC) completed within a month to demonstrate the feasibility of our approach and maturity of our product suite.
SCRUM-enabled delivery models
Zentity takes a very long-term view of its customer's solutions viability.
We understand that any digital solution has to stay relevant for a seven to ten-year product cycle. This means that not only do we build a solid technical platform, DevOps process and toolchains, but also teams (human resources) to support the iterations through the years.
As a modern company that started its operations when the AGILE/SCRUM methodologies were already becoming well-established, we decided to standardise on SCRUM from the outset.
This has allowed us to have a very short time-to-market and always make sure that we are not misaligned with our customers' requirements. The client regularly receives solution builds and provides us with feedback on time. The production quality application code base is achieved on a regular basis and we have had release cycles as short as every two weeks.
Group-wide rollout capabilities for multiple regions
The solution architecture is suitable for a so-called 'group-wide rollout' or implementation within multiple geographical markets.
The multilingual, multi-currency and multi-tenant platform services combined with flexible changes in business logic allow delivery of one solution that can be shared among many markets.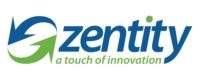 You have just been made in-charge of digitally transforming your business. The task is not defined very clearly but you...
ZENTITY a.s.
Rosmarin Business Center
Dĕlnická 12
170 00 Prague 7
Czech Republic
+420 608 923 317
Switzerland
Zentity Switzerland S.A.
Ch. de la Joliette 5
1006 Lausanne
Switzerland
+41 (21) 617 07 07
USA
ZENTITY INC.
3422 Old Capitol Trail Suite 129
Wilmington
DE 19808
+1 (917) 341 2556
Slovak Republic
ZENTITY Slovakia s.r.o.
Cukrová 14
811 08 Bratislava
Slovak Republic
+421 948 430 759
Hungary
ZENTITY Magyarország Kft.
Kelemen L. u. 1
2900 Komárom
Hungary